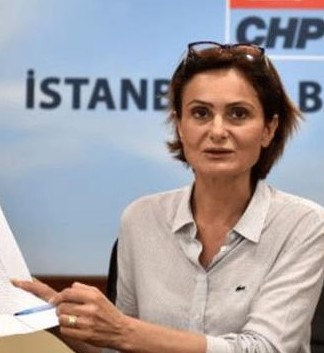 Canan Kaftancıoğlu, the Republican People's Party (CHP) chairwoman for Istanbul, has been condemned to 9 years, 8 months and 20 days in prison by the 37th Criminal Court on September 6, 2019. The reason given was the tweets she posted during the Gezi protests in 2013 and the July 15 coup attempt three years ago, where she allegedly insulted President Tayyip Erdoğan as well as "making propaganda for a terrorist organization". The fact that she read a poem by Nazım Hikmet after the first trial was considered an aggravating circumstance.
The poem Kaftancıoğlu read contained the lines "I cannot beat the servant with fury for his master", which Erdoğan's lawyer Ferah Yıldız presented as a proof that she had no remorse for her crime. Yıldız also requested that for this reason, Kaftancıoğlu should be disqualified from her right to good conduct time and instead receive the severest punishment demanded by prosecutor İlkay Özcan: up to 17 years. The court board comprised of Ferhat Gülbağça and Ferhat Şahin, with Akın Gürlek as chief judge, settled on 9 years, 8 months and 20 days. A portion of one year from this sentence concerns the poem and is "without suspension", which means that if she is ruled guilty by the court of appeals, she will immediately go to prison.
And what did Kaftancıoğlu do in the courtroom? She said that she will not refrain from speaking "the truth", and that whether they gave her 17 years or 27 years in prison would not change her mind. She also said, however, that she has not and would not insult the president, due to her respect for the position once occupied by Mustafa Kemal Atatürk, the founder of the Turkish Republic. She also told the judges that it was them who put her in trial but that it was her who felt much more powerful and free before them.

Kaftancıoğlu in, Demirtaş out formula?
In the article that I published on YetkinReport this (Sep 6) morning, a short while before today's trial, titled "Erdoğan's Damaged Image: It's Getting Difficult to Bedraggle İmamoğlu", I had written about whispers in the political backstage in Ankara concerning the release (as if it was an act of kindness), of Peoples' Democratic Party (HDP) former co-chairman Selahattin Demirtaş – who has been in prison since November 2016. (As a matter of coincidence or not, it was the same judge Akın Gürlek who had put Demirtaş in jail back in 2016; he is also the judge in the case against Sözcü newspaper nowadays.) The reason for those claims was the realization that the trustees replacing HDP mayors was aggravating the fallout between Erdoğan's ruling Justice and Development Party (AKP) and the Kurdish voters, which was evident in the June 23 election.
Kaftancıoğlu was among the major backstage players in ensuring İmamoğlu's double victory in the repeated mayoral elections on March 31, and then on June 23, 2019. It was evident that the AKP entourage was even more threatened by her due to her being a though female figure playing a major role in the politics of Turkey's largest city. Kaftancıoğlu has been a charismatic politician who, being quite the opposite of the typical CHP politician, had her audience within the masses and was in a leadership position. That's why CHP chairman Kemal Kılıçdaroğlu accused the court making a political ruling, "punishing her for having been successful in the Istanbul elections".
İmamoğlu's second İstanbul win where the difference between the voters of AKP and CHP rose from 13 thousand to 800 thousand, despite Erdoğan doing all he can to prevent it, hurt Erdoğan's "invincible" aura and intimidating presence domestically as well as internationally. The impression, in Turkey and abroad, that the Turkish opposition could not come together and assert its willpower, disintegrated thanks to the coalition between CHP chairman Kılıçdaroğlu and Good Party (GP) chairwoman Meral Akşener; a new sense of possibility emerged. The political climate changed as a result. The political climate change brough by İmamoğlu's victory even upped the dose of Erdoğan's ex-successor-in-office Ahmet Davutoğlu's recent rebellion against him.
What worries Erdoğan and his close circle, which is getting ever-smaller with recent dismissals and resignations, is the dissolution of this "invincible" aura.

Erdoğan had also been in jail for reading a poem…

Getting your political opponent incarcerated using social media posts opens the door to new, even more, unsettling possibilities. It's common knowledge in Ankara's political backstage that there are people within the AKP as well as among AKP's ally the Nationalist Movement Party (MHP) who want to get Kılıçdaroğlu and Akşener incarcerated, too.
An ironical aspect of Canan Kaftancıoğlu's sentence is that Erdoğan's lawyer used a poem read by the defendant as a tool to prove her guilt and present it to the court board as an aggravating circumstance. Because, Erdoğan's rise in politics began when he was elected mayor of Istanbul in 1994 but an important milestone in his political career was when he was sent to prison in 1997 for having read a poem in the Siirt province. Erdoğan was unseated from his mayoral duty for this reason – it's wasn't, back then, a government trustee but his assistant who carried on with his duties at the time – and served a four-month prison sentence. While he was in prison, he has coined "the poem-reading man", which then led to the foundation of the AKP.
The poem-reading man, today, sentenced a poem-reading woman using criminal complaints and a skillful lawyer.
Another way to put it is, the poem-reading man gave Turkish politics the gift of the new "poem-reading woman" archetype; in trying to get her punished, he added strength to Kaftancıoğlu.
Ironic, isn't it?