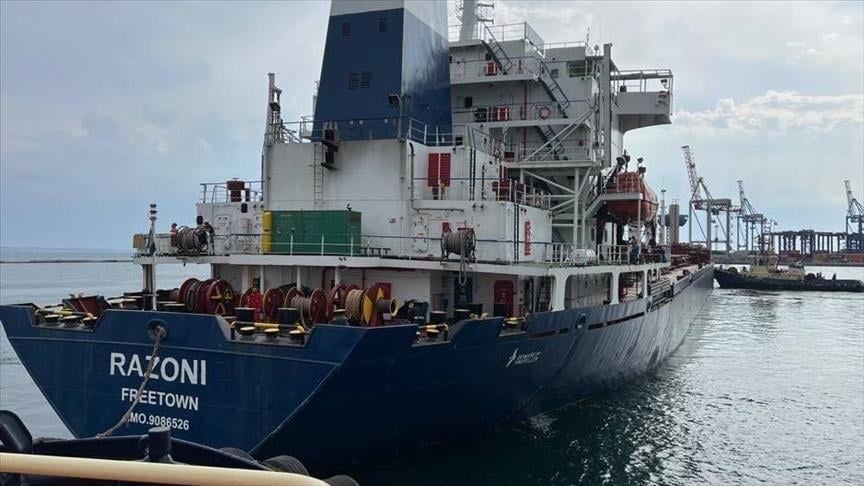 The cargo ship carrying 26 thousand tonnes of corn left Ukraine's port of Odesa on Aug. 1 as the first shipment within the framework of the grain export deal signed under UN auspices and Türkiye's guarantorship.
Sierra Leone-flagged Razoni left the Black Sea Port at 9:48 AM local time, Ukraine's ministry of infrastructure announced on Aug. 1.
The shipment is the beginning of the grain and foodstuff shipments as Russia and Ukraine reached an agreement for the "Black Sea Initiative" under UN auspices and Türkiye's facilitation on July 22.
The UN and Türkiye had been working on brokering a deal to solve the grain crisis as the ships stranded in Ukraine's ports are believed to hold around 22 million tons of grains causing a global food crisis, affecting 50 million people.
The Ukrainian government stated that another 16 ships were awaiting departure, Financial Times reported. 
The Razoni is expected to be in Istanbul tomorrow, the Türkiye's National Defence Minister Hulusi Akar stated on Aug. 1.
"The other ships will depart without any problems. This is a completely humanitarian issue. People are waiting. The ship will be offshore of Bosphorus around 3:00 PM tomorrow. And the Joint Coordination Committee will monitor it after anchoring," Akar said to state-run Anadolu Agency adding that it will leave for the port of Tripoli in Lebanon.
Ukraine is the world's fifth-largest exporter of cereal and accounts for 80 per cent of Lebanon's wheat imports and is a big supplier for countries including Somalia, Syria and Libya.