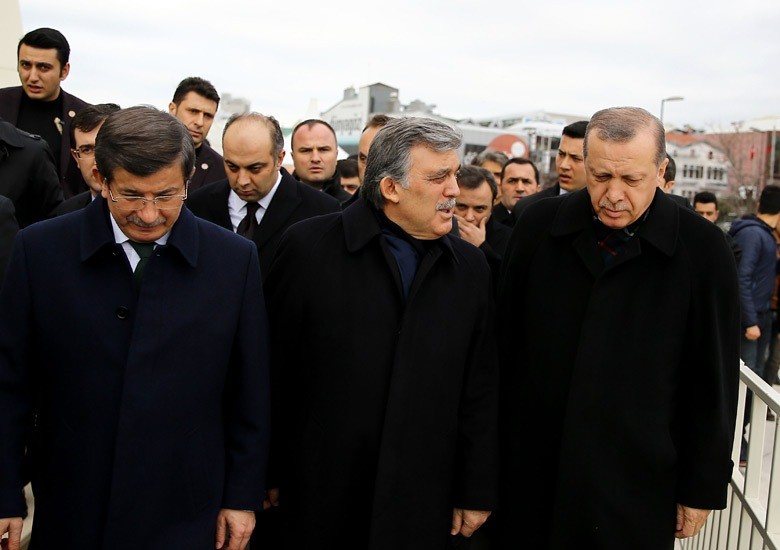 Left to right, former PM Davutoğlu, former President Gül and President and ruling AKP leader Erdoğan were photoed together three years ago in 2016. (Photo: Presidential website)
President Tayyip Erdoğan's December 7 speech in Istanbul has shook up the Turkish political agenda, where he went as far as accusing his ex-comrades Ahmet Davutoğlu and Ali Babacan of "attempting to defraud Halkbank", which was immediately challenged by Davutoğlu's call on him to investigate and compare their wealth and assets. It's well known that both Davutoğlu and Babacan are preparing to found their own parties. And Erdoğan has, at last, admitted that they are indeed posing a threat to his Justice and development Party (AKP) voter base; he thus shifted his rhetoric from "CHP is eroding, its alliance with the GP and is decomposing" into a counter-attack on his former ministers regarding a very risky subject: corruption. Davutoğlu's challenge was immediately backed by the social-democratic opposition Republican People's party (CHP) leader Kemal Kılıçdaroğlu who added that this would be the way to fight "dirty politics".
Moreover, Erdoğan has broadened the front against him by mentioning the names of former President Abdullah Gül and his former Finance Minister Mehmet Şimşek, in the same speech where he asked the rhetorical question "Weren't those the ones calling themselves the decent ones?" But was it the right strategy to launch the counter-attack on Davutoğlu and Babacan through corruption claims? After all, corruption has always been a touchy subject for the AKP governments.
The answers to these questions will be decisive for the future of the AKP and Erdogan's alliance with Devlet Bahçeli, the leader of the Nationalist Movement Party (MHP).
Why did he react this way? Why now?
Erdoğan's reaction points to the fact that Davutoğlu and Babacan's new party preparations have been detected to spark the interest of certain groups within the AKP's voter base (such as the Kurdish voters and the urban conservatives). Bekir Ağırdır, president of KONDA research company, has recently said that if both Davutoğlu and Babacan steal nothing but half points each from the AKP in the first general election to come, it could lead to Erdoğan not being reelected President. Besides, public opinion polls are already starting to indicate that both parties' potential votes would exceed that amount. Erdoğan apparently acknowledged this as a reality and wanted to take preemptive measures.
The timing of the reaction could point to worries on the AKP front. Babacan had previously said that his party launch would be announced before the end of 2019; this means there's but a few weeks left. Davutoğlu, on the other hand, hasn't yet given a date but could act fast and make an announcement even before Babacan. Erdoğan, therefore, turns against his former prime minister (and foreign minister) Davutoğlu, and his former economy captain Babacan whom he used to be proud of, and accuses them both of a serious crime: "fraud attempt".
Fraud accusation: the right strategy?
Erdoğan chose to put pressure on Davutoğlu and Babacan about the Şehir University in Istanbul. Recently Halkbank (the public bank subject to accusations in the U.S.) had confiscated the assets of the university (affiliated to the Science and Art Foundation of Davutoğlu) due to its debt. And the appointment of a trustee to the university was announced by AKP spokesperson Ömer Çelik before it got to be announced by the Higher Education Board (YÖK).
By getting into this subject, Erdoğan brings up a new narrative to the agenda: "they imply we are corrupt, but look, they have been raking off". The reason why he chooses to bring up the Şehir University issue is that, even though he himself was President at the time and had allotted a government land property to the University, it was Davutoğlu, who had permitted the sale of the estate to the University as the Prime Minister of the Time and also the head of the High Council for Privatization. So this was one of the rare instances where Erdoğan hadn't signed the document.
But chasing the subject of corruption in this attack could be a wrong move according to some, and could backfire. For example, İbrahim Uslu, who used to worked for Erdoğan's strategy team for long years and recently also left his job as the head of the ANAR research company, one of the companies working for the AKP, wrote the following in a tweet on December 8: "Corruption is the AKP's Achilles' Heel and the public opinion isn't regarding the party favorably on this issue. So it's unlikely that the AKP would have the upper hand against the opposition in a debate on corruption."
Asking for MHP's help for AKP affairs?
It's likely that Davutoğlu's Robin Hood-like "let's compare assets and give the rest to the poor" retort to Erdoğan will find an echo among the public.
Erdoğan has two options. Firstly, continue his campaign against Davutoğlu and Babacan and maybe even go as far as pacifying Gül; this would, however, be a risky option. The second option would be to lay off, considering all the vital statements Davutoğlu and Babacan could make, not only on financial issues but on a myriad of issues from Syria to the U.S., and to the dialogue process with the outlawed Kurdistan Workers' Party (PKK).
Although the more Erdoğan sees potential leaves from his party, the more severe his actions become – such as calling on MHP leader Devlet Bahçeli to stick by him in his battle against Davutoğlu and Babacan. Erdoğan knows that such a move could accelerate the shift from the grassroots of the AKP to MHP but it seems his main concern and priority is not that for the time being. It may mean Erdoğan is going the get more hawkish in politics and that means that the second option is a bit more unlikely.
Nobody left to say "Stop, you are brothers"
But there's also a third option. And that is to make a call on Erdoğan, Davutoğlu and Babacan, to tell them to "Stop, you are all brothers!" by certain influential names in the Islamist/conservative circles. Even if the news that certain people did try to deliver "don't leave" speeches to both Davutoğlu and Babacan, to no avail, are circulating in political circles. Because now, people perceive such moves as attempts to bring the other party back on Erdoğan's word; not as genuine reconciliation attempts. Especially after the campaign against journalist Fehmi Koru during the December 17-25, 2013 corruption claims when he tried to open a dialogue channel between Erdoğan and the U.S. resident Islamist preacher Fethullah Gülen, who would be accused of masterminding a military coup attempt, later on in 2016. A few senior names who can make friendly warnings to Erdoğan have been made members of a recently established "Presidential Advisory Board" by Erdoğan. Among those, Bülent Arınç, one of the triumvirate whom Erdoğan established the AKP with, along with Gül, made a criticism of party politics last month and was promptly silenced.
In summary, if Erdoğan continues to follow the line he started there might be a lot of files blown about, concerning a period during which many developments have been swept under the rug; not only ones relating to finance, but, for example, ones about Syria, about ties with the U.S. and Russia and the ended proxy-dialogue with the outlawed Kurdistan Workers' Party (PKK) between 2012 and 2015, which is now over.
Similar to the backfiring of the negative-campaign (despite being in power) during the last local elections, Erdoğan's campaign against his former fellows about corruption could backfire, too.