Erdoğan's tough challenge: Disarray in administration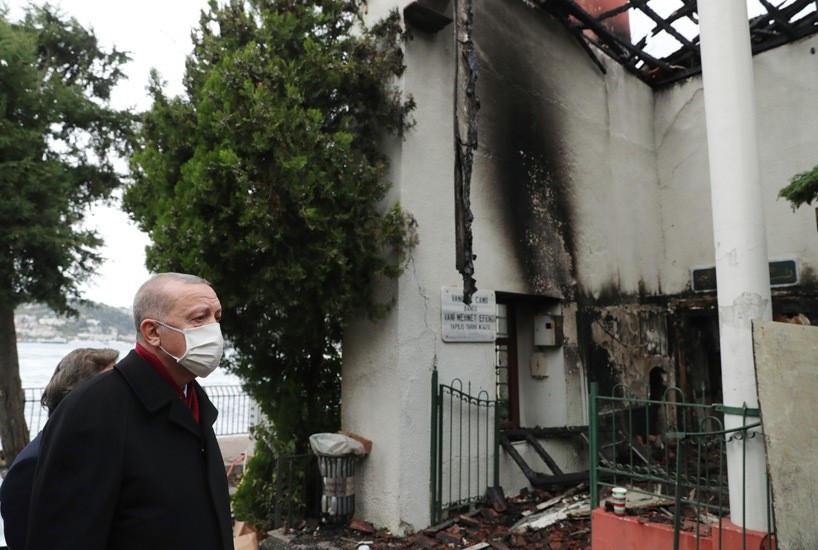 President Tayyip Erdoğan's greatest talent in politics is that he is a master of survival. Even in the most difficult situations, he has managed to stand on his feet, always knowing who and what to sacrifice. Because he has only one goal in politics, everything else is just a detail for him as long as it does not deviate him from that goal. And that goal is to protect his seat at all costs. But this time the disarray he faces is too much. The drift is extreme. His challenge does not seem easy. Let's start with listing the headlines of the drifts that the Erdoğan administration faces:
Disarray in the economy
Erdoğan said at a meeting at the Union Chambers and Commodity Exchanges of Turkey (TOBB) on Nov. 18 that the high interest rates have destroyed the investors. Because TOBB chair Rifat Hisarcıklıoğlu was wanted the interest rates not to be increased, giving an ear to the members of his organization. TOBB's support to the government so far could not have been in vain. Erdoğan's words signaled that he would not surrender to the "interest lobby", although the new Central Bank Governor Naci Ağbal implied otherwise to the markets. The dollar immediately started to gain against the Turkish Lira.
But on Nov. 19, the Central Bank increased the key interest rate by 475 basis points to 15 percent. Why not 450, or 500, but 475? Because Reuters had asked foreign investors about their expectations two days ago ahead of the monetary policy meeting, and the average was 475 basis points. The expectation of what Erdoğan calls the "interest lobby" was 475. So what happened was exactly what they wanted.
It is possible to understand that the decrease of the U.S. currency's value to 7.5 liras per dollar from 8.50 before Treasury and Finance Minister Berat Albayrak's resignation ignited a "market spree." These fluctuations may have added a fortune to some people in the forex market. But it is not possible to forget that the Erdoğan-Albayrak policy spent 100 billion dollars citizen's money in two years to keep the dollar under 7 liras.
Disarray in administration
No, I will not discuss how the Presidential System of Government has made the bureaucracy inoperable. Even the recent Alaattin Çakıcı incident is an indicator of how things are going out of control for Erdoğan and his Justice and Development Party (AKP) and getting to the hands of Devlet Bahçeli and his Nationalist Movement Party (AKP), his election partner just to gain 50 percent plus 1 majority of votes.
Alaattin Çakıcı, who was convicted of various crimes ranging from establishing a criminal organization to insulting the President but released as a result of Bahçeli's insistence, threatened main opposition People's Republican Party (CHP) leader Kemal Kılıçdaroğlu with insults with dirty insults. Bahçeli agreed to these insults. saying that Kılıçdaroğlu naming Çakıcı "a mafia spoil" is "disgrace", and praising Çakıcı.
Neither Erdoğan nor Interior Minister Suleyman Soylu nor Justice Minister Abdulhamit Gül, who has recently made promises of judicial reform, have yet said a word. A probe was launched into Çakıcı's written threats on the CHP's complaint after three days but it was Bülent Turan, the AKP' parliament group deputy chair, not the government or the prosecutor's office to announce it.
This is disarray and drift.
Disarray in judiciary
The analysis by Meral Akşener, the leader of the İYİ Party was very interesting. Akşener comes from the same nationalist ideological roots as Bahçeli and Çakıcı and thus knows about the psychology of that section. According to Akşener, Bahçeli was disturbed by Erdoğan's reform promises after Albayrak's departure, and had Çakıcı attack Kılıçdaroğlu just to implicitly ask Erdoğan "What's going on?" Bahçeli does not want any reform because the only way for the MHP below 10 percent election threshold to become a partner to the ruling power but without sharing any responsibility is to continue the existing system.
On the very same day the news emerged that Justice Minister Gül –a politician supported by Bahçeli– asked for the personnel files of the judiciary members of an Istanbul court that keeps Osman Kavala under arrest. Would businessman and activist Kavala be released today and Selahattin Demirtaş, the former Peoples' Democratic Party (HDP) co-chair, tomorrow? Right after that, AKP heavy gun Bülent Arınç, who was sidelined but not wasted by Erdoğan said "he rebelled against the indictment into Selahattin Demirtaş."
It should not be surprising if this development soon causes Gül to ask for the files of the judiciary members who have been keeping Demirtaş in prison for years to be taken to the Judges and Prosecutors Council (HSK).
Old hands start speaking
This means that if there are members of the judiciary who acted in the name of the state (not justice) in this period, they will at least not be promoted; this was what happened to the Fethullah Gülenist prosecutors and judges at the time.
In this process, Erdoğan seems obliged to rely not on his new allies, but on his old friends.
Thus, Cemil Çiçek, another heavy gun in the foundation of the AKP who Erdoğan also sidelined at his High Advisory Board, started to speak after Arınç.
According to Çiçek, what is needed is not reform but a shift in mentality.
There is yet another heavy gun that I expect to see start speaking. When Abdülkadir Aksu, who knows very well about the codes of the deep state, begins to speak, the situation will become clearer.
However, old hands may not be enough for Erdoğan to recover from this disarray and drift that emerged in the state administration. He needs to be convinced that he really needs reforms, not reform promises.
And, we haven't mentioned the possible impact of the changes expected to occur globally with the election of Joe Biden as the new U.S. president, have we? Let's leave that issue for another article.