#NationalAccountsHere: a social media operation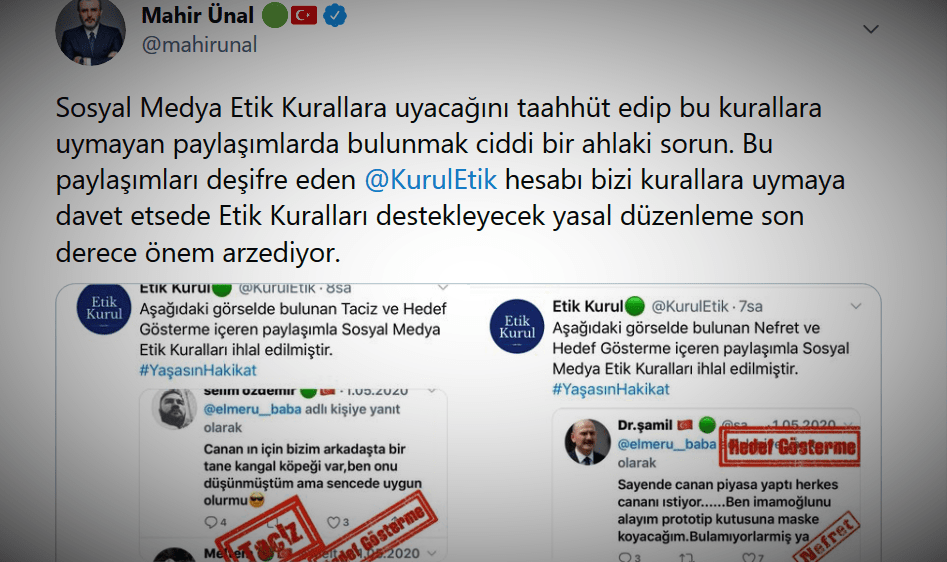 At first, I thought this was merely a social media attack of the Pelican Mansion group. This think-tank/media group was founded in parallel to Turkey's ruling Justice and Development Party (AKP) social media efforts from a Bosporus mansion called "Pelican", mainly for public opinion manipulation. It turned out that the #NationalAccountsHere (#MilliHesaplarBurada) operation was the result of a larger organization.President Tayyip Erdoğan's AKP, stably in power since 2002, was behind it. AKP Deputy Chairman Mahir Ünal, responsible for AKP's Promotion and Media Affairs, later stated that he coordinated the media campaign that began with the #MilliHesaplarBurada hashtag, using green dots like Twitter's verified sign to identify members of the movement, also with a Turkish flag.
After working on it for three months, a board comprising Ünal published a "social media etiquette" piece listing 12 rules on May 1. That was why they had employed 15 social media specialists. About a week later, Şamil Tayyar, politician and former journalist, joined the group as Ünal's deputy. Ünal, who added the green dot and Turkish flag signs next to his name on Twitter, called on others to do it too. In a telephone interview with YetkinReport on May 15, Ünal stated that "these are universal, moral principles. It's got nothing to do with religion or politics. Our colleagues based their work on standards in the US, France, Germany."
Where things got out of control
In practice, the initiative aiming to "dominate social media with moral principles" spiraled out of control on the first day. Morally bankrupt trolls were already spewing misogyny, aggression, and threats on social media. They continued to do so under the #NationalAccountsHere hashtag, along with the green dot and flag next to their names. Very quickly it turned into a craze of targeting woman journalists and politicians, threatening them with violent, disturbing words. Our journalist friends Nevşin Mengü and Özlem Gürses, artist Berna Laçin, and politician Canan Kaftancıoğlu are but a few of the names hit by these appalling, atrocious threats.
Kaftancıoğlu is the İstanbul Provincial Chairwoman of the opposition Republican People's Party (CHP). On May 14, she tweeted to Mahir Ünal that "being ethical is not about putting a green dot next to your name but to believe in ethics." She added to her tweet a few examples of the abusive tweets she's received from green-dotted accounts. To this Ünal responded: "Verifying that you'll follow the rules and not doing so is a serious moral problem". He added that the @KurulEtik (Ethical Committee) account was working to disclose whom these accounts belonged to, also attaching screenshots from exposed accounts.
Ethical Committee for internal inspection
Ünal was on CNN Turk live last on May 15. Anchorwoman Gözde Atasoy, couldn't ask Ünal about Mengü, whom she has replaced, about the threats Mengü got from green-dotted accounts for the sole reason of being a woman. It was yet another sad example of where the once-mainstream media in Turkey has come to.
When I asked Ünal about this, he answered that "The presence of abusers doesn't demonstrate that the work we've done was wrong". That was precisely why he had created the Ethical Committee account on Twitter. The team within AKP were to decide which accounts acted according to the 12 etiquette rules. "Those who use the green dot and share such things are our prime targets," he said, adding that they "will take measures if they turn out to be AKP members".
Notably, they had uncovered Islamist influencer Fatih Tezcan. Three days ago, upon the CHP's application regarding Tezcan's abusive social media threats to the families of CHP members, an investigation was launched by the Ankara Public Prosecutor.
What about after the Ethical Committee exposed owners of the fake accounts it found immoral? Would the committee file criminal complaints against these people? Was the green dot granting immunity to those accounts? "We're already stating that we're denouncing insults and hate speech", said Ünal. "Do we need to file a criminal complaint?" It looks like the Ethical Committee account was created with the forethought that just about anybody could jump on the trend topic bandwagon and use this as a mask to spew out hatred. So it was a sort of internal inspection mechanism.
Backstage plans: more control?
So, what's going on at the backstage of all these developments? President Tayyip Erdoğan is bothered by the media that's not on his side, and by social media: these are common knowledge. But the foundation to these latest developments lay in the President's complaint that social media is "unsupervised" on January 30, 2020, at the Anatolian Media award ceremony. He then stated on February 10 that "social media is a real dump" during the launch of the Information, Technologies, and Communications Authority center. The AKP-bound committee who later came up with the 12 rules met shortly after for the first time.
These developments went with close contact with the Nationalist Movement Party (MHP), AKP's election ally and covert coalition partner. The fact that Ünal defines this media movement as a "reflection of the People's Alliance" confirms this. A day after MHP's legislative proposal to require national identity numbers to open social media accounts, AKP published the 12 rules. President Erdoğan also talked about legislative arrangements to enable greater social media control during AKP's Central Executive Board videoconference on May 5. Şamil Tayyar, who was included in the team once all was appointed by Erdogan on May 7. The Ethical Committee account was launched on May 10. The green dot and Turkish flag appeared next to Ünal's name on Twitter as he made his National Accounts call on May 12.
A social media control law
Developments point to social media control being among the law proposals to be brought to the agenda as soon as the Turkish Grand National Assembly (TBMM) reopens. On one hand, there is the hopelessness that users experience due to anonymous threats, harassment, and idea thefts on social media. On the other, the possibility that the government will prevent ideas and news from spreading freely on the internet in an atmosphere of ever-shrinking freedom of expression. Justice, as well as Treasury and Finance ministries, are still working on this. The reason why the treasury s also on board is to tax those who earn from social media. There is currently no obstacle to paying one's taxes by declaring one's income. But the government does not want to leave it to people's good faith. In short, this is not only a control of the words we speak but also our income. This may not be a major problem for companies that generate large income on the web, or who promote products on social media. But journalists broadcasting on social media amid unemployment may be adversely affected.
The drafts that Justice and Finance ministries prepare will be coordinated between AKP and MHP group chairs in the Parliament.
The strategic nature of the People's Alliance is evident here. Every important step is taken by seeking MHP cooperation; the green-dot carrying the law proposal to parliament is only the latest example.
Erdoğan had said that "minds will be reconstructed" and this statement wasn't coincidental. Such projects haven't proven to be successful throughout history but I still don't it was merely coincidental.