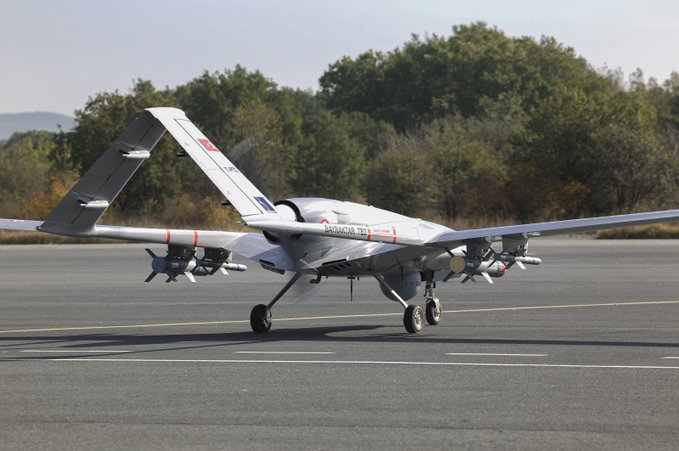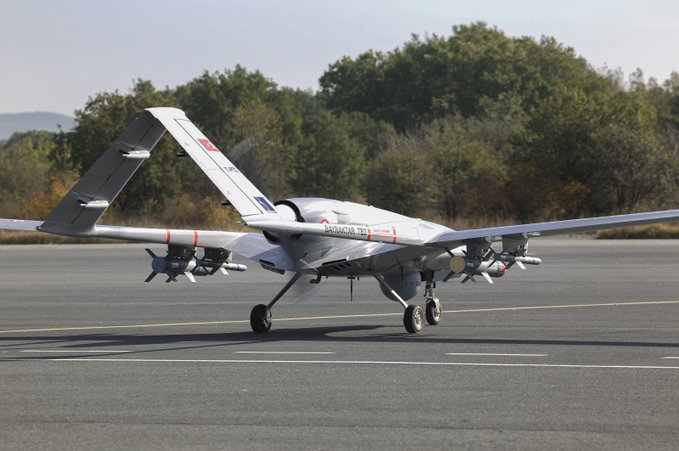 Polish President Andrzej Sebastian Duda paid an official visit to Turkey on 24 May upon an invitation by President Recep Tayyip Erdoğan. On the same day, at a ceremony attended by Duda and Erdoğan, a contract was signed by Mariusz Blaszczak. the defense minister of Poland, and Baykar Defense General Manager Haluk Bayraktar for the sale of Bayraktar TB2 armed drones to the Polish Armed Forces.
In terms of cost and context, this is the first major defense export by Turkey to a country which is member of both NATO and European Union (EU).
Within the scope of the contract, which covers four systems comprising of 24 aircraft, deliveries are planned to take place between 2022 and 2024. The Polish defense press reported the cost of a system consisting of six aircraft and a ground control station at $67 million, so the total value of the contract is likely to be in the range of $250-300 million.
Poland initiated a total of four drone procurement projects covering various types in 2018. These "Wizjer Project" for mini drones, "Orlik Project" for short range tactical drones, "Gryf Project" for tactical armed drones and armed MALE (Medium Altitude – Long Endurance) drones under "Zefir Project". Bayraktar TB2 order was placed within the scope of the Gryf Project. The prominent candidates in the Zefir Project are Reaper from the U.S., and Hermes and Heron from Israel. However, once the Akıncı and Aksungur projects are ready to be put into service, Turkey will probably take its place in this race.
The achievements Turkey has made in the field of drones in recent years are well reported. By effective usage of these systems, Turkey accomplished significant successes in both internal security and cross-border operations. This successful use seems to be reflected in export performance. The fact that Turkey has started exporting more complicated platforms such as MilGem corvette and T129 attack helicopter can be taken as an indicator of the competence of both the sector and its products. Drone export to Poland is also a remarkable development in both military-technical and strategic levels. It is possible to assess the importance of this sale under three topics.
1. The role of armed drones in today's battlefield
Turkey has used drones in a very effective and effective manner, especially against enemies who have deficiencies in air defense or do not possess air defense umbrella at all, by coordinated deployment with electronic warfare systems, air force and artillery elements. Moreover, Turkey presented this experience and doctrine to the army of Azerbaijan as a service, named as "War as a Service", a term coined by researcher Heiko Bochert in his recently published report.
Turkish-made Anka S and Bayraktar TB2 drones, equipped with MAM-L and MAM-C guided bombs developed by ROKETSAN, destroyed a large number of Russian-made air defense weapon systems, radar, tanks and armored vehicles in Syria, Libya, and Nagorno-Karabakh. So much so that the number of Russian-made tanks destroyed by Turkish drones is comparable to those of the A-10 Thunderbolt attack aircraft, nicknamed "tank killer" and AH-64 Apache attack helicopter in both Gulf Wars.
Turkey has evidently achieved a very fine balance between cost, performance, and technology elements in developing drones. Therefore, it was inevitable that the coordinated use of these platforms with other assets would attract the attention of countries such as Poland and Ukraine, both of which are directly confronted with the Russian army. Moreover, Bayraktar TB2 and other Turkish-made drones are known to have entered the radars of other Eastern European countries, especially Hungary.
2. The role of defense exports in Turkey's foreign policy
Turkey has been receiving the results of its investments in the defense sector since the early 2000s, with the products having matured and entered serial production stage, as well as export figures increasing. Until the 2010s, the sector's export sales were largely limited to products such as infantry weapons and equipment, armored personnel carrier vehicles or communication systems. However, in recent years, the sales of platforms equipped with advanced systems and weapons such as naval ships of various types, T129 attack helicopters and drones have been realized.
Turkey's first customer in the field of drones was Qatar, its closest ally in the Middle East. Qatar ordered hand launched mini drones from Baykar Savunma in 2012, followed by an order for six Bayraktar TB2's in 2018, becoming the first export customer of this aircraft. Ukraine followed in 2019. After the six TB2s delivered to the air force in 2020, an order was also placed for the navy. On the other hand, Ukraine is supporting Turkey's projects with its well-established engine industry: Ivchenko Progress has supplied Baykar Defense turboprop engines for the strike drone project designated Akinci, and another Ukrainian company, Motor Sich signed a contract with Turkish Aerospace for the sale of turboshaft engines for the T929 heavy class attack helicopter project.
Libya and Azerbaijan also received Bayraktar TB2 drones in 2020. There is no open source information on how many drones these countries acquired. Azerbaijani President Ilham Aliyev mockingly stated in his interview with French France 24 channel during Nagorno Karabakh War that, "sufficient number of drones" were acquired from Turkey. In both countries, armed drones have created political and strategic effects by dramatically changing the course of conflicts.
In the first quarter of 2021, more export news came from two new countries: First, a contract for Anka S was signed with Tunisia and soon after Morocco was reported as ordering Bayraktar TB2's. Meanwhile, Hungary is known to have shown significant interest in Turkish drones in addition to the latest contract with Poland.
Taken together with Turkey's use of drones, these sales provide important information on Turkish foreign policy. Turkey effectively uses the defense industry and military cooperation to increase its sphere of influence in the Middle East, North Africa – Eastern Mediterranean and Eastern Europe; In this context, it is seen that drones have been crucial in this thrust. Operational use of armed drones Libya, Syria, and Northern Iraq; their deployment Geçitkale Base in Northern Cyprus and surveillance flights in the Eastern Mediterranean; and finally, their role in the Nagorno-Karabakh War are testimonies to this hypothesis.
3. Regional competition and balance
Poland's purchase of TB2's from Turkey is a big achievement for the Turkish defense sector and foreign policy, since Poland is both a member of NATO and the EU. As a result of this sale Turkey may find opportunity to increase competitiveness in defense sector within NATO, especially for Eastern European countries. It may be possible for Turkish defense sector to penetrate other markets in this region more easily after Poland.
The timing of the Polish order is also quite interesting. The German Welt am Sonntag newspaper wrote that Turkey officially applied to participate in a project carried out within the Permanent Structured Cooperation (PESCO), which forms a framework for EU countries' cooperation in the field of defense and security. This application, which was later confirmed by the Netherlands, is expected to be opposed by the Greek Cypriot Administration of Southern Cyprus and Greece. On the other hand, there are also comments that such cooperation could have a facilitating effect on normalization between Turkey and Greece, and even between Turkey and the EU on a large scale.
On the other hand, in March-April this year, military tension in the east of Ukraine has increased considerably. Against a background where the relations between Russia and NATO have been at their lowest since 2014, the "geopolitical autonomy" debates have been going on in Poland for a while. While Poland allocates huge resources to armament under a perception of a direct and imminent threat from Russia, discussions are ongoing for the need of a "redefinition" in relations with the USA and the EU. The reluctance by France and Germany to support Ukraine during the latest crisis, possibly due to their relations with Russia, can be considered an important indicator in this respect.
These conditions may have brought Poland and Turkey together on some common ground geopolitical platform, and the sale of TB2's may have been the symbol of this mutual understanding and cooperation. Turkey has been pursuing a security-oriented foreign policy in its region for the last few years, and in this context, it has been using defense industry and military cooperation effectively. Turkey's recent history with a myriad of embargoes and sanctions arguably reinforces this determination. It is highly probable that Poland is moving towards relying on own capabilities and instruments rather than depending on U.S. or EU (PESCO), in the event of a possible crisis or security threat. In this case, it can be expected that this country will order different systems from Turkey and the defense industry cooperation between the two countries will develop further.
Of course, it is also useful to follow how Russia will interpret its southern and western neighbors being equipped with Turkish-made drones, and Turkey's attempts to expand its military-political sphere of influence in this region through drones.