No way! Turkey's UAV program irk US Congressmen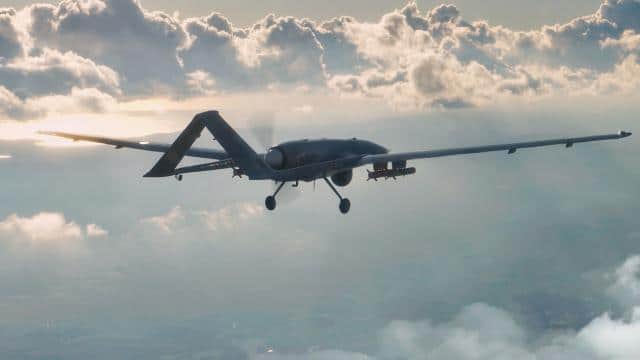 27 members of the U.S. House of Representatives wrote to the Secretary of State, Antony Blinken, demanding that steps be taken to prevent the unmanned aerial vehicles (UAV) production of Turkey, claiming that they change the political balance in the region and harmed American interests. In the letter dated August 9, signatory members of the Congress asked Secretary for a detailed briefing on the Turkish UAV program, particularly requesting Baykar UAVs should be barred from purchasing equipment and technology from the USA and USA-related companies.
This letter shows that the level of discomfort caused by Turkey's production of its weapon systems especially among ethnic lobbies in the Congress goes as far as demanding to prevent Turkey, a NATO ally of the US, from building its arsenal.
The letter, signed by Party Rhode Island representative David Cicilline (D) and Florida representative Gus Bilirakis (R) and written in a manipulative language that doesn't hide its hostility towards Turkey, states the following:
• "We are writing to express our concern over Turkey's armed unmanned aerial vehicle (UAV) program, which has destabilized multiple regions of the globe and threatens U.S. interests, allies, and partners. As a result of our long-standing alliance, Turkey has received favorable terms from the American defense industry, including co-production rights for weapons systems, advanced weapons sales, and technology transfers.
A confession: Turkey is undeterred
• "Despite decades of close cooperation, Turkey chose to violate that relationship by purchasing the Russian S400 missile air defense system in violation of U.S. law – the Countering America's Adversaries Through Sanctions Act (CAATSA). So far, the Turkish government is undeterred, and it has been reported that Turkey is purchasing a second S400 system from Russia.
• "Turkish actions have continued to run contrary to its responsibilities as a NATO member state, despite its ejection from the F35 joint strike fighter program and the imposition of sanctions. These actions include the proliferation of drones. Over the last year, Turkish drones have been deployed by Azerbaijan against Armenian civilians in Artsakh, Syria; against Kurdish forces that have partnered with the U.S. in the war against ISIS; and in Libya's civil war. [We have to make a note that members of the US Congress refrain from using the US-acknowlegded official name of Nagorno Karabakh for the region and chose to skip the fact that it had been under the occupation of the Armenian army for nearly 30 years before the operation of Azerbaijan to take it back. And the "Kurdish forces" in Syria are the Syria branch of the outlawed Kurdistan Workers' Party (PKK) which is on the US list of terrorist organizations as well. And as if the Turkish UAV platforms were not used and destroyed Russian systems in Libya.]
• "Turkey has entered into agreements to sell drones to Poland and Pakistan and is discussing the joint production of armed UAVs and anti-drone defense systems with Russia and Pakistan. [As if Poland is not a member of NATO as well and Pakistan is also an ally of the US and both countries have no sovereignty over choosing the most suitable weapons systems for its interests.] Turkey has also declared its intention to establish a permanent drone base in occupied Cyprus, which will deploy attack drones from its amphibious assault ships. [By saying "occupied Cyprus, the members of Congress mean the Turkish Republic of Northern Cyprus which has been in negotiations with the Greek ruled the Republic of Cyprus for years.]
Trying to stop in desperation
• "The potential for these drones to further destabilize flashpoints in the Caucuses, South Asia, the Eastern Mediterranean, the Middle East, and North Africa is too great to ignore. In a recent Wall Street Journal report on Turkey's program, retired U.S. Army Lieutenant General Mike Nagata said that Turkey's drones were "part of a much larger challenge regarding the future of the relationship between Turkey and the United States and NATO." [As if all decisions in NATO have been taken unanimously and as if both US and Turkey are entities out of the Western defense alliance NATO.]
• "We also wish to note that battlefield evidence from Artsakh confirms that Turkey's Bayraktar drones contain parts and technology from American firms and U.S.-based affiliates of foreign firms. The continued transfer of such technology appears to violate arms export control laws and run afoul to CAATSA sanctions that Congress has imposed on Turkey, especially its Savunma Sanayii Başkanlığı (SSB) (Turkey's Presidency of Defense Industries).
• "We request a briefing from the Department of State that details potential ramifications of Turkish drone proliferation, employment, and sales; whether or not Turkey is developing UAVs with materials or technologies that would be in violation of currently imposed sanctions; and whether Turkey's actions constitute yet another violation of NATO rules and bylaws. We further urge an immediate suspension of any export permits for U.S. drone technology to Turkey pending a State Department review."
Ethnic lobbies try to manipulate the US Congress
Apparently, the launch of Turkey's own drones and the results it obtained by using those UAV systems in Syria, Libya, and Azerbaijan have greatly disturbed certain ethnic lobbies in the US. Under the influence of ethnic lobbies in the congress, a group of representatives goes so far as to demand that Turkey be prevented from producing even its own weapons.
I have not yet received a response from Baykar authorities, to whom I want to ask about the allegation that US-sourced materials are used in Bayraktar UAV platforms, I will share it when I do. Baykar is run by President Tayyip Erdoğan's son-in-law Selçuk Bayraktar, an MIT graduate engineer.
Perhaps this letter is a part of the "Turkey bashing", seemingly fashionable among American and European political circles, reflecting their level of antipathy to Erdoğan but it's a country and its people they are offending.
However, there are a few points that the American lawmakers, who still think that the US is world gendarme, did not take into account in their attempt to prevent Turkey's production of drones.
Please get it: sanctions do not work
First of all, Turkey started its UAV program after the rejection of the U.S. to buy UAVs for years.
The USA implemented an arms embargo against Turkey in 1975 due to the 1974 Cyprus intervention of Turkey after a right-wing Greek coup there, threatening lives of Turks, and lifting the ban on opium farming, and this embargo enabled the development of the electronic warfare industry in Turkey. Likewise, in the 1990s, the US and European Union sanctions against Turkey due to Turkey's fight against the PKK accelerated the production of armored vehicles, artillery, and rockets in Turkey.
American legislators better abandon the nineteenth-century imperialist mindset of trying to get results by imposing sanctions on countries. Because they fail, and further allianate the US from its allies and partners.
The next step and I wonder what they will want? The destruction of the stones in Anatolia in case they throw stones and harm American interests?
With this mindset, they may be applauded by the ethnic lobbies in their constituencies, but not by the Turkish Grand National Assembly -perhaps except for minority groups, or from the Turkish people who are fighting for better quality democracy inside.