Istanbul Mayor wins Erdoğan's proxy duel against him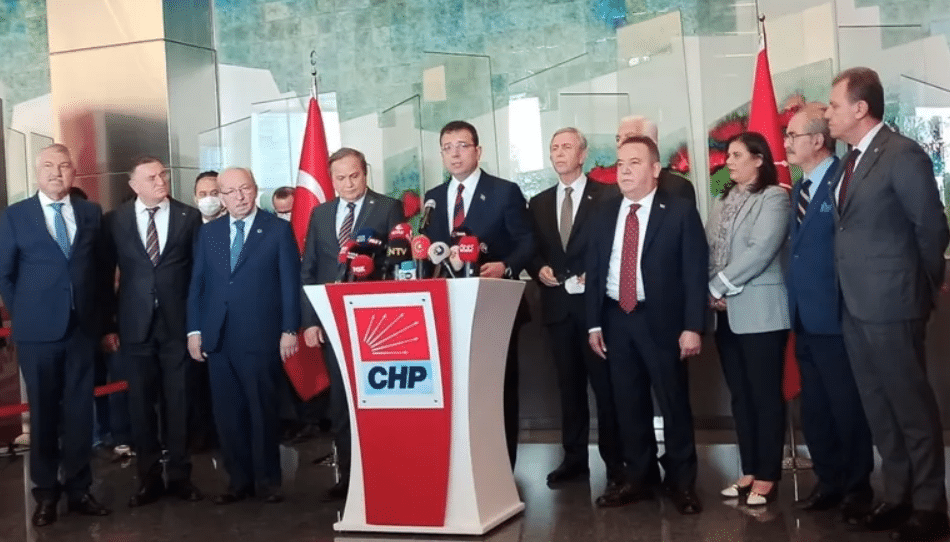 At the Republican People's Party (CHP) headquarters in Ankara, Istanbul Metropolitan Mayor Ekrem İmamoğlu defies Interior Minister Süleyman Soylu, who announced that the ministry initiated a "special audit" against the municipality on the suspicion that they recruit "terrorists."
"If you have detected terrorists, then do what's diligent," İmamoğlu said, with eleven mayors of the opposition party standing side by side in front of the journalists on December 27.
"If you did not do that, you must resign," he added.
His words come after a two-week debate.  In the last bit, Interior Ministry made a public announcement on December 26 via Twitter stating that the ministry has issued a special auditing procedure against the municipality, "upon complaints and detections that there are people related to or member of terrorist organizations." Ministry stated that the complaints and detections indicate to 557 employers to be a "either related or member" of outlawed political organizations deemed terrorist by Turkey.
İmamoğlu reacted to the accusation harshly, he reminded that he had already asked Soylu to convey him the names or charges, and that he sent a letter to President Tayyip Erdoğan informing him about the process while he lined up his questions:
Why does the ministry initiate an internal audit about the mayoralty? If the ministry detected any relations of 557 employees with terrorist organizations, why didn't they start legal procedures?
All these debates were ignited by a post on Twitter on December 26, while Turkey talked about the effects of the "foreign currency fixed Turkish Lira deposit" measure that Erdoğan and his financial cadres have invented to curb the currency crisis. If not for the tweet, journalists might have been busy writing that the government did not yet prepare the legal background of the financial measures, nor did there any legislative activity in the parliament to underline the fact. Instead, Turkey's hot topic is now the initiation of a "terrorism audit" to Istanbul Metropolitan Municipality, which AKP had lost to CHP. 
Erdoğan signaled Soylu acted on
The whole thing started with Erdoğan's speech at the ruling Justice and Development Party (AKP) Istanbul Advisory Board Meeting on December 5, where he said, "Istanbul needs to find its ruler again in 2023 and 2024; it is AKP."
His words showed that Erdoğan still could not forget that the AKP lost the Istanbul Metropolitan Municipality to CHP in 2019 twice. Once AKP lost the elections to CHP candidate İmamoğlu in 2019, AKP and its ruling alliance Nationalist Movement Party (MHP) pushed for a second run, in which İmamoğlu reiterated his seat with more votes. The defeat damaged the AKP's invincibility image. But more importantly, İmamoğlu cut the resources of the Istanbul Municipality that were directly or indirectly allocated to the AKP, which consequently became unable to support some associations and foundations related to some influential religious communities on an essential part of the AKP base in Istanbul. Losing metropolitan cities, such as Ankara, Antalya and Adana, was also important, but Istanbul would be decisive in the 2023 elections. In addition to that, İmamoğlu might have also stood against Erdoğan as a presidential candidate.
Erdogan wanted to start and win the "Second Battle of Istanbul" before the Presidential elections.
Soylu was the first to act on this purpose. During the budget negotiations in the parliament on December 9, he said that at least 557 of the approximately 33 thousand people recruited during the Imamoglu period were affiliated with "terrorist organizations", he said, adding, "I can send their records."
The duel begins
On December 10, İmamoğlu said he had already responded to Soylu's accusations. He said he conveyed his wishes that the mayoralty expects legal action to be taken if there are any terror suspects. He accused the minister of putting 86,000 employees under suspicion.
Yeni Şafak newspaper disclosed on December 11 that 5 people working at the municipality were "detected" to be outlawed Kurdistan Worker's Party (PKK) members. However, there was no legal action taken against these names.
İmamoğlu sent an official letter to Soylu on December 16, asking for information on his employees accused of being affiliated with criminal organizations. If information was given, necessary action would be taken, he said.
"They are jealous of our success," CHP leader Kemal Kılıçdaroğlu said on December 23. According to Kılıçdaroğlu, Erdoğan could not bear the CHP municipalities "to work like a clockwork".
On December 24, Erdoğan asked those attending the AKP camp in Kızılcahamam that local organizations should concentrate on the 2023 presidential elections, not the local elections in 2024. He added, "Because the opposition saw this fact, they are working hard for the municipalities with all their force".
The move came again from Soylu. On December 26, he announced that the Interior Ministry opened an audit on Istanbul Metropolitan Municipality to investigate "complaints and detections". Kılıçdaroğlu addressed Erdoğan on the same evening, "Are you laying the groundwork for something in Istanbul?" he said.
Warning: Do not try to dismiss
Kılıçdaroğlu was hinting at the possibility that Erdoğan can order İmamoğlu to be dismissed by the Minister of Interior Affairs and appoint a trustee for the chair. Before, many HDP mayors were dismissed and replaced by trustees with presidential decrees.
But this was Istanbul, and in the June 23 re-election, Istanbul told Erdogan "not that far".
On December 27, the Minister of Internal Affairs made another statement during the meeting of 11 metropolitan mayors from the CHP in Ankara. He said his main target was not the municipality, but the fight against terrorism, adding that it was inconvenient for the persons identified to hold public office.
İmamoğlu, who appeared in front of the media with other mayors next to him, asked the minister if there was any suspicion that these people were terrorists, "why don't you take action against them and open an investigation into the municipality". Moreover, he added, criminal records were requested from all of them when they were recruited, and they were employed after they brought documents from the Ministry of Justice. In this case, he said, "would they also take action against the Ministry of Justice?"
Istanbul Mayor gained power
Both İmamoğlu and Ankara Mayor Mansur Yavaş have gained popularity and public support after they are elected to their chairs. As a result, their names are often uttered when CHP's possible presidential candidates to be put forward against Erdoğan are mentioned. However, CHP leader Kılıçdaroğlu is reluctant about the candidacy of İmamoğlu and Yavaş, because he does not want to lose Istanbul and Ankara to the hands of the AKP.
If Erdoğan makes Soylu dismiss İmamoğlu, there will be no obstacle for İmamoğlu to declare his presidential candidacy. So, will the electors prefer to vote for Erdogan against a candidate he ordered to be dismissed with an audit? I do not think so.
İmamoğlu seems to have gained power from Erdoğan's Istanbul move through Soylu.
This move of Soylu eliminated the inner polarization within the CHP, at least for a while, and provided a bonding.
I say we should return to the economic agenda.