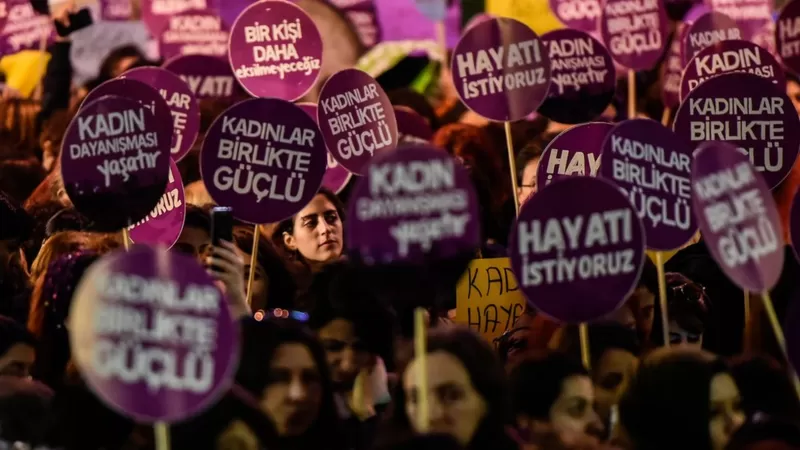 Gender refers to the social, behavioral and cultural characteristics, expectations and norms associated with being a woman or a man. Gender equality also expresses how these elements determine the relationship between men and women, and as a result, the power differences between these two genders.
Although it is not possible to see the word "Gender" in government documents recently, Türkiye has committed to realizing gender equality with the international agreements it has signed.
Association for Monitoring Gender Equality (CEID) is an association that carries out studies to identify inequalities in different fields in Türkiye and to reveal the problems in order to contribute to gender equality (GE).
CEID has published the "Gender Equality Monitoring Report in Türkiye, 2021-2022", which sheds light on the developments in our country and includes the Gender Equality Index showing the position of Türkiye among OECD countries.
The CEID Gender Equality Index measures the performance of countries in 5 main areas: the right to a healthy life, the right to education, the right to work, the right to a decent and adequate life, and the right to participate in decisions. In addition, measurements were made in 1 satellite area related to the right to life without violence. This means that the index is formed over 32 indicators with subsections of each area.
Türkiye ranks 35th out of 36 countries
According to the CEID Index, Norway was the country with the highest gender equality with a score of 86.3, while South Korea was the most unequal country with 55.1. Türkiye ranks 35th among 36 countries with an index value of 56.5. While the top 3 countries are Norway, Sweden, and Australia, the last 3 countries in the ranking are Japan, Türkiye and South Korea.
According to the index published by CEID, Türkiye is also in the lower ranks in terms of rights.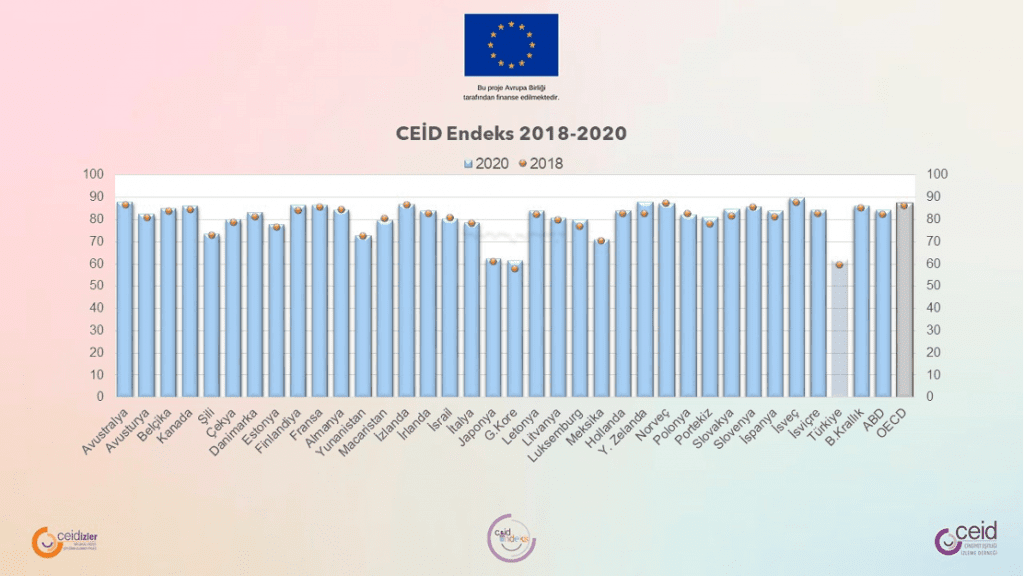 On healthy living, Türkiye ranks 30th out of 36 countries in 2020 due to its adolescent fertility rate, which is above the OECD average (World Health Organization reports that adolescence is between the ages of 10-19) and one's health perception indicators.
The country with the lowest average school year among OECD countries in terms of total years of education is Türkiye: 7.3 years for women and 8.3 years for men. Looking at the rates of the Program for International Student Assessment (PISA), which represents the quality in education, Türkiye ranked 34th in mathematical literacy and reading skills and has a score above only Mexico and Chile.
Türkiye ranks last in labor force participation
Regarding the right to work, Turkiye remains well below the OECD average in terms of labor force participation and high gender gap in participation in early childhood education. Despite the increase in unionization rates, it ranked last among 36 countries with the effect of high youth unemployment.
Türkiye is one of the three countries with the highest gender inequality in paid employment in terms of the right to a decent and adequate life, access to resources and time poverty. The countries closest to equality were Norway, Iceland and Sweden.
Compared to OECD countries, Turkiye ranked 34th in terms of participation in decisions. Participation in economic decisions and participation in political life indicators decrease Türkiye's participation score. The countries closest to equality in this area were Iceland, Latvia and Sweden.
In terms of the right to life without violence, Türkiye ranks 34th among 36 countries with high rates of child, early and forced marriage and exposure to physical violence.
These data show that:
• Women in Türkiye cannot sufficiently benefit from the right to live without violence.
• Child, early and forced marriages are still common.
• Women are less involved in working life than men.
• Türkiye is among the last 3 countries when compared to OECD countries in the field of women's participation in decisions.
• Women do not have access to economic resources, they do not have good and adequate life opportunities.
• There are major problems on the basis of the right to education.
Inequalities in the labor market and education have deepened
In the 2021-2022 period, inequalities in the labor market have deepened, women's employment has been negatively affected, and women's poverty has increased with the increase in unemployment rates among women. The inadequacy of preschool public care services and the low number of free or low-paid nurseries in Türkiye prevent women from seeking employment.
• While the rate of men not included in the labor force is 30.2 percent, the rate of women is 69.7 percent.
• While the unemployment rate is 14.7 percent for women, this rate is 10.7 percent for men.
• While the rate of self-employed women is 8.9 percent, this rate is 19.4 percent for men.
• 20.1 percent of women work as unpaid family workers, and 16.5 percent work part-time.
In education,
• In 2022, 1571980 women in the population aged 15 and over are illiterate (86.6 percent) in Turkiye.
• Primary school enrollment rate: Female – 89.7 percent, Male – 89.9 percent
• Secondary school enrollment rate: Female – 93.1 percent, Male – 93.2 percent
• Distribution of students in imam hatip schools: Female – 56 percent, Male – 44 percent
• Distribution of students in vocational and technical secondary education: Female – 36.3 percent, Male – 63.7 percent
Prejudices persist in STEM
Gender-based occupational stratification can be considered one of the most prominent and stubborn characters of any workplace. Wherever you go in the world, we see that women and men are concentrated in different sectors and in different professions; this situation is usually expressed with the distinction of "women's work" and "men's work".
CEID's data show that there is a need to be more supportive of women in the field of STEM (science, technology, engineering and mathematics) in Türkiye.
• While there is little difference between the ratio of men and women in science high schools by gender (49.7 percent female, 50.3 percent male-public schools), these ratios differ when it comes to their reflection on professions.
• Distribution of R&D human resources: Women- 26.9 percent, Men- 73.1 percent
• Technician and equivalent human resources: Women- 19.2 percent, Men- 80.8 percent
Care and support services: Social equality scorecard of municipalities
The report also looked at the delivery of care and support services, which are important in ensuring gender equality, the equality units were examined, and the Strategic Plans and Local Equality Action Plans (LEAP) prepared by the municipalities were reviewed within the framework of Gender Equality.
• It has been observed that 12 of 30 Metropolitan Municipalities provide Women's Counseling Centers.
• Eleven of the 30 Metropolitan Municipalities provide Women's Shelter services.
• While 27 metropolitan municipalities provide home care services for the elderly, 13 of them provide these services within the scope of the Elderly Support Program financed by the Ministry of Family and Social Services. If this support is removed, it is not clear whether continuity will be ensured.
• 10 out of 30 metropolitan municipalities provide daytime services for the elderly.
• As of May 2022, there are 35 Equality Units in Türkiye.
• Looking at 30 Metropolitan Municipalities, it is seen that only five municipalities -Eskişehir, Gaziantep, Mersin, İzmir and Trabzon- have Equality Units.
One of the important findings of the report is that it has been determined that the Strategic Plans of Municipalities are not sensitive to gender equality. Except for Eskişehir, Mersin and İzmir Metropolitan Municipalities, there are no municipalities that include gender equality in the vision, mission and principles sections of the plans.
0,74 percent resource allocated for women
In the CEID report, the activities of the Ministry of Family and Social Services and the expenditures for their realization were evaluated from the perspective of Gender Responsive Budgeting (GRB):
It was underlined that the concept of "gender equality" was not included in the budget rationale for 2020, and only 0.74 percent of the budget was allocated to the program under the title of "Women's Empowerment" for the year 2022, and that this resource was very insufficient.
The highest share in the budget of the Ministry is reserved for "Fight Against Poverty and Social Assistance" with 66.13 percent. This data reveals the extent of poverty in our country.
Although well-being has increased in many parts of the world, it is still very difficult to see progress in gender areas. In terms of our country, there is a regression.
Gender inequalities are particularly persistent when rooted in deeply entrenched gender roles and social norms. Differences in matters such as who is responsible for the care of the family and household chores at home, in which fields for men and women to study, what to do and what to want are "acceptable" tend to be reproduced across generations.
CEID data points to areas that should have the highest priority for policymakers. Hoping to be noticed.