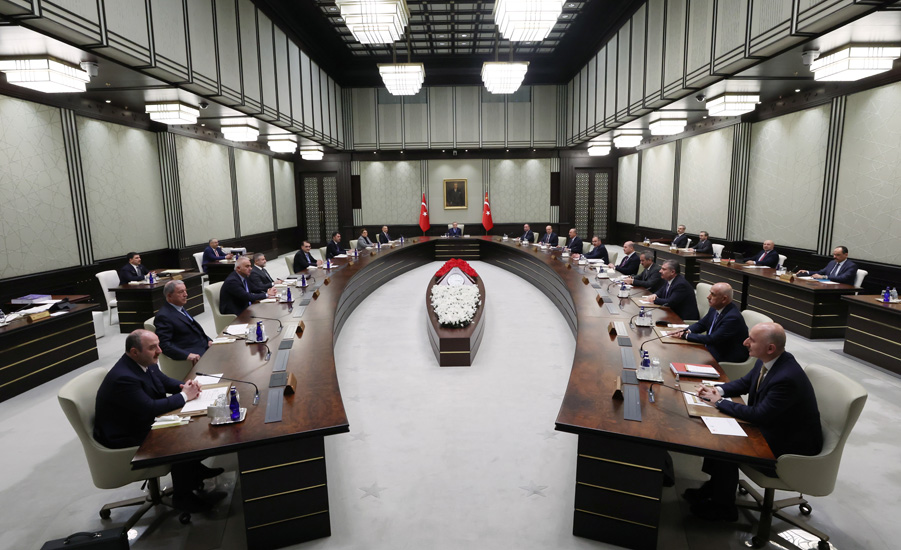 With a victory on May 28 presidential run-off elections, President Erdoğan was re-elected as the president and won the right to form his cabinet to rule the executive branch in the following 5 years.
On the morning of May 31, the value of the Turkish lira fell to an unprecedented low against the US dollar. But let's not focus on this grim picture, but on President Tayyip Erdoğan's new cabinet.
The cabinet does not only consist of ministers
In doing so, we need to start with a few assumptions:
1- Some lists of ministers with fake presidential logos started to be circulated on social media in the last few days. It is possible that some names from these lists "match", but this possibility does not mean that these lists are real. It is a contradiction in itself to say current Presidential Government System a "one man regime" and to believe that what is going on in the mind of that one man will be posted on social media.
2- It would be unrealistic to think that Erdoğan himself is doing the final work on his cabinet in his mind. He will seek the post-election opinion of his partners, especially his strategic partner MHP leader Devlet Bahçeli, on some important ministries.
3- In practice, Erdoğan's cabinet does not only consist of ministers. The Vice Presidents and some presidents are also natural members of the cabinet. It is necessary to look at the issue in this context. Therefore, it makes more sense to build a matrix and study the possibilities.
4- Another factor is the clear parliamentary majority of the People's Alliance. This gives Erdoğan room to maneuver to keep some names as ministers despite being elected as deputies.
Economy first
Due to the current state of the economy, attention is focused on whether former Finance Minister Mehmet Şimşek will be a member of Erdoğan's cabinet again.
In fact, judging by what AKP spokesperson Ömer Çelik said on May 30, Şimşek is already "on board". Erdoğan will decide whether Şimşek will return as Vice President or as a minister. Moreover, depending on whether the Ministry of Treasury and Finance, which were merged with a strategic mistake in 2018, will be separated again, new names are also possible. The names of former ministers Lütfü Elvan and Cevdet Yılmaz are in circulation.
Another question in the field of economy is whether Central Bank Governor Şahap Kavcıoğlu will remain in office, or possibly become a minister.
These are known names. Erdoğan may include new names in his cabinet in the field of economy. In this regard, eyes may turn to the Turkish Wealth Fund. It has been known for some time that Erdoğan has wanted to make TWF Deputy Chairman and Borsa Istanbul President Erişah Arıcan and TOBB President Rifat Hisarcıklıoğlu ministers.
Of course, the return of Şimşek does not mean that Erdoğan will return to his "orthodox" economic policy, even if some in domestic and foreign markets are ready to believe this.
It is doubtful that there will be a fundamental change in the architecture of Erdoğan's economic policy, but the architecture of his security and foreign policy is likely to remain the same.
Security and foreign policy
Erdoğan's foreign and security policy architecture is composed of several triangulation points.
These are the Vice Presidency, the Ministry of National Defense, the Ministry of Foreign Affairs, the Ministry of Interior, the National Intelligence Organization, the Presidency of Security and Foreign Policies and the Secretariat General of the National Security Council.
The new Erdoğan cabinet may be based on an architecture in which some of the current members of the cabinet remain in place, others are replaced and one or two new names may be appointed.
Until the last few days, there was talk that Defense Minister Hulusi Akar and Interior Minister Süleyman Soylu might not take the oath of office and remain in their positions. It is still being talked about. However, Chief of General Staff Yaşar Güler is expected to replace Akar, and the names of Secretary General of the National Security Council Seyfullah Hacımüftüoğlu and Istanbul Governor Ali Yerlikaya have started to be mentioned as Interior Minister.
If Erdoğan gives up on Mevlüt Çavuşoğlu, Hakan Fidan, the head of the National Intelligence Organization (MİT), and İbrahim Kalın, the President's Head of Security and Foreign Policies, are among the names that are being talked about for the Foreign Ministry.
Erdoğan's cabinet at the end of the week
There may be two more surprise names for the Foreign Ministry. One is Volkan Bozkır, a former EU Affairs Minister with a Foreign Affairs background, and the other is SETA President Burhanettin Duran.
We mentioned the Vice President… Fuat Oktay has been Erdoğan's right-hand man in the state for years, first as Undersecretary of the Prime Ministry and then as the Vice President. Now he is a candidate for the Presidency of the Turkish Grand National Assembly.
The Speaker of the Grand National Assembly of Türkiye is actually one of Erdoğan's inner cabinet. Mustafa Şentop, the speaker, has been one of the names working closest to Erdoğan for years. It is known that he has his heart set on the Ministry of Justice, but he is the closest candidate for the Deputy Presidency.
As I said, these names could be appointed interchangeably: For example, if Fidan goes to the Foreign Ministry, Kalın could be appointed head of MIT, and Duran could replace him.
Murat Kurum, the Minister of Environment, Urbanization and Climate Change, is likely to remain in his post. Kurum became one of Erdoğan's trusted figures after the Kahramanmaraş earthquake; he may be entrusted with the restructuring of Istanbul, including Canal Istanbul.
Chief of Staff Hasan Doğan and AKP Spokesperson Ömer Çelik could also be among the surprise names in the new Erdoğan cabinet.
But I repeat, Erdoğan will probably make his decision on June 2, the day of the swearing-in ceremony in the Turkish Parliament, and announce it on June 3, the day of the presidential inauguration. If you attach so much importance to the formation of Erdoğan's cabinet, I suggest you wait a few more days.