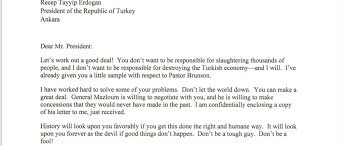 U.S. President Donald Trump's letter to Turkish President Tayyip Erdoğan as covered by the American media is possibly the worst scandal and the worst humiliation that the Republic of Turkey has been subject to face so far. Still not denied by the White House, in his letter dated October 9, the day that Turkey has launched its military campaign into Syria, Trump tells Erdoğan: "Don't be a tough guy. Don't be a fool!" That's literally adding insult to injury, because in the same letter Trump suggest Erdoğan to negotiate a deal with one of the names on Turkey's most wanted terrorists, a ranking member of the outlawed Kurdistan Workers' Party (PKK). The letter was revealed by Fox News, on October 16, following Trump's calling the PKK "worse than ISIS", an unsuccessful meeting in the White House with Republican and Democratic representatives of the Congress, and right ahead of Vice President Mike Pence taking off for Turkey to carry out talks with President Erdoğan's team.
There is no official response from Turkish Presidency to the letter yet which hit the wires at late hours in Turkey due to time difference, but in minutes it had become top trending topic on Twitter as an outrage. But in the morning hours of October 17, Turkish Presidency sources told CNN Türk that the letter was "thrown to the dustbin " and the best reply was given to Trump by launching the military operation later the same day on October 9 at 16.00 . The real impact of the letter could be expected on October 17, when VP Pence, Secretary of State Mike Pompeo and Trump's National Security Adviser Robert O'Brien are scheduled to have talks with their counterparts, namely Deputy President Fuat Oktay, Foreign Minister Mevlüt Çavuşoğlu and Erdoğan's top Security and Foreign Policy Adviser İbrahim Kalın. Now it makes sense why Erdoğan on earlier on October 16 turned down a meeting between O'Brien and Çavuşoğlu, saying that every official would talk to its counterpart and Trump had to add Pompeo to the Pence team.
A matryoshka of scandals
The Pence team, which was announced by Trump as to cut a deal between Turkey and the "Syrian Kurds" seems like having a new agenda now, after Trump's calling the PKK as being worse than ISIS, betraying Americans and the PKK's Syria arm the YPG has joined the Russian-backed Syrian regime of Bashar al-Assad anyway.
The scandal within scandal is Trump's talking to "General Mazloum", as representing "Syrian Kurds", attaching a letter from him to the letter that violates both diplomatic and personal codes of politeness and suggesting to cut a deal with him. The suggestion of a "ceasefire" was already put down by Erdoğan who said the operation "Peace Spring" would continue until the YPG/PKK would be cleared from the military campaign area and Kalın has reiterated that there would be no ceasefire with terrorists.
"General Mazloum", or Mazloum Kobani, is one of the nick names (aka. Şahin Cilo) used by Ferhad Abdi Şahin (aka. Şahin Cilo), who is on Turkey's list of most wanted terrorists as a ranking operative of the PKK; also one of the heads of the YPG. Mazloum was the person who came up with the name "Syrian Democratic Forces (SDF)" when in 2015 the U.S. Special Forces Commander General Raymond Thomas asked him to find a "friendly name" to fight ISIS, because the YPG was considered as an extension of the PKK, which has been designated as a terrorist organization by the U.S. government long ago. It was Thomas who revealed this fact in 2017 and it was former Defense Secretary Ashton Carter who acknowledged that YPG is linked to PKK during a Congressional hearing in 2016 upon insisting questions of Senator Lindsey Graham.
A tough day for Pence, a tough day for Erdoğan
The Trump letter is a shame for American governments which brings the two NATO allies before one of the worst crisis of their history of ups and downs since the end of WWII. So far the Turkish-U.S. relations suffered a number of crisis, including 1974 Cyprus, 1975 arms embargo and closure of Turkish bases to American use, 2003 Turkish refusal of joining the invasion of Iraq, 2014 Syria (on Kobane with Obama), 2016 coup attempt (and U.S. resident Islamist preacher Gülen's role in it) and 2018 (with Trump on Pastor Brunson). All of them have been in the limits of and solved within the limits of diplomacy. This is the first time that a Turkish President was insulted.
President Erdoğan is likely to have a tough day on October. On the one hand he has to conduct crucial talks between his team and the U.S. team. On the other hand he has to face the Turkish public reaction to the letter and to criticism that why it was not responded immediately.
Pence is likely to have a tough day in Ankara on October 17 for sure. American politicians should think once again, why anti-Americanism is on the rise in Turkey and elsewhere in the world.