The latest propaganda tactic by President Tayyip Erdoğan's Justice and Development Party (AKP) against the successes of the opposition Republican People Party's (CHP) rising star Ekrem Imamoğlu was to claim that he was of Greek origin. Some two weeks ago, the AKP officials started to quote a previously unknown web site in Greece. The article in the website states that a "Pontic is taking back Constantinople", referring to Imamoğlu's birthplace, Turkey's eastern Black Sea coastal city of Trabzon. The aim of the ruling AKP in quoting this controversial article was to agitate voters of Black Sea origin in Istanbul, known for their strong nationalist tendencies, hoping to persuade them not to re-vote for Imamoğlu on the Istanbul election re-run on June 23. ; Imamoğlu's March 31 win was annulled by the Supreme Election Board (YSK) following persistent objections and demands by President Erdoğan himself and his election partner Devlet Bahçeli, leader of the Nationalist Movement Party (MHP). There were two drawbacks of the propaganda campaign, resembling the CIA or KGB tactics used in the 1970s. At first, many of the key figures in the election campaign were from Trabzon as well. From Treasury and Finance Minister (and Erdoğan's son-in-law) Berat Albayrak to Interior Minister Süleyman Soylu; from Ali İhsan Yavuz, Erdoğan's Deputy in charge of the election campaigns, to failed Istanbul Provincial Chairman Bayram Şenocak, many people shared the same origin. Secondly, Erdoğan himself was from the Güneysu district of Rize in the Black Sea region. Back in 2009, during a campaign, Erdoğan had said that the "other" (actually former) name of his district was Potomya, meaning "Little Creek" in Greek. Unfortunately, Erdoğan now joined the campaign, indirectly pointing his finger to "those" trying to "turn Istanbul back to Constantinople."

The aim of the black propaganda

The aim was to make the Black Sea people react negatively to Imamoğlu but the result was the opposite. Imamoğlu was greeted like a hero in his home town Trabzon on the first day of Muslims' Eid al-Fitr holiday and the next day on June 5 he performed one of the most spectacular political shows in recent years. He spoke at three public demonstrations in three neighbouring Black Sea towns, Trabzon, Giresun and Ordu with record-breaking participation on each of them; a participation rate the center-left CHP could have never imagined before.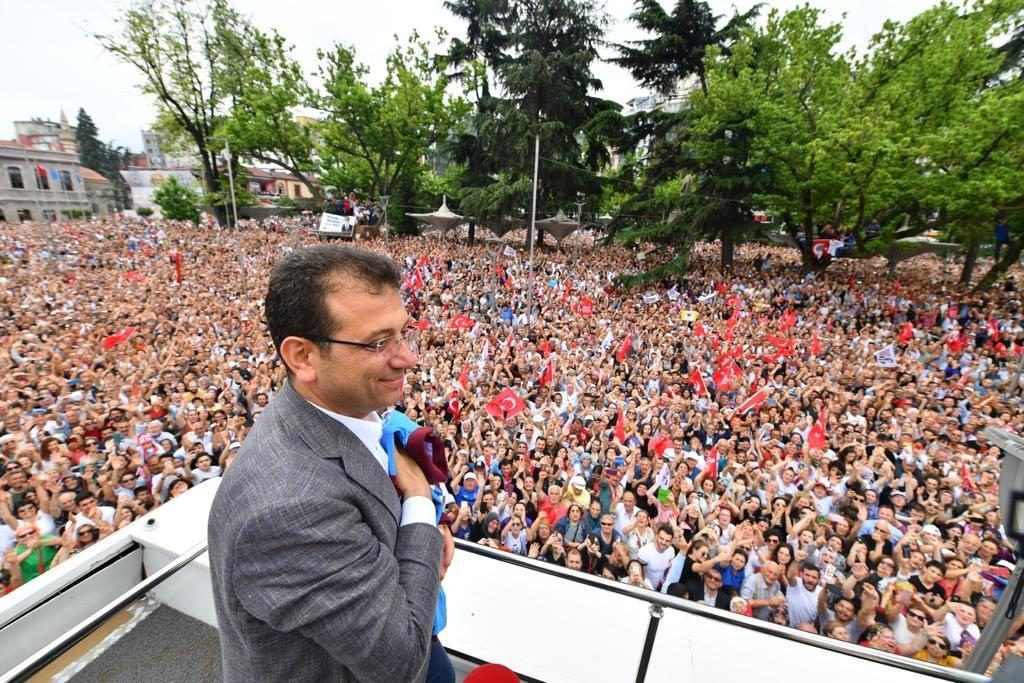 There is an interesting reason why the AKP decided to defame Imamoğlu in the eyes of voters of Black Sea origin in Istanbul. It lays out the fact that the AKP decided to put aside its national security- oriented "matter of existence" rhetoric used for the March 31 election campaign, aware that it alienated Kurdish voters. And the plan to let imprisoned PKK (outlawed Kurdistan Workers' Party) leader Abdullah Öcalan meet his lawyers and talk to them after eight years, was partly a move to attract Kurdish voters back to the AKP. The move was useful in halting the hunger strikes of more than three thousand prisoners who wanted lawyer access granted to Öcalan. But apparently, it did not cheer up Kurdish voters; (former) co-chairman of the Kurdish problem- focused People's Democratic Party (HDP), Selahattin Demirtaş, is still in jail – he has been for almost two years. But the move raised eyebrows of nationalist Central Anatolia and Black Sea origin voters, despite Bahçeli's statements backing Erdoğan.
The campaign before that was to not mention Imamoğlu by name, but call him "the CHP candidate". The aim there was to undermine Imamoğlu's non-CHP supporters, particularly Meral Akşener and her center-right Good Party (GP), and to instead show Imamoğlu as nothing more than a CHP candidate. That campaign did end rather quickly when an AKP deputy, Mehmet Metiner, during a live interview on a pro-government channel, started his sentence as "Ekrem Imamoğ…" and continued as "Sorry, the CHP candidate…" It also backfired.
İmamoğlu's campaigners believe, the recent polls showing him 2 to 4 points ahead of Yıldırım were mostly fabricated by companies close to the AKP. They claim that the aim is to create the wrong perception among opposition supporters that they have "already won the election, so there is no need to go to the ballot box: they can simply carry on with their summer holidays".

Not a slam dunk for Imamoglu

But Imamoğlu's rise doesn't mean that his second win in Istanbul re-run against the AKP's candidate, former Prime Minister Binali Yıldırım is a slam dunk.
First of all his March 31 win was with 13 thousand votes in a city with nearly 11 million (10.6) registered voters with a turnout of 83.5 per cent. The assumption of the polling companies is that most of the voters who did not go to the ballot box were discontent AKP voters; some of them because of the declining state of the economy. Therefore, the AKP campaign gives priority to convince them to go to the ballot box for Yıldırım.
Secondly, Yıldırım is an experienced politician with respect to relatively younger and promising Imamoğlu. Trained as an engineer and known as the type that "takes care of business", he has served as Erdoğan's Transportation and Communications Minister for years, before taking on the roles of Prime Minister and Parliamentary Speaker He is knocking on every door for votes: even those he is not proud to knock on. For example, his visit to a supposedly influential Naqshbandi sect sheikh was made public by the social media accounts of the sect, not by Yıldırım's team who would have preferred to keep it unnoticed. He tries to mend the bridges with the former Mayor of Istanbul , Kadir Topbaş, who was forced to resign after his son-in-law's relations with the U.S. resident Islamist preacher Fethullah Gülen, who is accused of masterminding the 2016 military coup attempt against Erdoğan, were disclosed.
Thirdly, stakes are really high in Istanbul with a population and budget of more than a number of countries in Europe. During the 18 day period when Imamoglu has the mandate, he claimed that a lot of funds were spent for the foundations and organizations close to Erdoğan and AKP, instead of providing cheaper and better municipality services for Istanbulites. But not only that. Erdoğan started his ascent in politics 25 years ago by winning the municipal elections in Istanbul; he wants to stop Imamoğlu from following the same path.
Losing Istanbul could make Erdoğan's job more difficult at a time when economic problems force his government to take radical measures with possible negative effects of U.S. sanctions due to Turkey's decision to purchase Russian S-400 missiles.

A sham fight to win the re-run?

Recent developments show that the AKP might not leave the win of the June 23 re-run to only ballot box performance.
One of the main reasons of the Election Board's cancelling the March 31 election for Istanbul, was the improperly formed provincial and district election boards, all headed by a judge. On the same day of May 6, the YSK had asked the prosecutors to open probes against some of them and probes were carried out, which they did. But in a surprise decision on June 3, the YSK withdrew its complaints, said nothing wrong with them was found and the same people who were objected by the AKP could supervise the re-run on June 23.
It was natural that both Kemal Kılıçdaroğlu of the CHP and Akşener of the GP asked then why on earth the Istanbul election was cancelled in the first place. Kılıçdaroğlu stated that from now on, Imamoğlu's rival was "not Yıldırım but the YSK".
But Erdoğan's and Yıldırım's reaction to the YSK was unexpected. Yıldırım said the YSK had caused question marks on the June 23 elections and Erdoğan said they filed an official objection against the YSK decision. Erdoğan who was saying that the YSK had all the authority over the election affairs until a few days ago, now says that it was up to the Judges and Prosecutors Board (HSK) –chaired by his Justice Minister Abdülhamit Gül to decide on that.
"Imagine you are a young judge who just saved yourself from a probe that could affect your carrier with the possibility of facing another one, if your decisions about the ballot box results will not be liked by the political power" said a political analyst who was in Erdoğan's close circle until a few years ago; "This is nothing but putting political and psychological pressure on the local elections boards through their chairs and members, who are mostly public servants."
"The AKP objections to the YSK looks like a sham fight to create the perception that YSK decisions are independent of Erdoğan's will" claimed a source Imamoğlu's campaign office, who also wishes to remain anonymous; "This could well be to discredit the June 23 elections if they lose again."