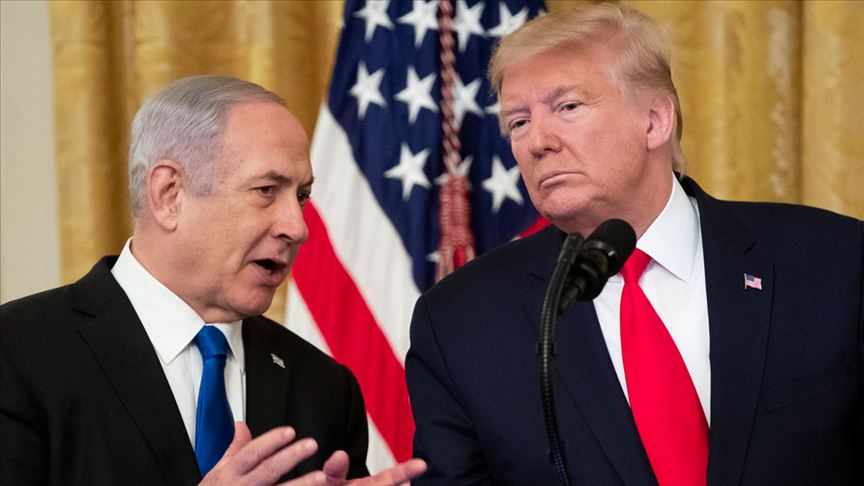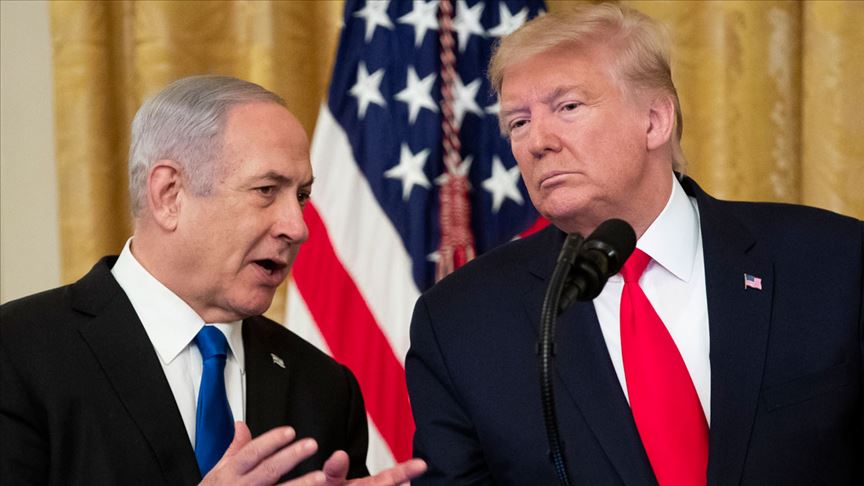 U.S. President Donald Trump's declaration of a new peace plan for the Middle East on January 29, may not bring peace in the region like former ones ignoring the rights of Palestinians but may serve to keep Benjamin Netanyahu as prime minister of Israel in the March 2 elections and perhaps saving him from corruption charges against him. Now Netahyahu's Likud people are talking about bringing Jonathan Pollard, the Israeli spy back home from the U.S. where he was sentenced for 30 years. Trump's invitation of Benny Gantz of the blue and White coalition to the White House to discuss the plan shows how American and Israeli politics have intermingled; polls show Netahyahu gained voter support against Gantz after Trump has declared his "deal of the century".
It so called deal seems to be the most risky and expensive election campaign support from the world's biggest economic and military power, to another country's leader to win an election. That would be at the cost of legitimizing the extortion of what is left in the hands of Palestinians. And also trying to seize, even the Moslem quarters of Jerusalem from the hands of Moslems, something that the Crusaders could not succeed centuries ago.
But perhaps Trump is trying to kill more two birds with one stone, since it may be the formula to endorse his position in the Congress against the impeachment process. The surprise support to Trumps "deal of the century" came from his arch enemy, Nancy Pelosi; the Democrats seems to be OK with giving a blank cheque to Trump when it comes to granting support to Israel's most aggressive PM ever. They also do not care about the international law and the rights of Palestinians when it comes to the competition for evangelist votes.
The accomplices of the deal
Since keeping Israeli PM in place turns out to be a bipartisan stance in the U.S. why not adopting Israel as the 51st state of the USA which would be a much less hypocrite policy to follow.
It was a surprise to see Pelosi and democrats to support Trump's backing of Netanyahu. But it was not a surprise to see that the first open international support to the deal was from the leader of an Arab country, Abdel Fettah Sisi of Egypt; whom has been greeted by Trump as "My favourite dictator".
King Salman of Saudi Arabia welcomed Trump's plan prepared by his Middle East envoy and son-in-law Jared Kushner. Jared Kushner's best partner in the Middle East, Saudi Crown prince Mohammad bin Salman told Palestinian leader Mahmoud Abbas who rejected the plan that they would continue to back Palestinians, as a zenith example of hypocrisy.
The Hashemite King of Jordan, Abdullah the Second, having more than that half of his citizens of Palestinian origin has also supported the deal as well as Mohammed bin Zayed of the United arab Emirates (UAE) who is in political and military cooperation with Sisi of Egypt with rebel Khalifa Haftar forces in Libya to topple the UN-recognized government of Fayez Al-Sarraj.
Not to the surprise of many but perhaps to the Turkish President Erdoğan, Qatar backed Trump's plan, too. Qatar also said it appreciates Turmp's initiative but East of Jerusalem should be kept as Palestinian; something that was also mentioned by Cairo and Riyadh.
Turkey rejects the deal
As many Arab heads of states welcomed the plan despite Palestinian outcry, Turkish President Tayyip Erdoğan slammed Trumps move. He said that "the handing over of Jerusalem of Israel" and "legitimizing the seizure of Palestinian territory" was a "fait accompli" and "unacceptable" for Turkey.
Foreign Minister Mevlüt Çavuşoğlu said that the plan was "stillborn" and could not be implemented. The Speaker of the Parliament, Mustafa Şentop said the Jerusalem issue was a red line for Turkey and Moslems. All parties in the Parliament made a joint declaration condemning the plan, calling it null and void.
Yet, Erdoğan's reaction is not as strong that it should be expected to such an ambitious step; sounded rather one of his routine statements when it comes to the status of Jerusalem. Perhaps it was something related with his telephone conversation with Trump a day before the declaration of the plan on January 28. Erdoğan has always praised his personal relations with Trump as Turkey is under Congressional threat for economic and military sanctions because of purchasing Russian made S-400 missiles for its air defence. By the way, Russia is still "analyzing the plan" as Netahyahu's next stop after DC was scheduled as Moscow to meet Russian President Vladimir Putin there on January 30.
Coming back to the issue Israel's Netanyahu is acting like a state of the USA and wants to be treated as such, beyond enormous military and economic support it gets from Washington DC. Imagine that the U.S. sold F-35 jets to Israel despite putting a hold on sales to Turkey, its NATO ally and a co-producer of it. With this plan and Democratic support to it, DC has started to act as if Israel is the 51st state. Why not making it legal, making the USA officially a Middle East country and make everyone accept that reality?