Ankara Bogazici Restaurant
My Dining Inspection Rules
In this first article I want to describe some of my rules:
The restaurant has been never informed about our presence or about the article. Standard service has been received like any other person. There is no preliminary preparation. Otherwise the article would not be fair.
The food eaten is always paid for a price-performance comparison.
This article was written at least one month after going to the restaurant. Protection of the our identity is important to this series of articles.
Any good and bad situation that appears will be reported.
When I go to a city, I love to visit its streets and old districts. Especially I do not prefer shopping malls. When you wander around the streets, you understand that city more. The style and attitude of the people in the city tell you more about their lives.
Today, I would like to introduce you to a restaurant in Ankara, the city where lived in my childhood. Most Ankara residents may know, but the people outside of Ankara may not. I discovered Boğaziçi Restaurant at the age of sixteen. My father took me to Ulus after my athletics workout in a nearby facility. I remember thinking about "What are we doing in Ulus? What am I supposed to do there?" I'm glad my father took me to there. Ulus is the district similar to Eminönü and Tahtakale in Istanbul, where there are old shops, inns and streets. Ankara is the first center of the Republic. When I go there now, I have a sense of myself to stop by and walk in front of the shops from time to time, looking inside and watching people without disturbing their faces.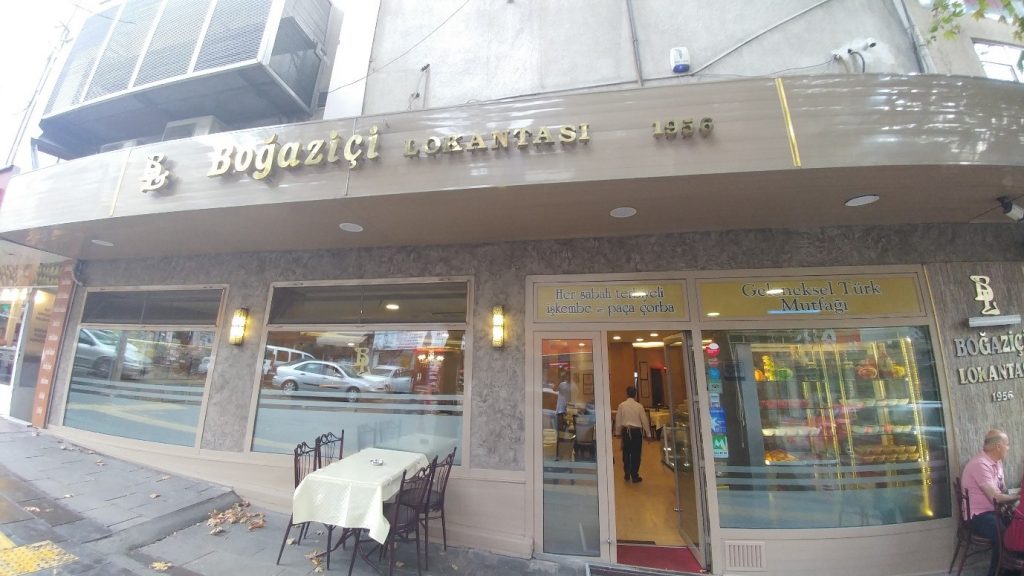 A very old restaurant in Ulus, Ankara
Bogazici is a type of artisan restaurant where mostly merchants used to dine at lunch time. It is a hidden gem in Ankara, as many may not know. You used to park anywhere on the street where it used to be, now it is very crowded. However, they have arranged an attendant to park your car in front of his restaurant, or you have to go to a remote parking lot down the hill. If you say I would like to see the shops on the street, don't worry too much.
In the restaurant, there are always clean white tablecloths, prepared cutlery, spoons and plates besides the tables. First I checked the toilet, as I always do, with the excuse of hand washing. The toilet cleaning of the restaurant is also evidence of the overall cleanliness. It was very clean and neat. My friends said that the place was recently renovated.
The waiter takes you to the food display right behind you. Don't be shy, examine it for a long time. They have many kinds of dishes with meat (Ankara pan, shank kebab, chicken fry,…) and vegetables with meat (I remember seeing farm kebab, baked beans,…) or just vegetables (stewing, green beans, stuffed, etc.). You can choose it from behind glass like in many Turkish artisan restaurants.
Bosphorus Restaurant tastes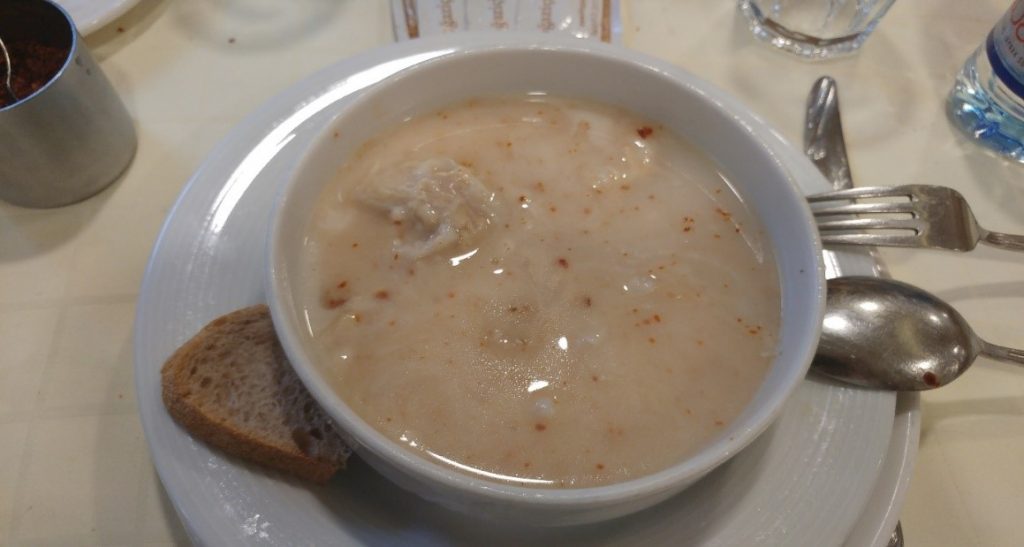 I still had a tripe soup with no garlic but vinegar, as I am an enthusiast of offal, but I would also attend a wedding ceremony inthe evening. Its consistency, warmth (Ankara residents like hot) and flavor were in place. I do not like very clear ones.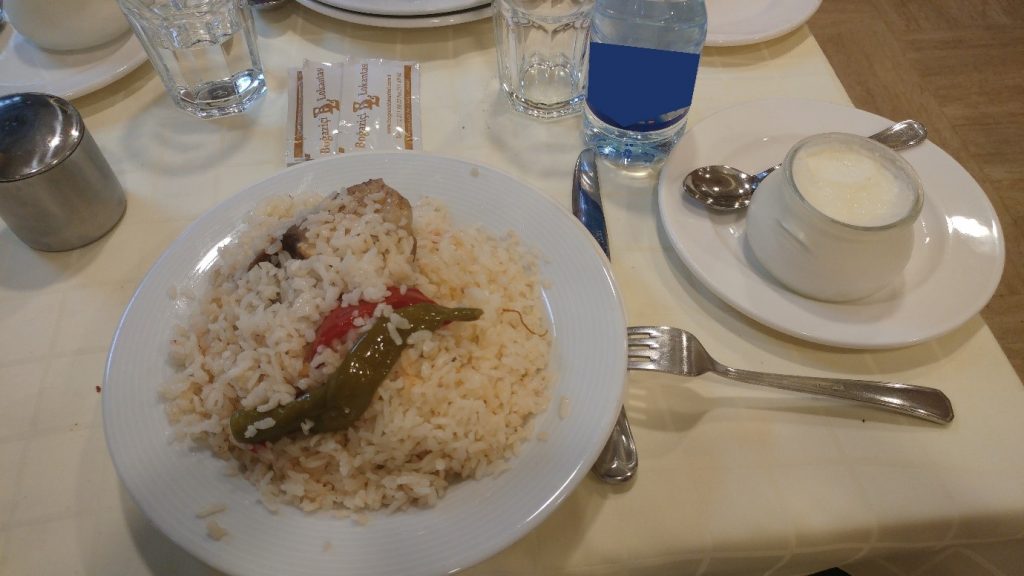 After the soup, I ordered the Ankara pan, which is a flavor unique to Ankara, and yogurt. Since we came late from the trip, we were at the restaurant at around 15:00. So the rice had softened a little. I couldn't find the old flavor in the meat. But it was much better than what I ate in different parts of the country, namely Ankara Tava must be eaten in Ankara. I would also like to mention yogurt. It was a fatty and very tasty yogurt in a small glass container. I think it is probably their own production.
Yogurt in a glass bowl at the Bosphorus Restaurant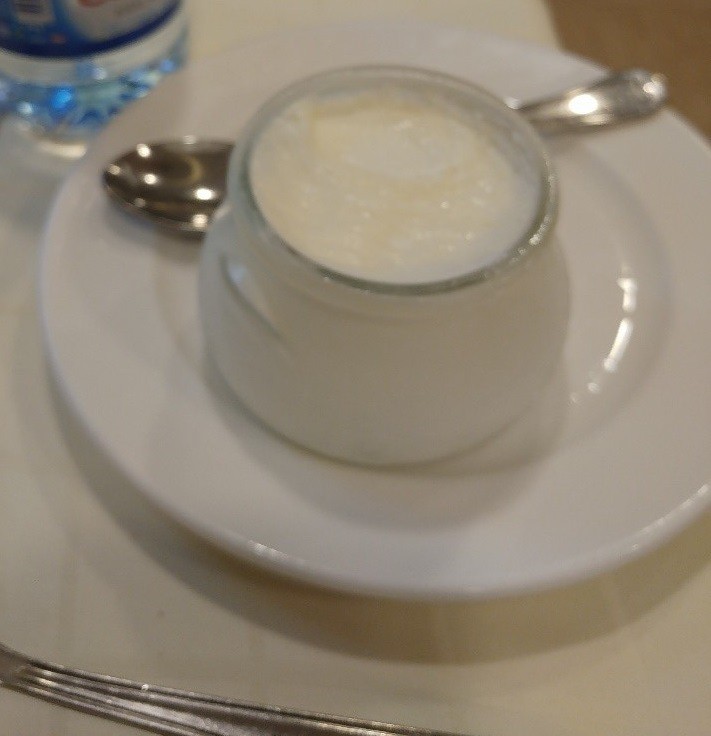 I liked the pudding and the accompanying tea in the dessert part (they had fresh tea at that time). Unfortunately I have not taken their photo.
Two people have paid a total of 135₺ accounts. I think it was reasonable in the price / value comparison. However, regarding the cost, it is not a place to go at every noon. I think it was worth what I paid.
Waiters were polite and willing to serve.
I will go again on my next trip to Ankara.
Enjoy your meal.