Sinopia Mantı Evi at Bağdat Caddesi, İstanbul
Have you ever tried manti (mantı in Turkish) in Turkey? Especially, the Sinop manti? Manti is usually named as Turkish ravioli or pasty. But I would define it as dumplings with meat, boiled and covered with yoghurt and tomato-garlic sauce with lots of spice on it. And you can taste it in a shop in Bağdat Caddesi (Bagdat Street) in İstanbul with a simple decoration that highlights the flavor only.
I had never considered to go to that particular restaurant, however one day my son said he was very hungry after his drums training. Even though it was empty at 12:10 on Saturday (I think a mid-day crowd is a good indicator of taste and quality of a restaurant), our visit was just a coincidence inspired by the confidence we felt looking at the faces of the people inside.
Here is the post in Turkish.
Rules
I apply the following rules in every meal post.
The restaurant has been never informed about our presence or about the article. Standard service has been received like any other person. There is no preliminary preparation.
The food eaten is always paid for a price-performance comparison.
This article was written at least one month after going to the restaurant. Protection of the our identity is important to this series of articles.
Any good and bad situation that appears will be reported.
Sinopia Mantı Evi's Manti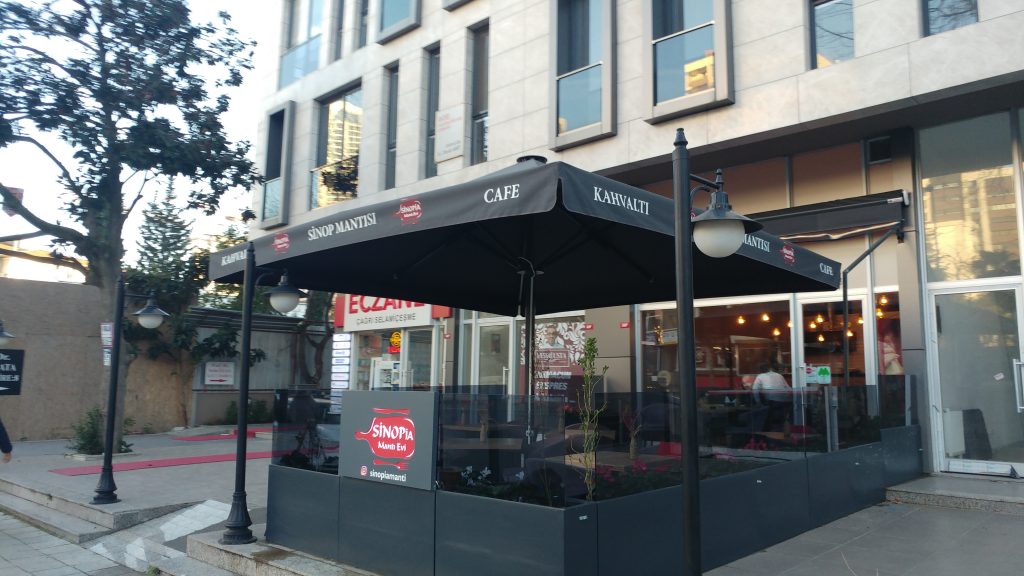 Here is the front view of Sinopia Manti Evi. I couldn't find its website and the link I provide here is for Instagram. Is it an ambitious place? No. Does it have a magnificent decoration? No, it's extremely plain and simple. Is its lighting amazing? It's a bit complicated but still plain. But something attracted us.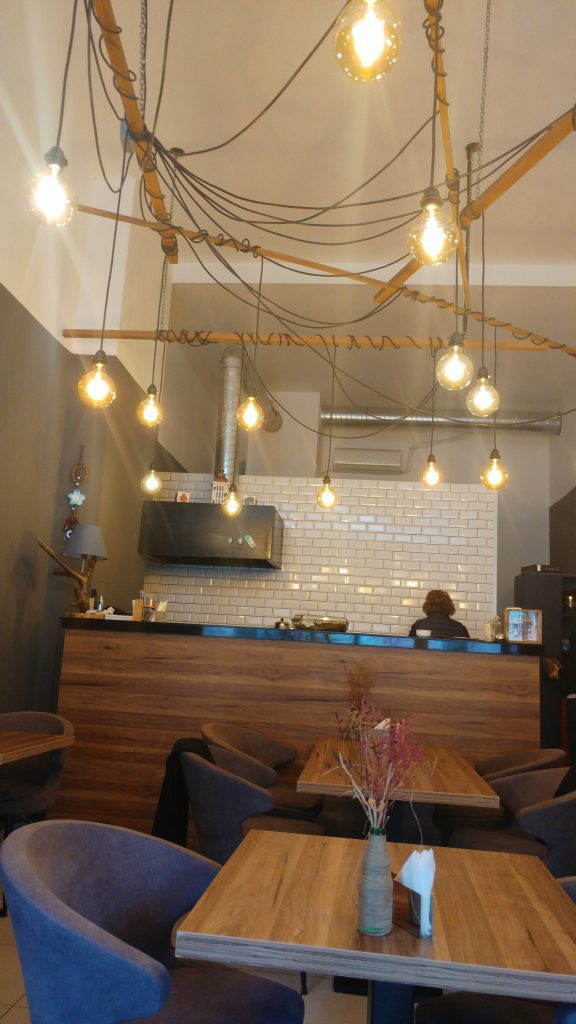 The decoration with wooden tones is beautiful. The seats are comfortable. The cables on the ceiling remind me of the phone and electrical cables of the neighborhoods of the 70s seen in the movies of Kemal Sunal, the legendary Turkish comedian, but they are interesting. The lighting is not distrubing. Go ahead and see how clean the kitchen is.
Two ladies served us on the table. I guess they were the owners and this explains the touch of women in the whole place.
They immediately assisted us in our choice. My son does not like yoghurt with manti for some reason. But that day he ate half of it with yogurt and the remaining half was plain. Sinop manti is a different type of manti. We all ordered crispy manti, but I ordered half with yogurt and half with tomato sauce to try. Below is the photo. The portion in front of my wife is an artichoke with orange flavor. So far, everything was normal.
Eating Pleasure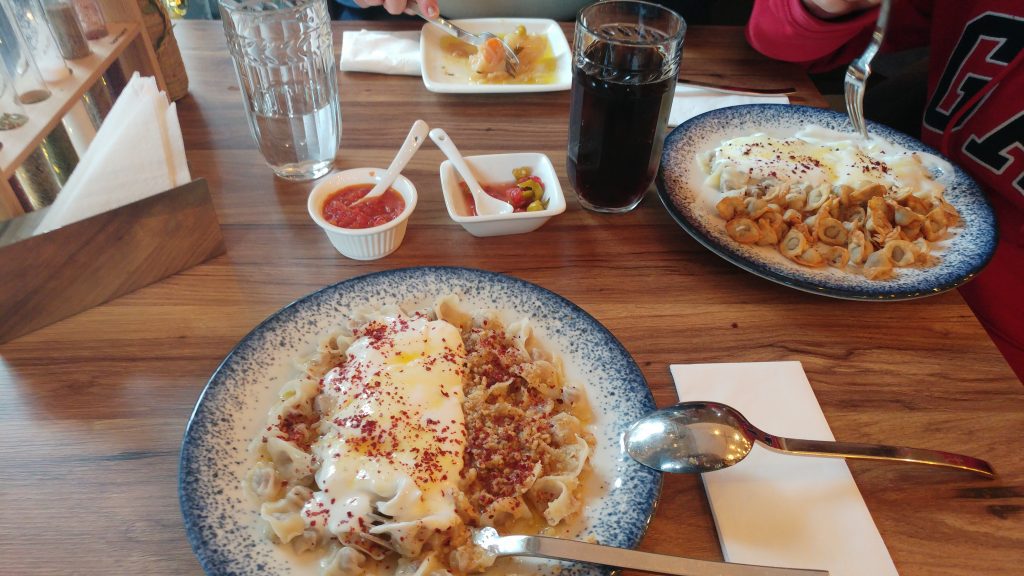 And everything was usual until I got the first bite. Slightly roasted little tiny ravioli. There is a certain fine workmanship that is made by hand and requires a lot of effort. Their flavors were very good to my standards. You feel that you eat a fine manti, but you also have that crispy tastes like walnuts, hazelnuts. Butter leaves another wonderful taste in your mouth. The plain ravioli that my picked was really like a snack. I left my plate as it is and started eating from my son's plate. This is why he started to look back at me angrily.
And they have that small sauces with pepper and tomatoes in the middle. They were realy tasty. They tasted slightly hot but all disappeared in 15 seconds after taking this photo. My wife started the meal with a determination in her ongoing diet and picked orange artichoke, but could not help herself tasting the manti. We had a very delicious meal. We went there by chance but had a very lucky and delicious meal. I hadn't eaten Sinop manti before, I will from now on.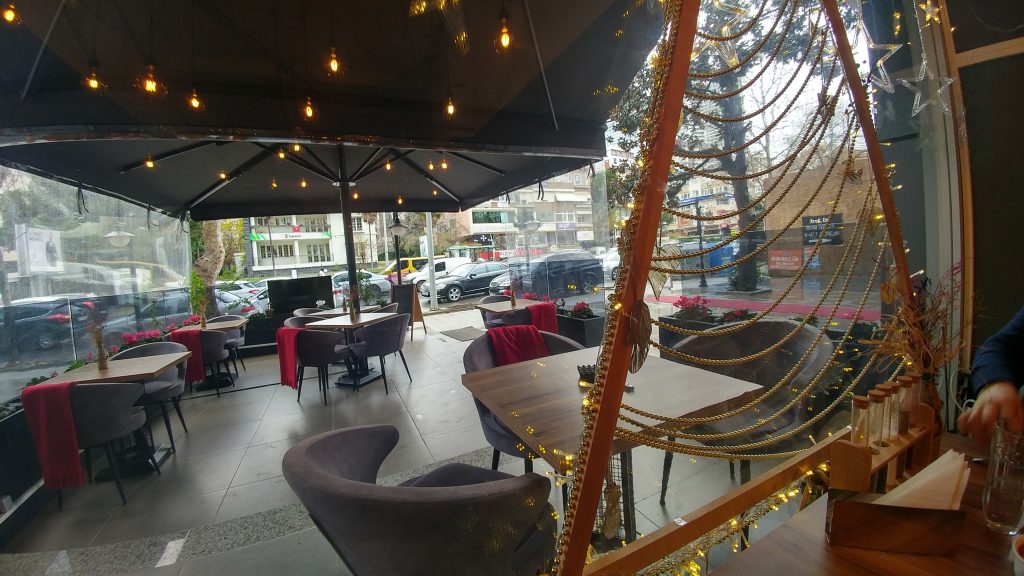 Transportation & Parking in Bağdat Street
There are also tables in front of the shop in the open air section, but we could not sit since it was cold. I would also like to draw your attention to the spices in the form of the test tubes in this photo. A good invention.
They also serve breakfast in the morning and they have desserts that I haven't tried but are still on my mind.
The price for this meal was 105₺ for three people. I think it is worth paying under life and dining conditions in Istanbul.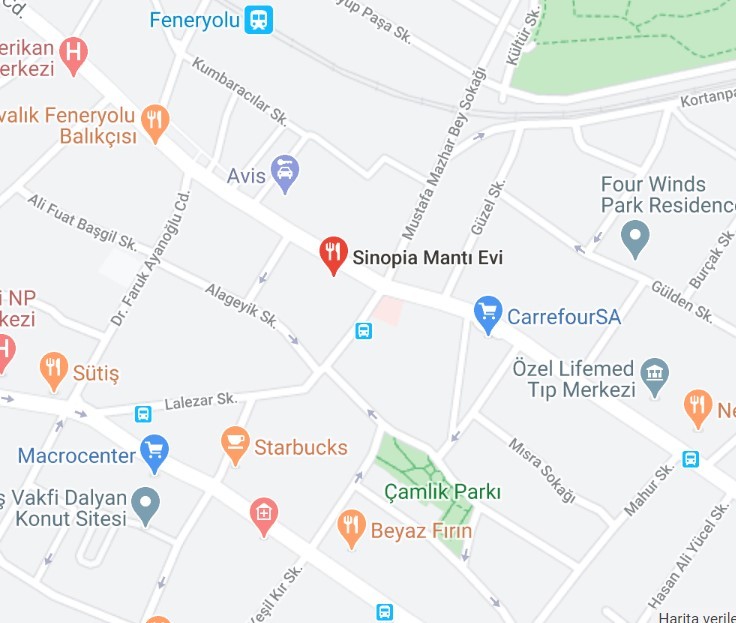 On the way to Kadıköy by Caddebostan, when you pass the Ozgurluk Park (Liberty Park) junction, 60-70 meters away on the left. I'm talking about the intersection of the Dunya Goz Hastanesi (World Eye Hospital).
There is no parking space in the front. If possible, drive towards the Ozgurluk Park and walk a little or, after passing through the intersection, turn left and park on the back street which is 150 meters away.
I'll go there again, eat again.