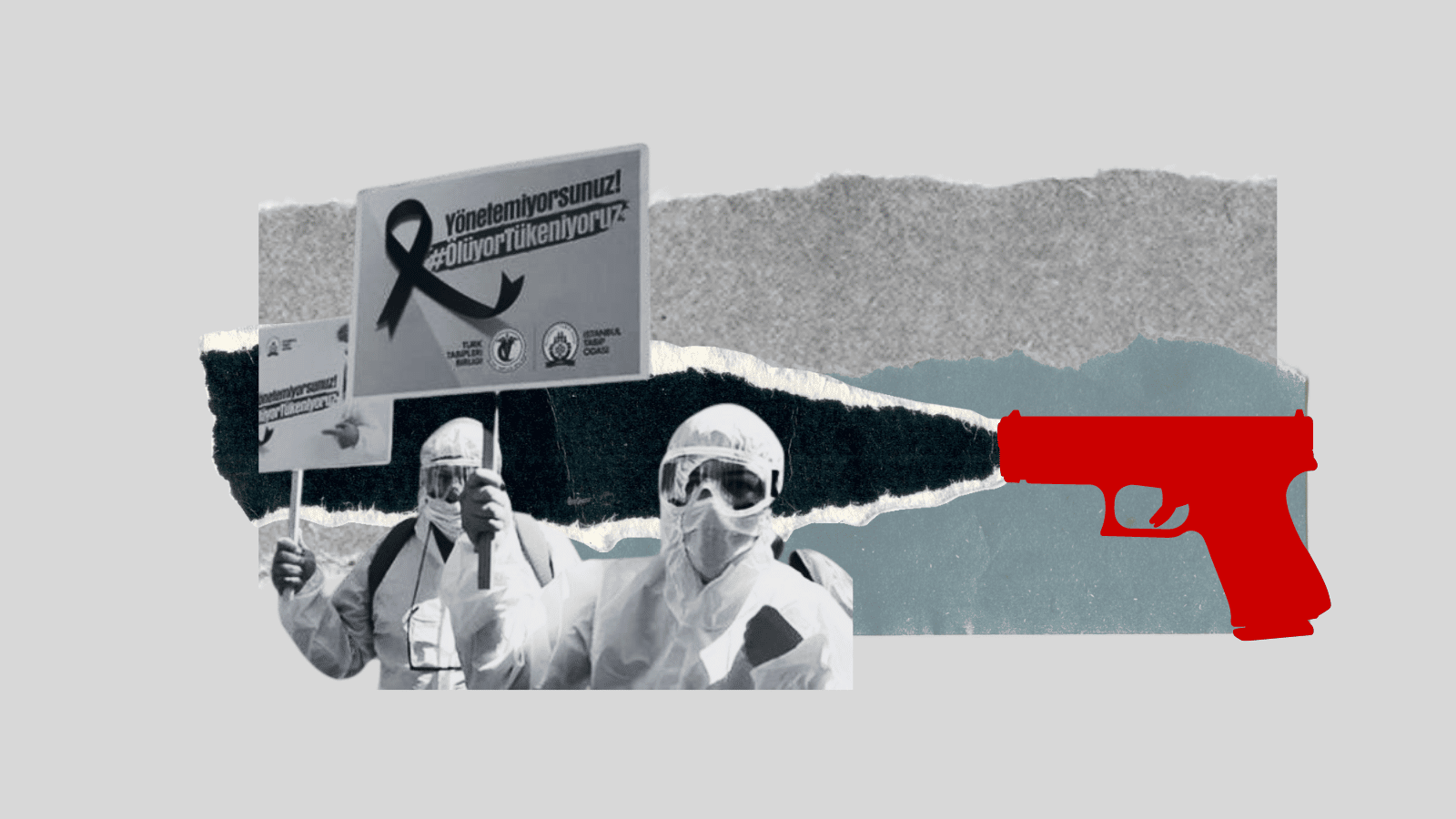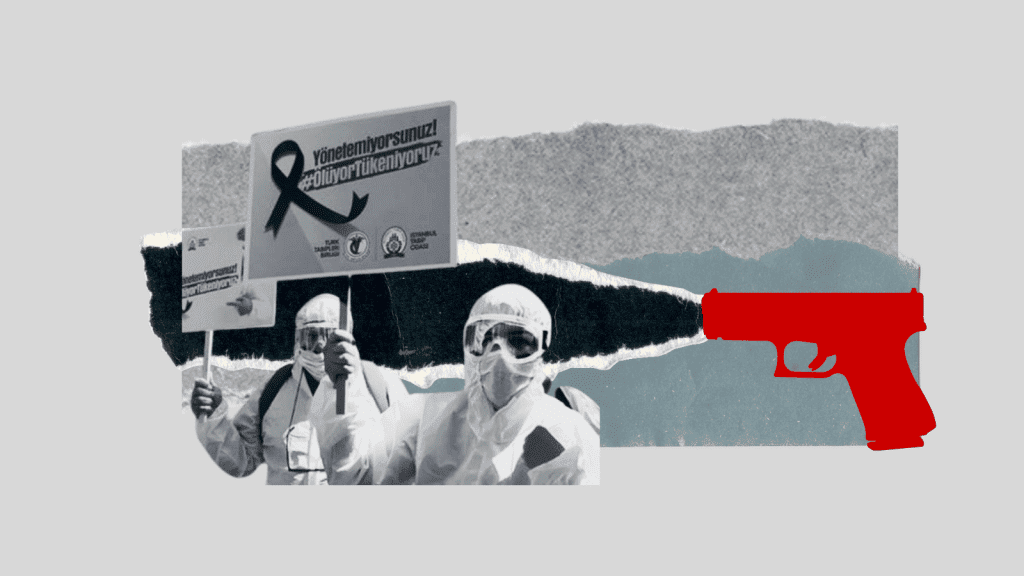 A medical doctor killed in a gun attack, professional associations decide to go on strike to protest increasing violence against healthcare workers; Minister of Justice said Ankara renewed its extradition request from Finland and Sweden; While Turkish Lira continues to weaken against US Dollars ministers argue economy is stable, Türkiye is in prosperity; Israel reopens its economic attaché in Türkiye…
Here is the main discussion topics in Türkiye Today:
1- Professional healthcare associations will go on strike to protest against violence against medical workers as Türkiye mourns again for a surgeon who was killed on duty in a gun attack. 
Turkish Medical Association announced that they will go on strike on July 7 and 8 after a surgeon killed in a gun attack.
Dr Ekrem Karakaya MD was killed in a murder-suicide incident in Konya on July 6, the latest of the hundreds of attacks healthcare workers face in the last years. The shooter, accusing Karakaya, a cardiologist, of being responsible for his relatives' death, came to the hospital armed, killing the 39-year-old surgeon and himself. The violence sparked protests in some cities in Türkiye. 
While officials such as the presidential office, ministers and opposition leaders condemned the attack, professional associations decided to go on strike as they have been warning the officials about deteriorating working conditions that lead to violence against healthcare workers. 
The healthcare workers had already been protesting with strikes since December, demanding protective safety measures and protective laws. According to the Turkish Medical Association, more than 100,000 healthcare workers have been physically and verbally assaulted in the last 11 years. At least 12 were killed by patients or patient relatives. As of 2021, 1270 doctors applied to work abroad quoting bad working conditions. The number of such applications was 59 in 2012.
2- Türkiye renewed its former extradition requests from Finland and Sweden "within the framework of the memorandum signed", Minister of Justice Bekir Bozdağ said in a televised interview on July 6. 
"Some of our previous requests were rejected. We prepared new files about them and we renewed our requests over the rejected ones. Some requests haven't been answered yet. We also send our written demand for an answer for that as a reminder. We conveyed those request files today to the Ministry of Foreign Affairs which will convey it to related countries," Bozdağ said. 
Türkiye lifted its obstacle to Sweden and Finland's NATO membership bid with a memorandum of understanding last week, in which parties agreed to "fight against terrorism". Türkiye demands the Nordic countries extradite 73 people who were convicted of terror charges in Türkiye, and lift their armament embargoes. Ankara specifically demanded Sweden and Finland stop their support of Kurdish militant PKK and YPG groups in Syria and the US-Based cleric Fethullah Gülen's organization FETÖ which is considered to be behind the July 15, 2016, coup attempt. 
3- Turkish Lira continues to weaken against the US dollar to 17,25 levels despite recent fiscal moves. Turkish Central Bank adheres to a stimulus policy that prevents rising interest rates despite the consumer price index recording a 24-year-high of 78 percent in June. Türkiye recorded 11 percent growth last year, its highest in a decade, while the purchasing power of the people declined drastically. 
Treasury and Finance Minister Nurettin Nebati said that despite rapid price hikes the "economy grows in a healthy and balanced manner," on July 6 with a Twitter message. 
"Despite the global commodity price hikes and economic problems our country continues to grow in a healthy, balanced and sustainable manner. It continues to break new export records and tangible increase in employment", he said adding that they "attach importance to distributing the growth to all of our citizens."
Minister of Labor and Social Security Vedat Bilgin said that Türkiye prospers as the "welfare level rises."
"All families in Turkey, families from all income groups have a car at their doorstep. Their children can have an education. After all, we can all feel it in our personal lives. The global crisis that the world is experiencing affects us tremendously. We need foreign currency. The fluctuation in foreign exchange prices has a shocking effect on our economy. The second source is energy," he said.
The related commission recently set the minimum wage as 5,000 TL. According to the May report of the Confederation of Turkish Trade Unions, the hunger limit for a family of four in Turkey has exceeded the minimum wage, to 6,017 TRL, and the poverty line has reached 19,602 TRL.
4- Pride March in the capital Ankara also faced the police force, at least 36 people were detained. Pride Marches in İstanbul and Eskişehir were also dispersed by the police force because of the governorship ban on gatherings. There is no law against LGBTQ+ communities in Türkiye however the hostility is widespread and police crackdowns on Pride parades have been increasingly tougher over years. 
5- Israel to reopen economic attaché in Türkiye as a part of bilateral normalization efforts. Israeli Minister of Economy and Industry Orna Barbivay announced that the economic attaché in Turkey will be "reopened as part of the reinvigoration of diplomatic relations. "
"The economic attaché plays a central role in deepening and strengthening economic relationships with Turkey – an important economic partner for Israel – by providing assistance and support for Israeli imports, by identifying and creating commercial opportunities and by significantly contributing to expanding bilateral trade," Barbivay said. 
The embassy offices of the two countries are mutually vacant.