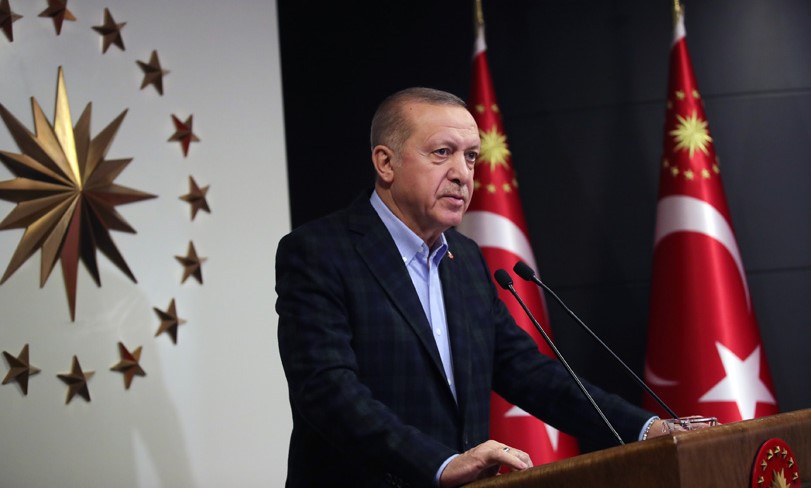 Turkish President Tayyip Erdogan unveiled a new set of measures to fight coronavirus outbreak on March 27, one step short of a total lockdown of the country and a state of emergency. Underlining that the measures were taken after a letter of suggestions by the Coronavirus Scientific Committee, Erdogan listed eight points to be obeyed "if we don't want the [measures] to go to further levels", in a televised address to the nation. "Stay at your homes and do not go outside other than for shopping for your needs" Erdogan said; "Look, what is happening in the U.S."
The measures include the following:
1-All intercity travels will be subject to special permissions by provincial governors;
2-Private sector companies, like in the public sector will rely on a minimum number of employees and shift to flexible working models;
3-In public transportation, the passenger capacities will be brought down [by half];
4-At weekends, all open-air public places like parks, forest camps, beaches, fishing ports, etc will be barred; in weekdays they will not be used in groups;
5-All conscripts will be subject to 14 days of isolation while starting and finishing their military services;
6-All international flights are suspended;
7-A Pandemic Commissions will be established in all 81 provinces to be chaired by their governors;
8-Governors of 30 largest cities will be responsible for the implementation of the measures and be authorized to take the necessary steps to maintain that.
Erdogan said the 8th step was particularly important. That could be interpreted as a sort of state of emergency at a provincial scale and flexible depending on the local conditions.
"No room to languor"
"We will not overcome by languor", Erdogan said; "the threat is very serious. And we should not panic, because we are giving a though struggle." He added that Turkey can produce its own medical masks, gloves, and test kits and there is no shortage of either those material or medicine necessary for the cure of COVID-19 patients.
A few hours before Erdogan's address, Turkish Health Minister Fahrettin Koca revealed that the number of coronavirus-related deaths had increased to 92, 17 of them being on March 27. Interior Minister Süleyman Soylu had said earlier in the day that 12 townships and counties across the country have been put under quarantine due to an increase in coronavirus cases.
Meanwhile, the mostly-economic measures on March 18 have been put in effect on March 27. Those measures contained a 100 billion Lira ($15 bln) aid package banning layoffs but criticized because of focusing too much on banking credit rather than a stimulus package. It also paved the way for a risky debt-monetizing scheme, printing more money to reanimate the economy in the absence of a stand-by deal with the IMF.
Erdogan so far resisted the demands by the physicians and opposition parties to take tougher measures to prevent people from getting into physical contact with each other in public places by asking people to "declare their individual state of emergency". But it seems he might have to take tougher measures, perhaps a total lockdown if these new set of measures fail, too.