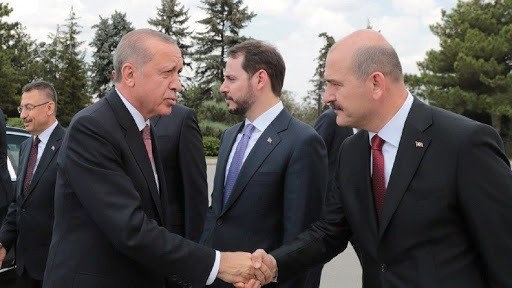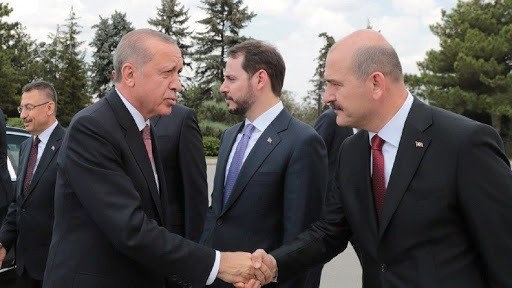 Let's put it this way: Which other minister in President Erdoğan's cabinet in today's Turkey could publicly announce his or her resignation only to be met with Erdoğan's request to stay? Let's broaden the question. Who, in the presidential team, could announce his or her resignation via Twitter? And who would Erdoğan publicly tell to not leave to, and even praise on live TV? What about those in parliament?
I would say don't force your chances with other names like National Defense Minister Hulusi Akar, National Intelligence Organization (MIT) Director Hakan Fidan and Treasury and Finance Minister Berat Albayrak? Or Presidential Spokesperson İbrahim Kalın? We only have one example in hand and that's Interior Minister Süleyman Soylu.
On the night of April 12, Soylu publicly revealed his resignation. He felt that he was left alone to face the criticism concerning the people's two-hour panic, violating all coronavirus isolation rules following the announcement of a weekend curfew, on the evening of Friday, April 10 for 31 provinces. He announced his resignation via Twitter. He was also expressing that it was the President who had given the order for a curfew. The opposite couldn't be possible in today's Turkey anyway. On the other hand, Soylu was also stating that he took full responsibility for the difficulties experienced that night. The Minister of Interior seemed to put his neck on the line to protect the President.
But why?
What did Soylu relied on?
Some commentators took the easy way out and said that Nationalist Movement Party (MHP) leader Devlet Bahçeli's open support acted as an insurance alone. But that wasn't the case. Soylu, who is the probably the most disliked minister by the Republican People's Party (CHP) and Peoples' Democratic Party (HDP) grassroots, bu he is the favorite among Erdoğan's ruling Justice and Development Party (AKP) members. In a matter of few years, a man who had entered the political arena through the youth section of the center-right True Path Party (DYP) and then led the Democratic Party (DP) had gained the sympathy and support of the AKP voter base. He had stepped forward.
His brand of tough struggle against illegal Gülenist network and the outlawed Kurdistan Workers' Party (PKK) played a part in this. With such features, he was much appreciated outside AKP, especially among the MHP voter base. So much so that in Ankara's political backstage, there is a speculation that should Soylu become a candidate to lead MHP or should Bahçeli choose him as a successor, he would win the leadership. Therefore, Soylu, who joined AKP in 2012 had gained, in eight years alone, enough power to be able to stand out with his political identity within the party.
Naturally, not everyone within AKP was happy with the sympathy Soylu gathered from both AKP and MHP voter bases. For example, Daily Sabah newspaper, which belongs to the Sabah group under the direction of Serhat Albayrak (who is the brother of Berat Albayrak, Treasury and Finance minister and Erdoğan's son-in-law), had acted rather swiftly and underhandedly implied that Soylu had resigned due to his "botched" move on April 10 night to declare a weekend curfew.
A grand comeback — for now
But Soylu is from the school of Süleyman Demirel, the Turkish master of pragmatist politics.
It seems that he took into account the possibility that if he did not make that resignation move on April 12 night, he would be worn out by criticism from within inside the AKP and end up like one of those ministers who learned of their dismissals from the cabinet from the media. He still wouldn't lose if his resignation was accepted. After all, he had been involved in politics since the age of 18 and knew that ministries with no initiative wouldn't have a good reputation either. When his resignation was rejected, he won.
It turned into a sort of power game. When Soylu returned to his office on Monday morning, April 13, he was stronger than when he left on Sunday night, April 12. When his opponents within and outside the party look at him now, they will see someone who has made a public resignation facing a strong leader like Erdoğan, only to come out of it with his praises. In other words, unlike some other ministers, he will not be occupying his seat as though it was a blessing from a higher place. This is clear also considering those tweets coming from AKP ranks, posted in a rush at night to please God knows who, which were subsequently deleted one by one.
The tides can turn in a matter of minutes in politics, one never can tell. But at the moment, Soylu is the second most powerful man in Turkish politics, immediately following Erdoğan. That is the first indication of the changing balances in Turkish politics as a by-product of the coronavirus Covid-19 outbreak.
Unanswered questions
If Soylu gained power, who lost it? First, it's necessary to consider President Erdoğan. On the evening of April 13, following the cabinet meeting, Erdoğan fulminated against the media and the opposition. But he also had to express that he wanted to continue working with one of his ministers who publicly stated that he no longer wanted to work with him any longer, and he had to do so with public praises. It's yet unknown whether anybody else would dare cross the threshold but a certain gate has been opened.
By the law of the instrument, it's also natural that Soylu made some complaints while explaining the reasons behind his resignation to Erdoğan. About certain people, practices, appointments that are made or not and the general state of affairs. Who are those people? What are those practices, those appointments?
Finding these out will take a few days perhaps, or a few weeks. But an act that makes such a tremendous impression will surely reflect in later actions, too; it's always been this way.
However, there is a peculiar situation. The main reason for passing onto the Presidential Government System with the support of MHP was to avoid reliance on coalition governments in Turkey. But that was also the first matter to be overruled. The MHP, just like an official coalition partner with its right to veto, acts as a secret coalition partner to the AKP government. One of the unofficial reasons for adopting the Presidential Government System was that Erdoğan no longer wanted a "number two" around him. The abolition of the prime ministry system was partly because of that. However, just like nature itself, politics doesn't like vacuum, too. Soylu's rise to being the number two is a proof.
While all this is happening the coronavirus (COVID-19) disease continues to spread and take lives. According to Health Minister Fahrettin Koca, the number of deaths reached 1296 on April 13. And on Monday, the streets were packed with people, again.