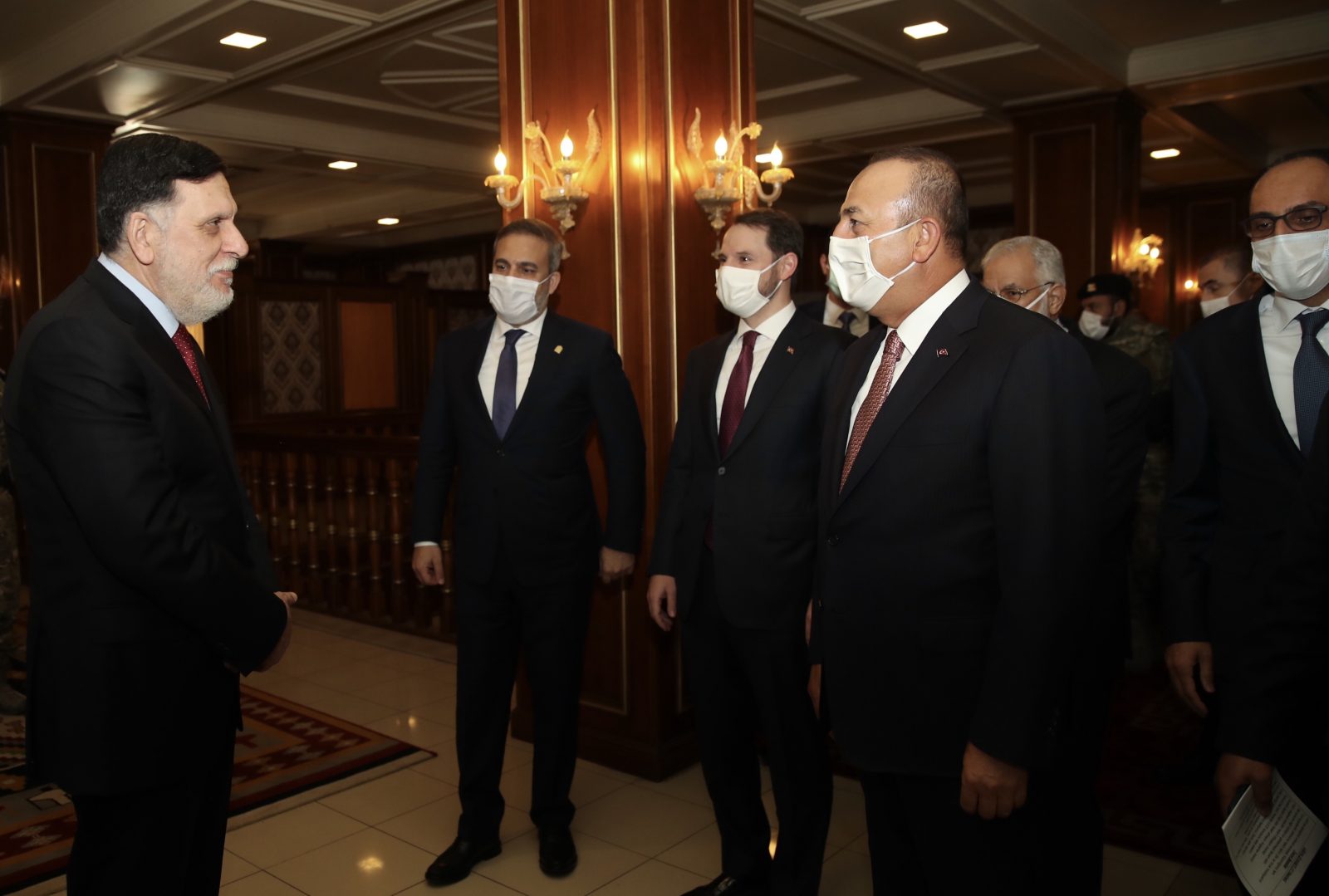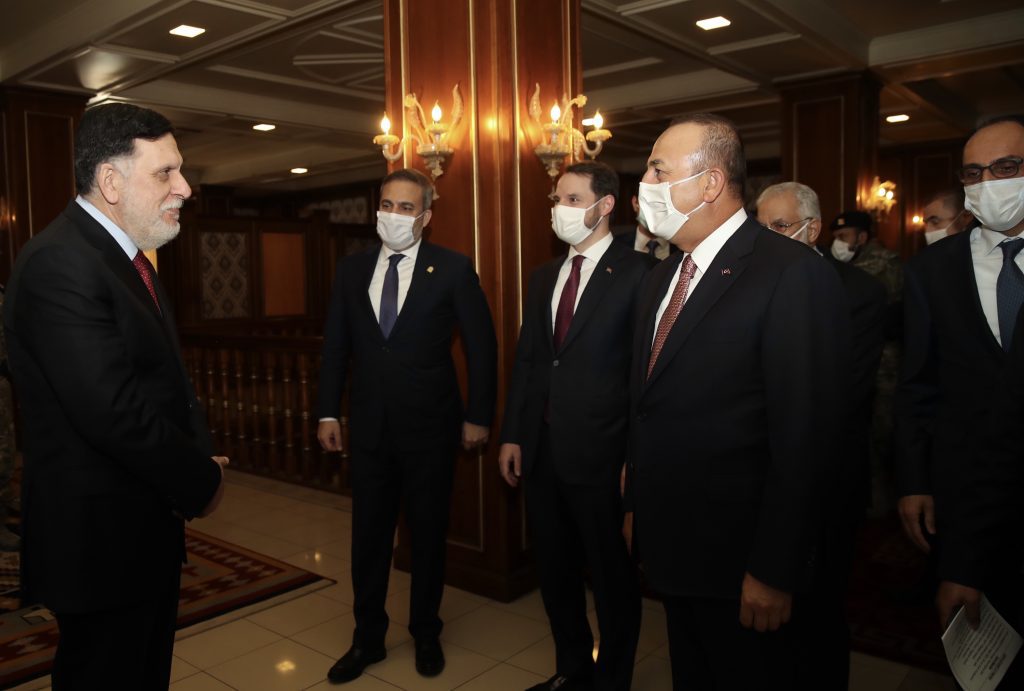 At around the same time, the NATO Defense Ministers' video-meeting has started on June 17 afternoon, a Turkish plane has landed at Tripoli airport in Libya. Semi-official Anadolu Agency soon started to file footage of a high-rank Turkish delegation welcomed by Libyan Prime Minister Fayez Al-Sarraj. The delegation was led by Foreign Minister Mevlüt Çavuşoğlu, who was supposed to host his Italian counterpart Luigi di Maio on June 17 in Turkey; the visit was announced to be postponed to June 19 only a few hours earlier. Turkey's Treasury and Finance Minister Berat Albayrak, National Intelligence Organization (MİT) Director Hakan Fidan and President Tayyip Erdogan Chief Security and Foreign Policy Adviser İbrahim Kalın were in the delegation as well. The last-minute, unscheduled visit marks a new phase not only in the Libya civil war but also in Turkey-Libya relations.
Upon his return to Turkey in the late evening, Çavuşoğlu said that the major purposes of the visit were to strongly endorse Turkey's support to Libya and discuss the possibilities of further cooperation. According to Turkish sources who asked not to be named, the plans to boost up Turkish military support to the Libya government were discussed, including to construct an air base near Tripoli and also unpaid debts to Turkish contractors and new oil exploration rights. Turkish National Defense Minister had said earlier that the Turkish military assistance to Libya Government of National Accord since late 2019 changed the course of its war against the rebel forces of Khalifa Haftar who has been supported by Libya's neighbor Egypt, The United Arab Emirates (UAE) Saudi Arabia and Russia.
As Russia makes it stance visible
In May, with Turkey-supplied artillery and drones, Sarraj forces have taken back al-Watiyah airport from Haftar forces, destroying and seizing Russian made Pantsir-1 air defense systems and forced Haftar to lift the 9-months siege on the capital Tripoli. The NGA forces than captured back a key town, Tarhunah, and headed for the Western port of Sirte, despite Russian fighter jets arrived at Juffra (via Iran and Syria), a strategic city and airbase under control of Haftar forces.
A Turkish source told YetkinReport that the first target of Sarraj forces was to secure Tripoli, and with Turkish help, the next step would be to take back Sirte and Juffra. Taking back Sirte, which is relevant for Libya's oil exports is not easy, but Juffra would be more difficult since Russian build-up is there. So far, Russia, despite recognized the Sarraj government as a permanent member of the United Nations Security Council was giving indirect support to Haftar, through mercenaries, like France, a member of NATO. But after the retreat of Haftar to Egypt, and Egypt's call for a ceasefire, Russia started top give a more open support.
Why Russian ministers didn't show up?
Russian Foreign Minister Sergey Lavrov and Defense Minister Sergey Shoygu were supposed to be in Istanbul on June 14 to carry out talks with Çavuşoğlu and Akar. They did not show up. Turkish and Russian parts made short statements saying that the ministers would meet on a future date.
There was a preparatory meeting a day before on June 13 in Istanbul led by Turkish Deputy Foreign Minister Sedat Önal and his Russian counterpart Mikhail Bogdanov. The Russian part was firm not to paddle back in Libya and was urging Turks for an immediate ceasefire as proposed by Egypt. On the other hand, Turks, recalling that Russians had failed to convince Haftar for a ceasefire with Sarraj before, their insistence was only to gain some time for Haftar for him to recover. Çavuşoğlu had called on the U.S. on June 11 to do its best in NATO and separately for a lasting ceasefire which could pull Haftar to UN-sponsored talks with Sarraj. So, there was no point for Russian ministers to travel to Turkey as Putin had called for a National security Council meeting on that day anyway. Ironically it was Lavrov's turn on June 17 to call on the U.S. (not something easy for Moscow) to intervene in Libya, complaining about Turkey, when Çavuşoğlu was already in Tripoli.
Libya alliances
Also on June 17, France has protested the Turkish navy because of harassing one of its warships in the Mediterranean. Paris said that NATO should not ignore the move. But another NATO and also the European Union (EU) member country, Italy seems to play the Libya game in cooperation with Turkey and Qatar. Italy is the secret key player in the Mediterranean game. If Italian Prime Minister Giuseppe Conte had gone to Cairo to sign the EastMed pipeline project on January 2, the whole picture today might be different. But Rome decided to push Paris aside over Ankara's Libya move and secure its interests in future Libya, not only for oil and reconstruction possibilities but also to sign a lasting migration deal. It is not in vain that Italian and Turkish navies (together with air forces) have been carrying out drills off Libya one after another for the last few months.
So, two alliances confront each other in Libya. Turkey, Italy, and Qatar are siding with the UN-recognized government of Libya. Egypt, UAE, Saudi Arabia, and Russia, with indirect support of France and Greece, are backing Haftar forces. Ankara, according to a Turkish diplomatic source, knows that a zero-sum game might not be possible, but a ceasefire should have the target of a political solution, meaning peace talks and resumption of the Berlin Conference.
If Americans intervene, despite all their domestic problems, it is not very likely to let Russia return to Libya, and the Mediterranean in addition to its gains in Syria.