Erdoğan welcomes EU move not to sanction Turkey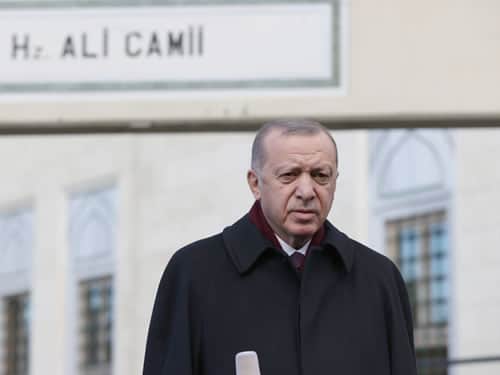 Turkish President Recep Tayyip Erdoğan welcomed on Dec. 11 the European Union decision not to sanction Turkey, a demand introduced by Greece and France due to eastern Mediterranean sanctions.
"Our rights must be granted. There are now many rights that EU member states must grant Turkey," Erdoğan told reporters after Friday prayers. "Reasonable countries in the EU thwarted this game by showing a positive stance," he said.
The European Union will impose sanctions on more Turkish individuals and companies responsible for drilling in contested waters in the Mediterranean, refraining from making any sanctions decision on Turkey until its next summit in March 2021, which is after president-elect Joe Biden takes over in the U.S.
NATO had also responded to a draft version of the EU decision, recalling that an important member of the Western Alliance particularly in terms of anti-terror fights, migrants, highlighting that it borders both Iraq and Syria.
Erdoğan said a sanction decision in the next EU summit was also "impossible."
Turkish Foreign Ministry also made a statement, saying that "Although a number of EU member states, including the current Presidency of the EU Council, have endeavored for dialogue and contact with Turkey since the EU Summit of 1-2 October, a positive agenda in the Turkey-EU relations could not be created yet. This is due to the narrow political calculations of very few countries. Thus, the EU could not end its search for restrictive measures, which is totally futile."