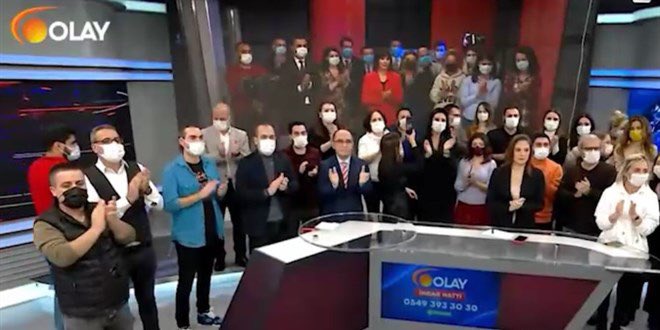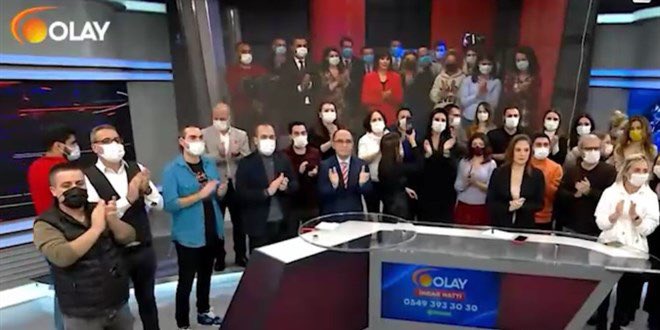 Olay TV was an independent media initiative with a goal to become mainstream under the current conditions of Turkey. It only lasted 26 days. It is easy to accuse Cavit Çağlar, who named the broadcaster, because he could not withstand the pressure from the ruling power and withdrew. It is also easy to accuse Editor-in-Chief Süleyman Sarılar of trying to be fair in the broadcasting of political parties. The easiest way is to blame Nevşin Mengü, the news anchor who has become the common target of the pro-government media. In such times of carom, it is not immediately apparent who said how much of the truth, but the truth becomes obvious sooner or later. So let's leave the debate on this issue aside and rather focus on the poisonous politics-media relations that do not even allow a mainstream media initiative to last more than 26 days in the Turkey of 2020.
A brief summary tells us that the political environment today is not suitable for a television channel with a claim of remaining independent survive a month.
We can also say that the Justice and Development Party (AKP) ruling of Erdoğan cannot stand mass media attempts that are not perfectly in line with its political stance, not necessarily against it.
Sözcü TV incident
Would you like to see examples? Let's look at efforts to launch Sözcü TV, a broadcaster attempt by daily Sözcü, that has taken two years so far. They applied to Turkish broadcasting watchdog RTÜK early in 2020 to change the logo of Sivas TV, a local broadcaster they acquired. They do not want to launch the channel with the logo of Sivas.
One may ask why they did not launch a channel from scratch but acquired an existing channel instead. Because, according to RTÜK rules, it is much more difficult to get a broadcast license from scratch, to do that, you have to knock on more political-bureaucratic doors. After changing the logo, they will need to get permission to convert the SD broadcast to HD, and then apply to RTÜK again to take part in broadcasting platforms such as DigiTürk and D-Smart. RTÜK, on ​​the other hand, has not even taken the Sözcü application to the agenda, although it has deposited the required fee.
And this is because the Sözcü newspaper has no chance to influence AKP grassroots since almost all of its readers are AKP opponents on the right or left side of the political spectrum. But a TV channel is not something like that, it can also attract the AKP audience while switching channels. This is just like how the main opposition Republican People's Party (CHP) and İYİ Party reached some segments of the society that they had been isolated from after they won the mayor seats in big cities in the 2019 local elections.
Is it just the HDP?
Therefore, the issue is not limited to Olay TV broadcasting the weekly parliament meeting of the People's Democratic Party (HDP) live. If they had not aired the meeting, they would have faced another problem soon. Their application was in the hands of RTÜK and the state institutions had the control. Besides, the HDP is not an illegal party. The issue that it does not draw a clear line separating it from the terrorist acts of the PKK concerns its voters, approximately some 6.5 people, not RTÜK, the Saving Deposit Insurance Fund (TMSF), or any other state institution. It shouldn't. This irks some when reminded of it but the HDP is the third-largest party in parliament. Olay TV had the link from the official TBMM TV of parliament to broadcast the HDP meeting, it was not illegal broadcasting. This means that TBMM TV was already airing that meeting regardless of Olay TV.
It is true that the ruling party does not lime private broadcasters to air speeches of HDP executives and imposes psychological pressure. From this point of view, it may as well prevent these channels from broadcasting parliament speeches of the CHP or İYİ Party.
Threat on independent media initiatives
However, the issue is not about only HDP. In Turkey of 2020, it is like they are trying to justify the closure of a TV channel only because of airing the parliament speech of a party in parliament. This effort is a perception operation that aims to legitimize further bans in advance.
The objective is to deter any possible investors that would attempt to launch a channel independent from the government in Turkey of 2021. What will happen if Olay TV sets up a "new" team, takes all the required permissions from RTÜK in a week and continues broadcasting? Will it have any credibility or reputation further than the current pro-government channels or newspapers? It doesn't look easy.
I was part of the cadre that founded NTV, Turkey's first news channel ever, with the initiative of Cavit Cağlar and under Nuri Colakoğlu as the captain in 1996. I started conducting a weekly program on Olay TV with a wish for a new NTV, following calls by Çolakoğlu, Çağlar and Sarılar subsequently. I saw the light in the eyes of the members of the new squad. Now I also see that despite the hurdles, that fire of desire for proper news reporting stays on.
Political atmosphere poisoned the media
In Turkey of 1996, an objective news channel such as NTV was possible despite an environment of free speech criticism. I regret to see that it is not possible in Turkey of 2020. However, investors who will attempt a new venture will now see Çağlar as an example.
It is not easy for the investor Hüseyin Köksal, who seems to continue to support Sarılar and the "former" Olay TV team as the main shareholder. Until now, the pro-government media highlighted his friendship with Çağlar from the textile business, and now it is time to highlight his closeness with Istanbul Mayor Ekrem İmamoğlu as two countrymen from the Black Sea province of Trabzon. The project to continue by taking over an already existing broadcast channel without requiring further permission from RTÜK will not alter the objective of a broadcasting policy to remain fair to all political views, but this will change many things in reality. For example, some AKP supporters who appeared on Olay TV during its short life span will now hesitate on a channel that is the continuation of Olay –I wish they will continue– because they would fear being targeted by Erdoğan or those who act on his behalf. This will inevitably sideline the product as yet another "opposition channel." This is what I call poisoning.
AKP has broken the toy, the media
The so-called mainstream media is owned by businesses inline with Erdoğan and the AKP-Nationalist Movement Party (MHP) partnership.
But what's is the outcome? The number of people who watch identical television channels or those who read identical headlines or columns on identical newspapers is decreasing. A serious amount of state resource pours into these channels and newspapers as ads, depending on false circulation or rating figures. But what is the result? These channels and newspapers are ineffective. Because Erdoğan and the media team he trusts thought that balances would change if they controlled the media tool, but he broke the toy because they played rudely. It is no longer useful to anyone.
In Turkey of 2020, people's right to informed from all sources, not only that are approved by the government, is tied to RTÜK, a bureaucratic institution.
The Communication Directorate of the Presidency is the hidden actor in the previous sentence. The independent press can only survive as long as they stay in their own echo chamber. It cannot reach the masses in a widespread manner. The freedom of the press for the masses is being suppressed by bureaucratic mechanisms.
I hope 2021 doesn't get worse. But Erdoğan said 2021 will be the year of reform, this is why I am concerned.