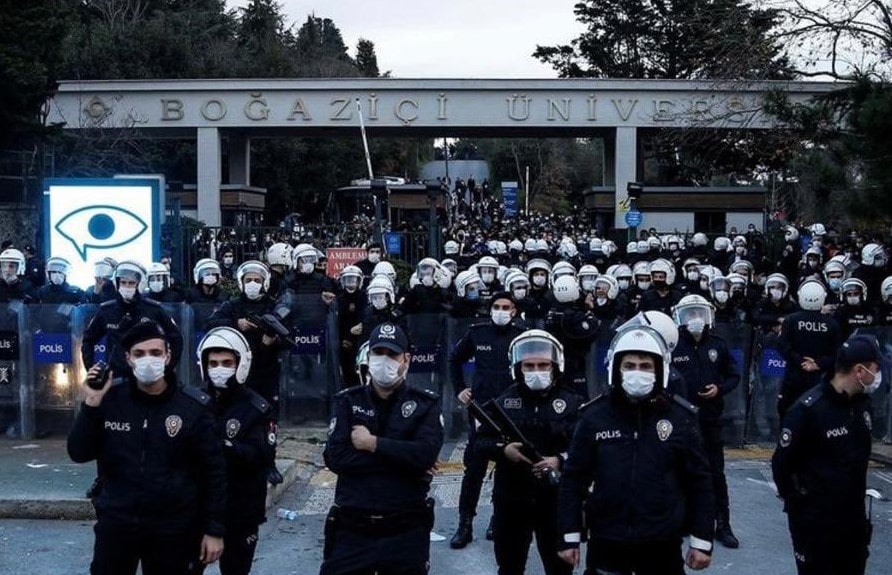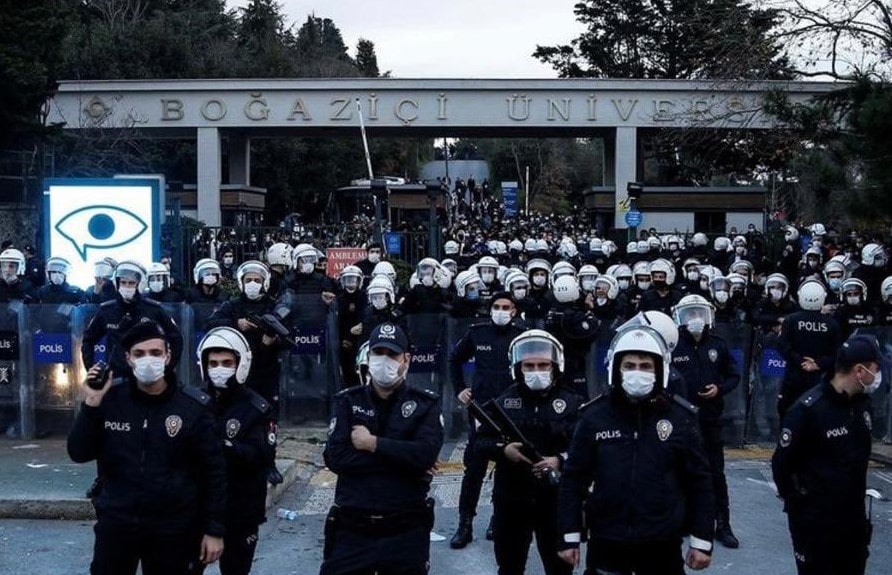 The appointment of a new rector to Turkey's Boğaziçi University has driven me to make a reminder that I am not fond of. I have avoided using references to religion or belief in political evaluations for all my life, I find it wrong. I sincerely embrace the principle of secularism in the Constitution, which basically means separating religion and state affairs. However, the appointment of Prof. Dr. Melih Bulu as the rector of Boğaziçi University and reactions to it reminded me of the phrase "Return trusts to competent people, rule the people with justice," one that former Turkish President Süleyman Demirel frequently referred to in such cases.
This sentence is a brief summary of a verse in the Quran. "Indeed, Allah commands you to return trusts to their rightful owners; and when you judge between people, judge with fairness. What a noble commandment from Allah to you!"* reads the 58th verse of Surah an-Nisa. As I said, I don't have religious references in the field of politics, I avoid that. But Erdoğan has. So do many in the Justice and Development Party (AKP). They often use religious citations in state administration and politics. This reminder and the following question became necessary in order to open up the ideological inconsistency here for discussion: "Is this how Erdoğan returns trust to the competent people?
Melih Bulu: An AKP elite
There are doubts that Melih Bulu was appointed to this important seat thanks to his academic references. I am not talking about the plagiarism claims about his articles without citing his sources. Bulu, a Middle East Technical University (ODTÜ) graduate in industrial engineering, and Boğaziçi University in business administration owes his rise to his political preferences, not his academic success.
He founded the district organization of the AKP in Istanbul's Sarıyer in 2002. In 2009, he ran for the mayor seat in Istanbul's Ataşehir but he failed. Next year, he was appointed to head the Business Administration Department of Şehir University, which was considered one of the dream projects of the AKP at that time but now closed. Interestingly, Bulu did not include this detail about Şehir University in his resume on the website of Boğaziçi University. In 2015, Bulu wanted to become a lawmaker from AKP seats, but this also failed. In 2016, he became the "founding rector" of İstinye University. In 2020, he was appointed as the rector of Haliç University. And now Boğaziçi University. Being a rector seems to have become a profession for Bulu, not a post. In other words, despite Hilal Kaplan praising him in her column in pro-government Sabah as the "non-elite Boğaziçi University rector," it is understood that Bulu is a perfect AKP elite.
Hamza Yerlikaya: Another AKP elite
Yet another example that the government is not returning the trust to competent people is about Hamza Yerlikaya. The Olympic and world champion wrestler was made an AKP lawmaker by Erdoğan, as part of a Turkish party leadership tradition (which is valid for all political parties in the country) to put popular names on election lists. A previous example of that was former Galatasaray and Turkish national football team striker Hakan Şükür, who is cursed as Fethullah Gülenist today.
But which executive qualifications or educational background of Hamza Yerlikaya made Erdoğan appoint him as a deputy minister? We don't know. Which managing, economy, or state achievements took him to the board of Vakıf Bank, a state-run lender? We don't know. Recently, it was claimed that he did not have a high school diploma and he used a fake one. The former champion preferred passive wrestling in the face of the claims and instead of showing his diploma, he said "Let them prove that you are not." And the "independent" Turkish judiciary ruled a gag order on reports about Yerlikaya's graduation. This is why we do not come across any reports about yet another AKP elite, Yerlikaya, in the press.
Returning trust in judiciary: İrfan Fidan
İrfan Fidan was the acting Istanbul chief public prosecutor in 2015, and 10 days after the July 15, 2016 coup attempt he was officially appointed.
His name is in many controversial cases including the case against "Gezi protestors" in 2013, the trial of journalists in the case of intelligence trucks, or the arrest of Osman Kavala. On Nov. 27, he was appointed as a member of the Court of Cassation by the Judges and Prosecutors Council (HSK) headed by Justice Minister Abdulhamit Gül. Interestingly, some media outlets interpreted the appointment as a sidelining. This actually showed that the Court of Cassation is now seen as a place of suspension.
But before long, the real picture emerged. There was an election for Court of Cassation members to be sent to the Constitutional Court. Three Supreme Court members withdrew in favor of Fidan at the last minute. Fidan was nominated by 101 members of the Court of Cassation even before he was engaged in a single work by the Court, and became the candidate who got the most votes (107) in the election on Dec. 17. Journalist İsmail Saymaz wrote in daily Sözcü that there are plans to elect Fidan as the head of Constitutional Court, according to judicial backstage information.
It was known that the Constitutional Court made decisions that annoyed Erdoğan in some cases, including the cases of Selahattin Demirtaş and Osman Kavala. Following these developments, Kavala's application for release to the Constitutional Court was rejected by one vote, 8 to 7.
An example is from the Central Bank
Another debate about Erdoğan's giving the trust to competent people is about the Central Bank.
No, I am not talking about the appointment of Naci Ağbal as the new governor. He has no Central Bank background but after all, he is an experienced financier, a public manager.
The assignment I want to mention is the election of Prof. Dr. Elif Haykır Hobikoğlu as a member of the Central Bank Assembly on May 18, 2020. Interestingly, with the decree issued by the president on May 17, the Central Bank Assembly members' obligation to quit teaching at state universities when elected was abolished. It was like a "personalized" decree for Hobikoğlu.
Hobikoğlu was from the Faculty of Economics of Istanbul University, but her expertise had nothing to do with banking or finance; she ran the Women's Studies Center. She is the daughter of Mustafa Haykır, a former lawmaker from Nationalist Movement Party (MHP) ranks; one of her wedding witnesses was MHP leader Devlet Bahçeli. However, MHP sources announced that Bahçeli did not request such an appointment from Erdoğan or the AK Party, and they were wondering who was in such demand.
At the time of Hobikoğlu's appointment, Erdoğan's son-in-law Berat Albayrk was the Treasury and Finance Minister, and fingers were inevitably pointed at his family.
Foreign Ministry and ambassador appointments
Main opposition Republican People's Party leader Kemal Kılıçdaroğlu brings to the agenda the appointment of Egemen Bağış as the Turkish Ambassador to Prague years after he was dismissed as the EU Affairs Minister during the probe into Dec. 17-25, 2013 corruption claims. Opposition parties occasionally criticize Merve Kavakçı's appointment as the Ambassador Kuala Lumpur. Murat Mercan, who has no international relations background had become the first politician to be appointed as the Turkish Ambassador to Washington, and today he is still the Ambassador to Tokyo.
And there is Ozan Ceyhun. He used to raise strong criticism against Turkey as an active member of initially the German Green Party, and then the Social Democratic Party. His friends were surprised to see Ozan Ceyhun, a leftist, as an AKP advisor in 2013 and a candidate for AKP lawmaker from İzmir. He was not elected, but when he married Azize Sıkdağ, whom he met during the election campaign, in 2018, Erdoğan was the wedding witness. Now his defense over a photo showing his wife kissing his hand as an elder during Eid as a "joke," naming the release of the photo as FETÖ program.
Just like Melih Bulu, who could not make it to parliament in 2015, Ceyhun started his career as a rector in 2016, before being appointed as an ambassador to Vienna in 2019 following his sharp political U-turn. He is now an AKP elite.
Is the trust being returned to competent people or newly emerging AKP elites, with loyalty to Erdoğan being the criteria? Such a picture of state administration is not very bright.
—
The Quran verse translation to English is from www.quran.com.