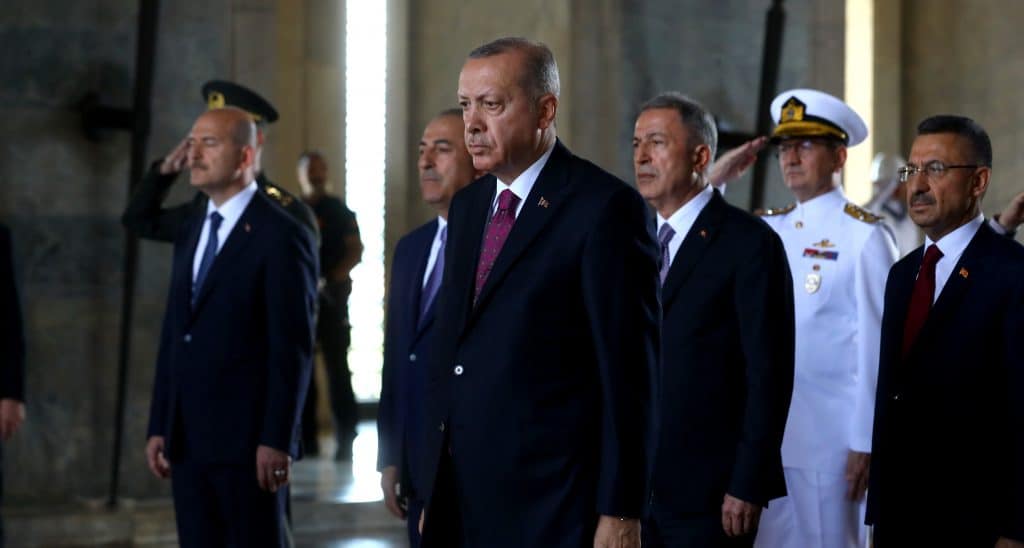 Ankara signals revision in foreign policy. This is evident not only from President Tayyip Erdoğan's address to the ambassadors of the EU members in Ankara on Jan. 12, but also the messages he sends to the United States. Most recently, we could see it in Defense Minister Hulusi Akar's remarks that Turkey "wants to return to the F-35 program." Or Erdoğan's expressions about his willingness to "settle" problems with U.S. president-elect Joe Biden and his correspondence with French President Emmanuel Macron. And finally, in Foreign Minister Mevlüt Çavuşoğlu saying that he found Egypt and United Arab Emirates' latest statements "positive" and he hoped the relations would improve.
Signs of revision do not necessarily mean that such change will actually be implemented. For now, it is a discourse, it is not clear whether it will turn into action or not. But among these signals, what Erdoğan said about NATO relations. It is the first time that the president has so clearly expressed a foreign policy line that has actually been developing since the 15 July 2016 military coup attempt.
Revision in historic line
I am talking about the following two sentences by Erdoğan on Jan. 15, which are similar to what we usually hear: "We are a NATO country. We can never accept to be guided by NATO co-members."
The phrase "We are a NATO country" is a definition of the current situation despite Turkey getting closer to Russia. "We do not accept to be guided" is a declaration that Turkey seeks a "more equal" relation in NATO that goes beyond the use of the right to veto. (The article by Fatih Ceylan, a Turkish diplomat who served as Turkey's Ambassador to NATO for years is very informative on this issue). NATO's Strategic Plan 2030, which will be discussed at the defense ministers meeting on Feb. 17 and might be fine-tuned at the leaders' summit in the summer might introduce new opportunities along with risks.
However, the strategy expressed by Erdoğan is a shift from the NATO-Turkey relations that has stood since Turkey became a member in 1952 under President Celal Bayar and Prime Minister Adnan Menderes, despite crises during the 1974 Cyprus intervention, 2003 Iraq war and 2016 coup attempt. This is the line that entrusts external security to NATO. A relation that projects unity in common interests, autonomy in national interests.
Akar says Turkey wants to return to F-35 program
The real addressee of Erdoğan's remarks is the U.S., NATO's dominant power. He was actually telling Biden about the crisis with the U.S. over Ankara's purchase of S-400 missiles from Russia: "As in the Trump era, we cannot take our defense steps on permission from somewhere". Erdoğan continued to the fact that manufactured F-35s are not delivered to Turkey "although we have paid for them" is "a mistake" that the U.S. has done to Turkey "as an ally." He concludes by saying that he wished "positive steps" would be taken in his contacts with Biden and "these issues would be and put on the track."
Akar's approach was different when he said on Jan. 14:
• "A request from Turkey to return S-400's causes trouble. Our American allies say that there will be no joint work [on F-35s] as long as the S-400s (remain). (…) We expect our U.S. allies to understand the situation.
• "We want to return to the F-35 program. Considerable time and energy were spent on the F-35s. Stopping this is a serious problem.
• "Are we adversaries now? We expect this decision to be reviewed and normalized in the Biden period."
Why does Turkey need F-35s?
Neither NATO and the U.S. nor the president can remain indifferent when the person in charge of Turkey's defense says before joining a NATO meeting that "We want to return to the F-35 program." It is important to read between the lines. Akar is like giving a message of "reconciliation for common interests" to both Biden and Erdoğan.
Why does Akar say so? Because the F-35s are new generation jets that were meant to take charge of the strategic air defense system from F,16s starting from the 2010s with a decision made more than 20 years ago. Unmanned aerial vehicles produced by Aselsan and Baykar and that are evolving toward a new military doctrine provide regional tactical superiority. But strategic defense is something else. Moreover, there is no equivalent of these aircraft in Russia or any other country. Akar is the person who knows best that if Turkey does not return to the F-35 program, there will be holes in Turkey's strategic airspace dome. At the end of the day, he is an experienced NATO officer.
Erdoğan is right when he says Turkey does not need permission from anyone for its own defense industry. And Akar is right when he notes that F-35s are necessary for Turkey's strategic defense.
France, Greece, Middle East
It is an important development that Macron responded to Erdoğan's get well soon wishes with a message including words in Turkish, expressing his wish to return to cooperation. So is Çavuşoğlu's announcement on his return from Pakistan that the two leaders will hold a meeting soon. If the relations ease, then NATO-compatible EUROSAM, a defense system for which Turkey, France and Italy finalized the groundwork and which offers joint technology and production opportunities, can be materialized. The Turkish minister spoke of a "positive athosphere with the EU" during a joint press meeting in Ankara on Jan 18 with his visiting German counterpart, Heiko Maas.
In a previous statement, Çavuşoğlu also responded positively to relatively moderate messages from Egypt and the United Arab Emirates. He mentioned that Turkey can act as a bridge between NATO and the Organization of Islamic Cooperation. The Israel-UAE, Israel-Saudi Arabia agreements, and lastly, the reconciliation of Saudi Arabia and Qatar should have a share in this statement, which signaled a revision in Middle East politics. As part of the Middle East policy, Defense Minister Akar visited Baghdad on Jan. 18 for talks with the Iraqi president, prime minister and defense minister for talks over struggle against the PKK.
Likewise, the future of technical diplomacy with Greece, which will resume on January 25, is also important.
Revision and trust issue
Turkey's biggest problem with the EU is mutual distrust. EU countries are looking at whether the steps on three issues – the ease with France, the ease with Greece and the eastern Mediterranean moves– are permanent. Just like Turkey is putting them in sincerity test in areas such as Syrian immigrants and visa convenience.
The biggest problem with the U.S. is mutual distrust. In this context, it is possible to say that Erdoğan's ambivalence about the revision, which has become compelling in foreign policy, is due to bad past experiences.
On the other hand, time is flowing rapidly. The international political and economic system had already begun to suffer from the pains of change and transition to multipolarity before the covid pandemic. This process accelerated with the pandemic. Positions, roles are changing. Turkey or other countries do not have a chance to halt the time and make arrangements.
As Akar said, it may result in disappointment to think that problems will be solved with "persistency and stubbornness". This applies to any government that insists on stubbornness, and of course for the peoples under their rule.