Davutoğlu: Erdoğan made mistake in hostage op on PKK
Ahmet Davutoğlu, the leader of the Future Party (GP), criticized President Tayyip Erdoğan for making serious mistakes in the Gara operation, during which the outlawed PKK killed 13 Turkish citizens it held hostage.
A strike operation and a hostage rescue operation were mixed, Davutoğlu told YetkinReport in an interview, adding that the murdered 13 citizens paid the price.
The first issue that Erdoğan should raise when U.S. President Joe Biden calls him should be the U.S.'s conditional condemnation on the killings.
The U.S. State Department had said in its initial statement that it condemned the killings "if reports are confirmed that the PKK did it."
Davutoğlu said Turkey-U.S. relations are very fragile and Erdoğan is directly targeting Biden with an intention to force him to call him.
He also harshly criticized Erdoğan for his reform and the new constitution, claiming that he is "captive to the status quo" and cannot make reforms.
Davutoğlu said the "the freedom of assembly can only be practiced at AKP congresses in Turkey."
Below are Davutoğlu's answers to our questions:
Need for discretion in operations
– It was announced that the PKK killed 13 citizens who were being held hostage during the Gara operation. How do you evaluate the situation as a former foreign minister and prime minister?
– Such an operation is evaluated from three aspects: planning, practice and public communication. The logic of rescue operations and destruction or strike operations are different. Rescue operations must be carried out with absolute discretion. The priority of planning and practice should be the protection of the lives of persons to be rescued.
– What was done for the abducted 13 citizens during your tenure as the prime minister? In addition, there was an incident of 49 people being taken hostage during an ISIL raid on the Turkish Consulate General in Mosul in 2014…
– In my term, it was observed through various channels that the abductees were alive and in good health. In 2014, we planned several rescue operations after ISIL attacked our Mosul Consulate General. Especially we were very close to pushing the button to practice one of them. But there was such a development that we canceled at the last minute in order not to take risks. Then the abducted citizens were rescued safely.
'The two types of operations are mixed'
– What do you mean when you say rescue and strike operations are different.
– Rescue operations are not announced beforehand. Arrest operations are likewise not announced in advance. You can also initiate communication in advance for public support in sudden strike operations. But in the rescue or arrest operations, public communication should be made at the end of the operation. For example, late Prime Minister Bülent Ecevit made a statement after everything was over in the capture of [PKK leader] Abdullah Öcalan. In this case, the President gave the good news in advance. Organizations evaluate these statements and take measures. It shouldn't be said beforehand. It is understood that two different types of operations were mixed in the Gara operation and our martyred citizens paid the price of this mistake.
Davutoğlu: The source of question marks is government'
A rescue operation should not be included in the scope of a comprehensive operation. It appears that this was disregarded. In an airstrike, you have to take into account that you might also hit your citizens, or terrorists might kill those citizens it holds hostage. Indeed, it was announced that this really happened during the Gara operation.
Mistakes were made in planning, practice and communication of the operations. Initially, it was announced that victims were civilians but then it turned out that they were the abducted security force members. The government could not manage the crisis. They try to portray the fight against terrorism, which is a common issue for all of us, as if it only concerns the government and then they name the opposition as pro-PKK terrorist because it raises questions. These are not the right. The source and addressee of all question marks is the government. "
Relations with the US are very fragile
– There is also an issue of conditional condemnation from the U.S.
– U.S. President Joe Biden has not yet called Erdoğan. In the past, Turkish presidents or prime ministers were among the first leaders that the new U.S. presidents call after taking the helm. This "conditional condemnation" about 13 martyrs should be the first issue that Erdoğan raises when Biden calls him. Though they summoned the US Ambassador, Turkey's response is right. And the Americans corrected [their statement]. But if there is any doubt among the allies, first the authorities talk among themselves and try to put it right. There shouldn't be room for "what if" in the fight against terror. That is why this should be the first issue for Erdogan to talk about with Biden. Either it is a blunder or on purpose, this attitude should remain unreciprocated as Trump's "don't be a fool" letter.
– How do you consider Erdoğan's direct accusation of Biden on this issue?
– Leaving institutional relations aside and pursuing diplomatic relations through personal contacts has been one of the most important weaknesses in Turkish foreign policy in the recent period. It is the same with the United States, Russia, and others.
There was a very wrong relationship between Trump and Erdoğan. Trump almost spoke out, Erdoğan did not respond to him. He even made all his political investment in Trump. But Trump lost the election.
I think Turkey-U.S. relation is very fragile. It can get worse at any time due to any reverse rhetoric. Erdoğan's direct targeting of Biden in relation to the 13 martyrs was a bid to force Biden to call him. Actually, the fact that he still hasn't called him after so much time is another indication of how fragile relationships have become.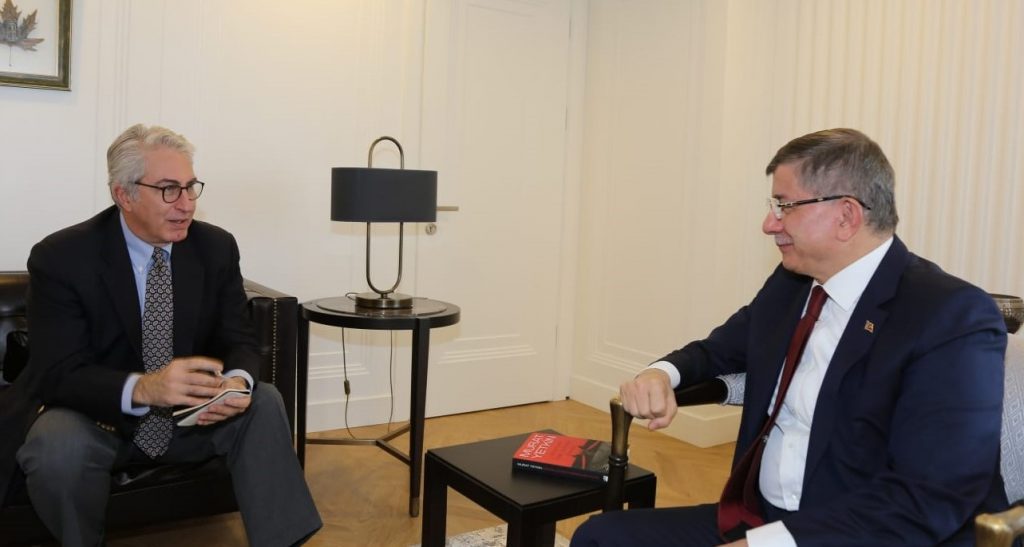 "Erdoğan is captive to the status quo"
The president announced that judicial and economic reforms are in the pipeline. Reforms have not yet been submitted to parliament, but simultaneously came the proposal for a new constitution. How do you evaluate it?
There are three conditions for reform. The first is mental clarity, which means that have to know what you want to do. Second, the socio-political climate should be favorable, there should be demand in this direction from the public. Third, you have to come up with a convincing plan for practice. And all three of these are absent.
Erdoğan is not clear about reform. He speaks of rule of law, his partner Devlet Bahçeli [the leader of the Nationalist Movement Party] speaks of closing the Constitutional Court. On the day he says reform, journalists and politicians are attacked in the middle of Ankara. An armed attack was carried out against our vice-chair, Selçuk Özdağ. The Criminal Court of First Instance names the crime as "attempted murder" and sends the case to Heavy Penal Court, but the deputy prosecutor general tells the prosecutor in charge to "change the opinion" and the case goes to an upper court on a lighter crime of "attempted injury."
While those who post Twitter messages or the protesting Boğaziçi University students are sent to jail but armed attackers are released to avoid them "from being victims."
Reform is a work of changing the status quo. However, Erdoğan himself has fallen captive to the status quo. Erdoğan is clear about one issue, and that is increasing authoritarianism.
"We will not be involved in the constitution game"
– You recently criticized the government for preventing previous reforms.
– Those captive to the status quo cannot make reforms. You cannot be both a player, a referee, and a spectator in a football match. If they were sincere in reform, they would respond to our request for an appointment to discuss our suggestions on the parliamentary system last November. As the Future Party, we completed the Clean Politics document just last week for Political Moral Reform. We propose an extended version of reforms that Erdoğan did not let us do when I was the prime minister.
We aim for transparency in state administration. This includes a zoning law and procurement regime based on transparency. Then, for example, some works done with public money for public purpose are named after politicians, which is "reputation corruption." I served as the prime minister for two years and the foreign minister for five years. Without my knowledge, they named a few places after my name and I changed them immediately.
The government does not have a convincing plan to implement reforms. The call for constitutional admenütment is a higher level of reform rhetoric. As they are discussing the constitution, the nation is facing unemployment high living costs. Thus, we will not be engaged in this game of constitution.
– The Covid-19 pandemic seems to have increased economic problems. How are your observations?
– A coffee shop owner in the southeastern district of Midyat showed the coins in his palm. "It was all he had earned the day long. I even cannot buy tea tomorrow with this money," he said. [Cafes and restaurants are not allowed to serve on the table due to pandemic measures] But the President Recep Tayyip Erdoğan, the chair of the ruling Justice and Development Party (AKP) is proud of gathering crowds in provincial congresses.
The virus prevents the opening of coffeehouses, but it does not prevent congresses. So Erdoğan's aim is not to fight the virus, but to prevent people from gathering and talking in coffee houses, restaurants, patisseries.
Citizens over the age of 65 face psychological torture, but I wonder how many people over 65 were in the provincial congresses of the AKP. The freedom of assembly is only valid at AKP congresses.
Mistakes are also made with vaccination. Family physicians face pressure. For example, couriers, who carry all the burden of the pandemic should be given priority in vaccination, but they are not. Turkey had never faced such discrimination.