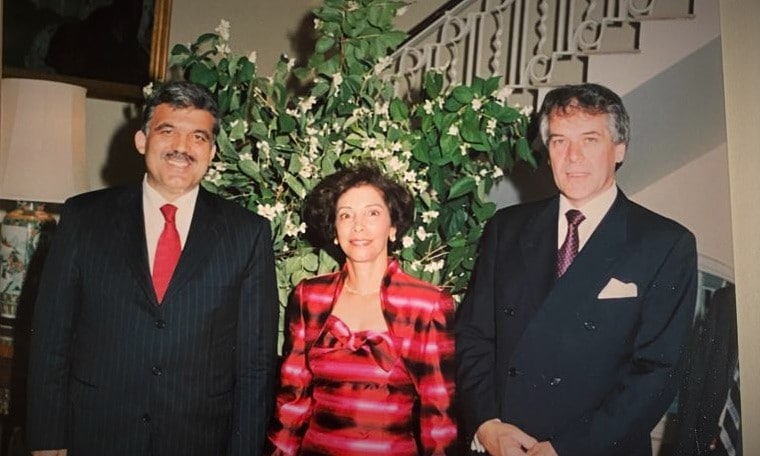 After decades in the Foreign, Commonwealth and Development Office, the United Kingdom's former ambassador to Ankara, Sir Peter Westmacott, has chosen to share with a wider audience his observations and anecdotes gleaned during his 40-year career.  Westmacott's book, "They Call It Diplomacy: 40 Years of Representing Britain Abroad," questions the functionality of diplomacy at a time when communication is instantaneous, world leaders address each other over social media and the chances for a breakdown in understanding are never far away.
In his long career, Westmacott held posts in places as diverse as Tehran, Brussels, Paris and Washington, but there's another place that figures prominently in his book: Turkey. Westmacott, who was first posted to Turkey as a young diplomat in 1987, eventually served as Britain's ambassador to Ankara from 2002 to 2006; all together, his years of experience have allowed him to witness the country's profound societal and political transformation. In particular, the former envoy provides an almost frame-by-frame account of the events behind the scenes at the 2005 Luxembourg Summit in which Britain went the extra mile to help kick-start Turkey's EU accession negotiations. Since the end of his posting in Ankara in 2006, Westmacott has watched the trajectory of Turkey's relations with the West and examined how domestic and external political developments have affected the country – two things that both make it into his book.
Recently, Westmacott and I sat down (virtually, of course, due to the coronavirus pandemic) to talk about his new book and the future of Turkish-British relations in light of international developments.
The UK has remained by and large silent in the face of rising tensions in the Eastern Mediterranean. How should we interpret the U.K.'s cautious approach?  Do you think a post-Brexit U.K. could play a more constructive role in the settlement of regional disputes? 
For the last few years, the U.K. has been very much consumed with Brexit, and for the last year, like everybody else, by the pandemic. I think that is the main consideration. But the U.K. is a guarantor power and has a legal responsibility for what goes on in Cyprus. In one sense, being outside the European Union makes it more difficult for the U.K. because it is no longer a part of that group – it doesn't have the same ability to address territorial and sovereignty questions which are intrinsic to the Union. On the other hand, it is a free agent which is no longer bound by the concept of membership solidarity; and it is one of the five permanent members of the U.N. Security Council , which has a particular responsibility for the Cyprus issue. So there may be scope for some creative diplomacy. I would like to think that in the years to come, as the U.K. seeks to put flesh on the bones of the concept of "Global Britain," it will again see if it can help bring the Cyprus dispute to a conclusion. Legal and historical responsibilities apart, we do have a fairly unique knowledge of the subject and its history.
Given the changes in the international power balances, do you think the U.K. can anchor Turkey to the West by facilitating better ties with Washington and Brussels? Or, perhaps, establish an alternative bloc, especially as London's relations with Washington and Brussels also involve uncertainties?
The status of the U.K. outside the European Union and its long-standing strategic relationship with Turkey are important parts of the new world we find ourselves in. Turkish friends tell me they consider closer links with the U.K. now it is outside the EU make a lot of sense. The U.K. continues to have a lot of interest in and concerns about regional security issues where Turkey, because of its unique geographical position, is involved, whether it likes or not – sometimes actively, sometimes more passively. There are significant developments in the defense relationship, including joint manufacture. We are both significant players in NATO. The United Kingdom is Turkey's second-largest export market so trade and investment are booming. In many different ways, there is a lot of potential.
Whether it's on northern Syria, managing the relationship with Iran or Russia, addressing the terrorist threat or those territorial squabbles which take us back to the history of Cyprus, there are many good reasons why the United Kingdom and Turkey can and should be working more closely together. Whether the U.K. is going to be instrumental in helping Turkey to become more or less anchored to the West, I wouldn't like to say.  Turkey and Turkey's people must determine their own direction of travel. Personally, I think it is important that Turkey remains a big player within NATO. I also think it is important for Turkey to remain a member of the Council of Europe and the European Convention on Human Rights. During the years I served as an ambassador in Ankara, the U.K. was a leading advocate of Turkey working to meet the entry criteria and eventually becoming a member, of the EU.  The U.K. has supported Turkey in different ways in the past and  I'd like to think it will continue to do so in the future.
Many experts underscore the significance of reinvigorating economic relations in terms of revamping Turkey-EU relations and providing a positive agenda for both sides to build on. Do you think the free trade agreement between the U.K. and the EU constitutes a model for Turkey within the framework of the modernization of the Customs Union agreement?
I am not sure that it constitutes a model for anybody else. We started out with free trade and ended up with an agreement, which fell a long way short of that.  So in a sense, we traveled backward. Therefore, unless you are a country that is already in and moving out of the EU, I don't see there is much potential for our agreement to be a model. As for upgrading the Customs Union, I think Turkey needs to look at current patterns of trade and consider what are the areas that need improvement.
Turkey and the U.K. have engaged in close cooperation in the defense industry. The U.K. is one of the leading investors in Turkey that is also open to technology transfer. How do you think defense cooperation would be affected if the Biden administration implements more sanctions on Turkey?
I think the U.K. will pursue its own relationship with Turkey in the light of what is good for the two countries.  There are, of course, some limited sanctions on Turkey which the EU has imposed because of what is going on in the Eastern Mediterranean, and which the U.K. is also implementing.  In Washington, a number of key relationships with other countries – including Turkey – are under review.  If there were fresh U.S. sanctions, for example, because of the deployment of the S-400 air defense system, they could affect Turkey's other partners, because of the global importance of the dollar and of access to U.S. markets. But my hope would be for Turkey's current problems with the U.S. to be resolved through diplomacy, with the talented new team now in place in Washington, rather than through the imposition of sanctions. Remember, though, that Congress will have an important say on these decisions.
Unlike other Western actors, the UK established itself as a close friend of the Turkish people, with the swift condemnation and solidarity that it offered after the coup attempt on 15 July, 2016. How should we interpret the U.K.'s good judgment? How come their reading of the course of events was more accurate?
I seem to remember that, at the time, Sir Alan Duncan, then Minister of State at the FCO, was already contemplating a visit to Turkey. Then, when the news came through of what had happened on 15 July, he and our ambassador in Ankara decided that it was all the more important to come, not stay away. It was the same instinct that then-Foreign Secretary Jack Straw had when the British Consulate in Istanbul was victim of a massive terrorist attack on 20 November 2003 – to get on an airplane that very day, to show solidarity with our staff and with the Turkish people. The United Kingdom had had its own share of terrorism in recent years, of course, and so there was a strong sense that a violent assault on Turkish democracy was unacceptable, regardless of party political considerations.
What would you advise to young diplomats?
To become a diplomat, you need to be naturally curious about and interested in other cultures, other ways of thinking and other languages. Understanding your host country is critical to being able to operate, persuade, negotiate and explain. If you are not intellectually and culturally curious, the risk is that you will try and judge other countries by the culture of your own, and that gets you nowhere because every country is different. Then there is enthusiasm. If you are to represent your country abroad, you've got to be enthusiastic about it; you've got to be pleased to be where you are.
Third, you need to be resilient. In traveling around the world, living in other countries, learning other languages, sometimes operating in difficult climates and difficult political situations, there are lots of the unexpected. You've got to be ready for anything.
The last thing I would say is do not become a diplomat if you want to make money because you will be working for the government!