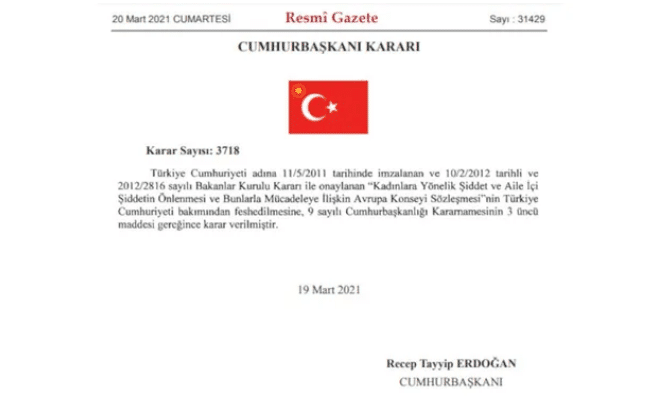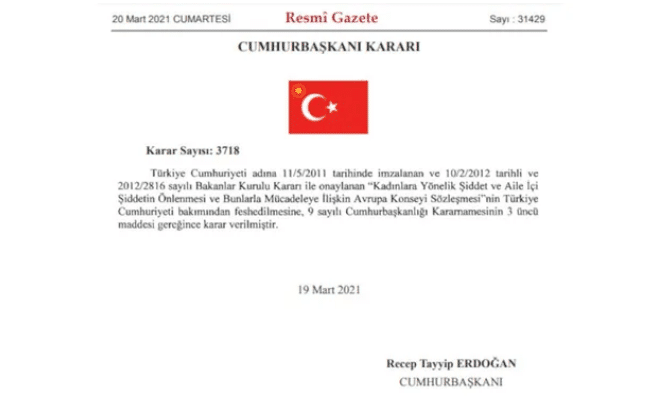 Turkish President Recep Tayyip Erdoğan has decided to withdraw from the Istanbul Convention, a key safeguard against violence against women.
Rights groups and women organizations reacted to the decision published on the Official Gazette in the early hours of March 20 saying that it is a big backstep in protecting women against violence.
On the rumors that emerged before the decision, a campaign was launched on social media with the label "The Istanbul Convention Keeps Alive."
'"Such a step by a country that is the first signatory of the Istanbul Convention is a step towards supporting violence against women" said Canan Güllü, the chair of the Federation of Women Associations of Turkey (TKDF).
Güllü, who also received the International Women of Courage Award by the U.S. Department on March 8, also argued that the decision should be voted in parliament.
The Council of Europe (COE) Convention on Preventing and Combating Violence Against Women and Domestic Violence, better known as the Istanbul Convention was opened for signature by Turkey on May 11, 2011. The convention eliminates the shortcomings of the Law No. 6284 on the Protection of Family and Prevention of Violence Against Women, which was also implemented during that same period. The Turkish parliament ratified it and the Convention came into force by August 1, 2014.
"We are calling for a total struggle against those who abolished the Istanbul Convention," said the We Will Stop Femicide Platform.
Turkey, the first country agreement had been signed in May 2011. The agreement, which led to a split of opinions in the ruling Justice and Development Party (AKP).
However, a governmental campaign to support the decision followed Erdoğan's decree.
"The guarantee of women's rights are the current regulations in our bylaws, primarily our Constitution. Our judicial system is dynamic and strong enough to implement new regulations as needed," Family, Labor and Social Policies Minister Zehra Zümrüt Selçuk said on Twitter minutes after the release of the decree.
Women groups have called for street action against the decision.
Erdoğan announced on March 2 the government's Human Rights Action Plan, which was prepared within the scope of a promised judicial reform package, which was followed by the detention of women attending the March 8 International Women's Day march and a shutdown lawsuit against the Kurdish-issue focused Peoples' Democratic Party.