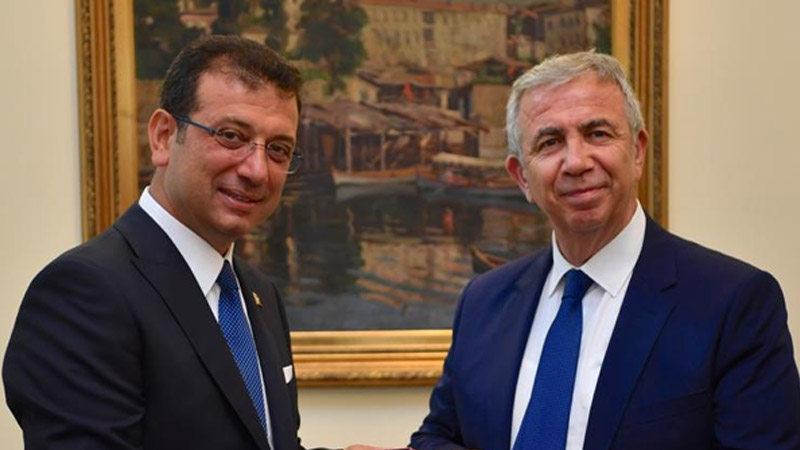 As soon as the Table of Six proposed that Mr. Ekrem İmamoğlu and Mr. Mansur Yavaş, mayors of İstanbul and Ankara respectively, should be appointed as deputies to Kemal Kılıçdaroğlu if he is elected as the President, President Erdoğan's Legal Advisor Mehmet Uçum tweeted "It is a clear violation of the Constitution for the same person to be both the Vice President and Mayor", reasoning that "According to the Constitution, the office of trustee and mayor can never be united (Article 127/5)."
I criticize lawyer Mehmet Uçum for this tweet because Article 127/5 of the Constitution that he mentioned does not contain any such provision. The 5th Paragraph of said article, titled "Local Administrations," states exactly the following:
"The central administration has the authority to exercise administrative supervision in accordance with the principles and procedures specified in the law, to ensure that local services are carried out in accordance with the principle of the unity of administration, to achieve unity in public duties, to protect public interest and to meet local needs effectively and is responsible for exercising administrative oversight over local administrations."
Even a layman can see that there is no provision in the paragraph prohibiting the central administration and local administrations from being united in the same person. It is clear from the complete absence of any such prohibition of unification that Mr. Uçum's claim that unification would violate the Constitution is groundless.
Though it may be argued that the current provisions may be inappropriate in not preventing both from being united it is utterly wrong and much more inappropriate to deduce a strikingly clear prohibition from provisions of the law which explicitly contains no hint of prohibition. One may find it enlightening that AK Party circles proposed a very similar arrangement for Mr. Binali Yıldırım who ran for İstanbul mayor elections while he was the speaker of the Parliament.
The Constitution: They are eligible for appointment
The opposition coalition of the Table of 6 was shook recently my Meral Akşener's abrupt departure and surprise return. Her protest was at the fait accompli of Kemal Kilicdaroglu's candidacy for the presidency, lacked the popular support of two of his party juniors: Ekrem Imamoğlu and Mansur Yavaş. After much shuttle diplomacy, a compromise emerged: Imamoğlu and Yavaş would be appointed by Kilicdaroglu as his deputies, and Akşener would return to the Table. Soon thereafter however, objections began to be made that Imamoğlu and Yavaş shouldn't be able to retain their Mayorships of Istanbul and Ankara in such a case. But it is clear that there is no legal basis for such a preclusion, as I explain below.
Article 106, Paragraph 1 of the Constitution clearly states that:
"The President may appoint one or more Vice Presidents after being elected."
Accordingly, if elected as President, Mr. Kemal Kılıçdaroğlu will have the authority to appoint the other political party leaders at the 6th Table, as well as the Mayor of Istanbul Mr. Ekrem İmamoğlu and the Mayor of Ankara Mr. Mansur Yavaş as Vice Presidents.
According to Paragraph 4 of the same article:
"Vice Presidents and Ministers are appointed and dismissed by the President from among those who are eligible to be elected as members of parliament. Vice Presidents and Ministers take an oath before the Turkish Grand National Assembly (TBMM)."
It is clear that there is no obstacle to their appointment from the Constitution, and I explain below how that is also the case with Metropolitan and Municipal law.
The Constitution: They may be both mayors and vice presidents
The last sentence of the 4th paragraph of Article 106 of the Constitution, quoted above, states:
"If members of the Grand National Assembly are appointed as Vice Presidents or Ministers, their membership shall be terminated."
Therefore, İmamoğlu and Yavaş, who are not members of the Grand National Assembly, can legally continue their duties as Mayors if they are appointed as Vice Presidents regardless of workload and political implications.
There is no such rule that the membership of Metropolitan Mayors will be terminated if they are appointed as Vice Presidents or Ministers. Therefore, according to the Constitution, İmamoğlu and Yavaş can continue to perform both their duties as Vice Presidents and their duties as Metropolitan Mayors at the same time.
There is no obstacle to their appointment in the Constitution, and I explain below how that is also the case with Metropolitan and Municipal Law.
No restriction on Metropolitan Municipal Law
Article 17 of the Law No. 5216 on Metropolitan Municipalities, which lists the tasks that metropolitan mayors cannot perform, does not contain any statement that would prevent İmamoğlu and Yavaş from becoming Vice Presidents. Similarly, there is no obstacle in Article 37 of the Law No. 5393 on Municipalities, which lists the tasks that municipal mayors in general cannot perform.
The provisions of the 2nd paragraph of Article 37, which is identical to the 3rd paragraph of the aforementioned Article 17 up to the semicolon, are quite clear:
"Metropolitan and District Mayors cannot hold a position in the management and control organs of political parties during the continuation of their duties; they cannot be the president or a member of the executive board of professional sports clubs."
As can be seen, the duty of Vice President is not among the tasks that Mayors cannot perform.
The Law: No termination upon appointment as Vice President
According to Article 20 of the Metropolitan Municipality Law and Article 44 of the Municipal Law, the mayorship of a municipality ends automatically in cases of death or resignation, or if the mayor:
a) leaves his/her duty for more than twenty consecutive days without excuse
b) loses his/her eligibility to be elected
c) is medically documented as being unable to continue his/her duty due to an illness or disability
d) participates in actions and activities leading to the dissolution of the municipal council, in which case the mayorship ends with a decision from the Council of State upon the request of the Ministry of Interior Affairs.
There is no provision stating that the term of office of metropolitan mayors will automatically end or that it will be terminated by a Council of State decision if they are elected as Vice Presidents.
Mr. Uçum's contradiction
Mr. Uçum, who did not find any constitutional violation when elected mayors in South-eastern provinces were dismissed and replaced by appointed civil servants such as governors and district governors who represent the central administration, is contradicting himself by calling the appointment of mayors to the central administration unconstitutional.
If İmamoğlu and Yavaş accept the appointment as Vice Presidents while serving as metropolitan mayors, they will have accepted a second public duty. Uçum, who finds this to be contrary to the Constitution without any legal basis. It is clear from the contradictions in Mr. Uçum's arguments that what they claim is the Constitution's position on the matter at hand is no more than convenient reasoning and has no legal basis at all.
Notes
Mr. Uçum is registered with the Istanbul 2nd Bar with registry number 2044. The 2n Bar was established on 30 September 2020.
Lawyer Uğur Kızılca, who sent a letter to our writer Mehmet Gün, stated that his client Mehmet Uçum resigned from his duties as a lawyer in over 3000 lawsuits and execution files in 2015 when he was elected as a member of parliament, closed his tax registration, and reported the situation to the Istanbul Bar Association on June 15, 2015. He argued that the article was written with political motivation and was not correct.
Edited and Translated by Charles Ediz Gün