Flake: a political appointee as US ambassador to Ankara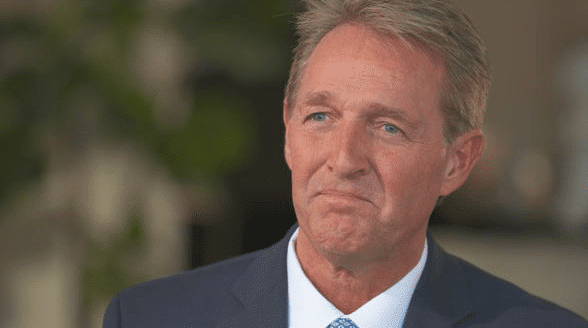 Former Senator Jeff Flake has been nominated as the US Ambassador to Ankara by the US President Joe Biden. If confirmed by the Democratic-controlled Senate, the Trump-opponent Republican Flake is going to be the first political appointee, not a carrier diplomat as Ambassador to the Turkish capital after 40 years. He will take the office from Ambassador David Satterfield, considered to be one of the best American diplomats on the Middle East affairs.
The last political appointee U.S. Ambassador to Ankara was Robert Strauss-Hupe who had been appointed by Ronald Reagan to serve between 1981 and 1989; right after the military coup in Turkey in 1980. Flake's appointment came not so long after Turkish President Tayyip Erdogan has sent a political figure from his Justice and Development Party (AKP), Murat Mercan as Ambassador to Washington in 2020. In a way, the American Administration has responded to the Turkish Government's latest move to send a former politician as Ambassador to Washington.
Jeff Flake will be assuming the Ambassadorship at a time when the Turkish-American relationship is highly strained. There are serious problems the most important one being the U.S. sanctions on Turkish defense industry, including the ousting of the NATO-member Turkey from the strategic F35 program and seizing its paid fighter jets in retaliation of Turkish purchase of Russian made S400 air defense missiles. The U.S. choosing Turkey's enemy, outlawed -ironically also by the U.S.- Kurdistan Workers' Party's (PKK) Syria branch to fight against ISIS is another problem. The continuing residence in Pennsylvania of the Islamist preacher Fethullah Gülen, who has been indicted to be the mastermind behind the military coup attempt in Turkey in 2016 is another one. Now the U.S. demand is on table asking Turkey to stay behind in Afghanistan to protect the international Kabul airport, as Biden ordered a quick withdrawal of American troops after failing to suppress Taliban and other radical Islamist groups in the last 20 years.
Limited experience about Turkey and neighborhood
Jeff Flake does not have enough experience regarding Turkey and the region. He knows extensively about Africa where he also served as a missionary as a member of The Church of Jesus Christ of Latter-day Saints. He has served one term as Senator from Arizona at the US Congress. Before his election to this office in 2012 he represented Republican Party as a member of House of Representatives from Arizona for six consecutive terms. A diplomatic post is hardly surprising for Flake, a former member of the Senate Foreign Relations Committee.
On the other hand, Flake's limited experience about Turkey and its neighborhood could help him making moves without any prejudices regarding Turkey. For example, in 2014, the last time the Senate considered a resolution condemning the Armenian genocide allegations (that became official under Biden in 2021), which had been a key issue in bilateral relations for decades, Flake was not among the sponsors of the draft.
Flake is known with his calls on the Donald Trump administration to work in close collaboration with friends and allies. He never shied away from bipartisanship and pursued a balanced approach to the issues. In foreign policy, he was known for his candid criticism of Trump's partisan policies and disrespect to institutions. He was one of the first lawmakers to raise objections to Trump's way of running the government.
One important thing about Jeff Flake is that he is sensitive to issues like democracy, fundamental freedoms and human rights. Thus, he gave strong support to the calls for the release of Pastor Andrew Brunson from detention in Turkey and the demands made by the US Administration to the Turkish authorities for his return to the US. We can easily say that Biden is also intending to closely monitor his expectations in this respect from the Turkish Administration.
Highlighting institutional relations
By this nomination Biden makes clear that he has no problem with choosing an opposition party member to an important post as Ambassador, thus emphasizing the value of political consensus and bipartisanship. I do not think, Jeff Flake's confirmation process will face any difficulty in the Democratic-controlled Senate Foreign Relations Committee. Most members including many of his Republican colleagues have already hailed his nomination and voiced out their support.
I believe that, the importance that the Biden Administration attaches to restoring and consolidating the institutional relationship also weighed in Biden's decision about the nomination of Flake. In other words, by nominating a powerful former politician to this position, Biden intends to show his determination to his Turkish counterpart that he is going to continue the bilateral relationship on an institutional basis.
It seems that his limited experience about the region as well as Turkey would be the only obstacle in the early days of his upcoming tenure in Ankara. However, I am pretty sure Flake will overcome those deficiencies in a very short time. Time will show how Flake is going to perform in his very challenging new position. However, it fair to say that his job is not going to be an easy one given the existing huge challenges in the relationship.