UK minister's remarks on Afghan refugee hub stir Turkey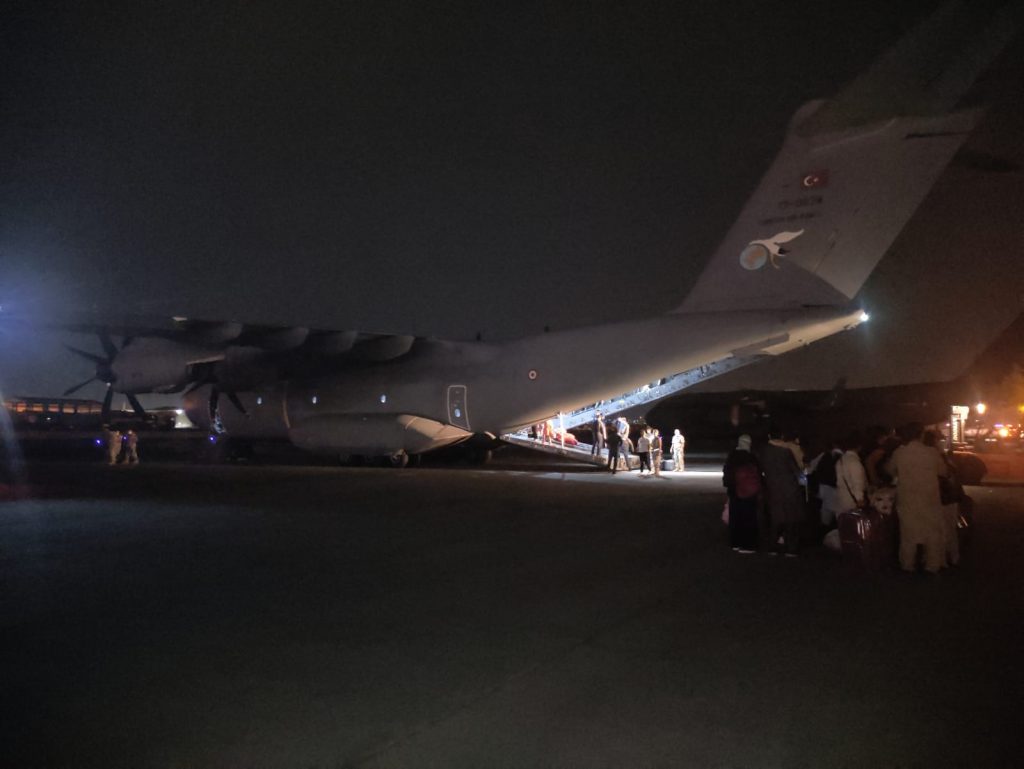 An article about Afghan refugees by British Defense Secretary Ben Wallace for the U.K. newspaper Daily Mail triggered reactions in Turkey, despite the minister did not mention the name of the country.
"We will establish a series of processing hubs across the region outside Afghanistan for those Afghans we have an obligation to bring to this country," wrote the minister at Mail on Sunday, without giving the name of any countries.
Glen Owen and Ian Gallagher, the two experienced journalists of the newspaper, elaborated:
"While acknowledging that 'no nation will be able to get everyone out', Mr Wallace also announces that a series of 'processing hubs' will be set up in countries neighboring Afghanistan for refugees who manage to escape. If they can establish their right to come to the U.K., they will be flown to Britain."
"The MoD is looking at establishing hubs in countries such as Pakistan and Turkey – but, startlingly, is also exploring whether the Taliban might allow the U.K. to retain a 'presence' in Kabul after the Americans have gone."
Despite the fact that Afghanistan and Turkey are not "neighbors," it was the journalists not the minister, who spotted Turkey as one of the places that the U.K. wants to establish a refugee hub.
Turkey has been reinforcing its border with Iran, from where Afghan refugees have been reaching Turkey.
Turkish ministry: We wouldn't accept it
The Turkish Foreign Ministry ruled out the report.
"The news in the U.K. press concerning that there are plans to establish an asylum processing center for Afghan asylum-seekers in Turkey do not reflect the truth. No official request has been conveyed to us from any country up until today. Should there be such a request, we would not accept it anyway," an August 22 statement by the ministry.
Turkey's pro-government newspapers accused the Turkish service of the BBC of "lying" for an initial report that said Defense Secretary Wallace named Turkey among the planned refugee hubs. The Turkish service of the BBC later apologized for its wrong quotation that misled Turkish media outlets that failed to fact-check the remarks from the original source, Mail on Sunday.
Minister Wallace, for his side, ruled out any refugee hub plans that involve Turkey.
Meanwhile, The Guardian published a similar report, saying that "Britain said it would establish offshore asylum centers for Afghan refugees in countries such as Pakistan and Turkey, as ministers admitted the UK could not rescue all those eligible for resettlement in time."
Main opposition accuses the UK of cherry-picking
Main opposition Republican People's Party (CHP) chair Kemal Kılıçdaroğlu criticized both the U.K. and President Recep Tayyip Erdoğan in Twitter postings.
Below is his chain of tweets:
"I continue to keep you updated of developments. British Defense Secretary Wallace announced to Afghans who had served them that they would establish 'refugee centers' in Turkey and invited Afghans to our country. They will choose refugees for themselves, the rest will be left in our country."
"Now my question to Erdoğan is: Have the countries that you said you did not strike a deal with are now able to say these things without even needing to ask the opinion of the Republic of Turkey? Or are they so daring because you really made a deal? Which one is right? Be honest for once, Erdoğan!"
"I am calling out to England from here: It is inhumane that you have left the Afghans who served you to die. However, be sure that our people will not suffer the consequences of your irresponsibility in their own neighborhood. You cannot bring anyone to our land in this way!"
Akşener accuses gov't of "subcontracting"
IYI Party chair Meral Akşener also posted a tweet, asking "Are you now a subcontractor of the British, Mr. Recep Tayyip Erdoğan, for the sake of defending your seat?"
Erdoğan and Johnson speak Afghanistan
Meanwhile, President Erdoğan held a phone conversation with U.K. Prime Minister Boris Johnson and European Union (EU) Council President Charles Michel.
In his meeting with Johnson, Erdoğan said Turkey's current priority in Afghanistan is the evacuation of its citizens, adding that they can continue their responsibility to ensure the security of Kabul Airport if appropriate conditions arise.
Stating that aid should be provided to Afghans in their own lands and neighboring countries so that migration does not cause new humanitarian tragedies, Erdoğan stated said pressure can be reduced by increasing the financial contributions of the relevant U.N. agencies, especially the United Nations High Commissioner for Refugees, and playing a more active role.
NOTE:
YetkinReport truly said in its initial report early on August 23 that British Minister Wallace did not write about opening a hub in Turkey for refugees. This report was updated at 3.36 pm on August 24 to include the apology by the BBC and denial by Wallace.