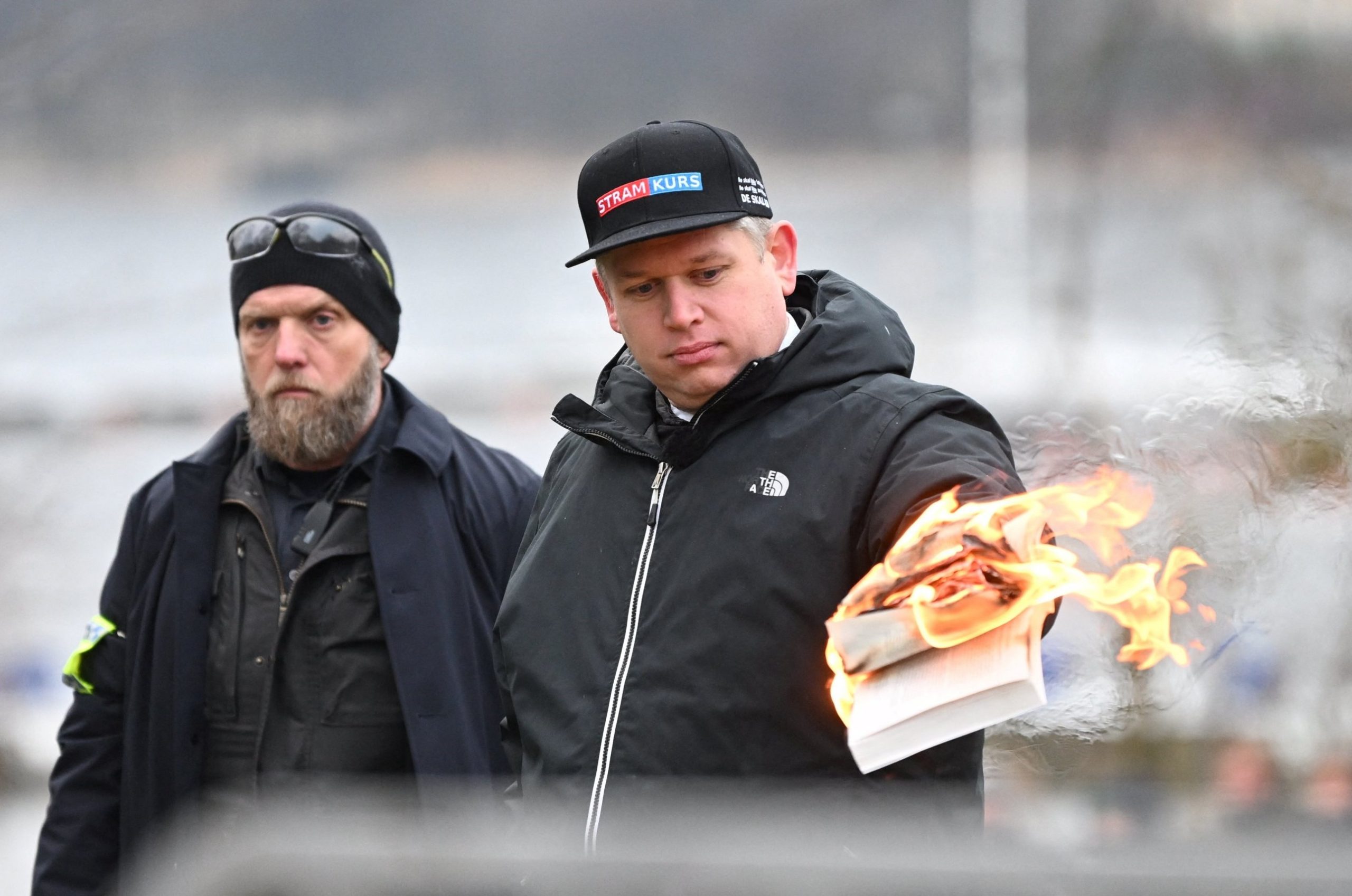 Türkiye condemned Sweden over the burning of a copy of the Quran, the holy Book of Muslims in front of the Turkish Embassy in Stockholm on January 21, further straining ties between the two countries as Sweden seeks Turkish approval to be a member of the defense alliance NATO.
A Turkish Foreign Ministry statement said that Türkiye "condemned in the strongest possible terms the vile attack," despite "repeated warnings" by Ankara. Ministry accused Sweden of "permitting this anti-Islam act, which targets Muslims and insults sacred values, under the guise of freedom of expression" was "completely unacceptable" and "an outright hate crime."
Rasmus Paludan, an extremist Swedish-Danish citizen, also the leader of the far-right Stram Kurs (Hard Line) party in Denmark set to fire a copy of the Quran under the protection of the Swedish police as the authorities consider it in the framework of freedom of expression.
Turkish Foreign Ministry also called on "all countries" and international organizations to take "concrete steps in solidarity against Islamophobia."
Condemned by gov't and opposition
Turkish National Defense Minister Hulusi Akar said he canceled the visit of Sweden's Defense Minister Pol Jonson to Ankara scheduled for January 27. During a NATO meeting in Ramstein, Germany to provide more assistance to Ukraine against Russia, Akar said that there was neither any meaning nor relevance left for such a visit considering recent developments.
On January 13 Turkish Parliamentary Speaker Mustafa Şentop canceled the visit of his counterpart Andreas Norlen to Ankara, supposed to take place on January 17 due to the police indifference to a demonstration by the supporters of the outlawed Kurdistan Workers' Party (PKK) during which a puppet resembling Turkish President Tayyip Erdogan was hanged from the feet in front of the Stockholm City Hall.
Kemal Kılıçdaroğlu, the leader of the main opposition, the center-left Republican People's Party said "the attack on Quran" was unacceptable and he condemned this "fascist act as a peak of hate crime."
The complicated background
Following the Russian war on Ukraine, Sweden and Finland together wanted to join the Western defense alliance NATO which needed unanimous approval by all members. So far, all members other than Türkiye and Hungary have approved the two Nordic countries' application in their parliaments.
Saying it was for the expansion of NATO the Turkish government asked for certain security guarantees from both countries if from now they would be in the same security system. Ankara asked Stockholm and Helsinki to extradite certain names including the members of the PKK, which is listed as a terrorist organization by the European Union and PKK-affiliated groups as well as the members of the network of Fethullah Gülen, an Islamist preacher resident in the USA, or FETÖ as Ankara calls it which has been indicted to mastermind the bloody coup attempt in Türkiye on July 15, 2016. Other conditions were lifting restrictions on military material sales to Türkiye in order to stop being used against the PKK-affiliated YPG in Syria and stop anti-Turkish activities in their countries.
Sweden needs Turkish approval
A trilateral document was signed between the three countries during the NATO Summit in Madrid in 2022. Turkey wants those promises to be kept in order to approve the memberships and is under pressure from some other NATO members, particularly the US.
Swedish Prime Minister Ulf Krisstersson says that his country was loyal to its promise but cannot and would not give everything Türkiye wanted. Underlining that there were not many problems left with Finland, Turkish Foreign Minister Mevlüt Çavuşoğlu said that if Sweden's stance will continue like this, Turkish approval for its NATO membership will not be easy.
The burning of the Quran in front of the Turkish Embassy in Stockholm has led to fury across the board in Turkey and is considered a provocation, as 111 days left for a crucial election to determine whether President Erdogan will stay in power after more than 20 years.