Turkey condemns Italian PM's remarks on Erdoğan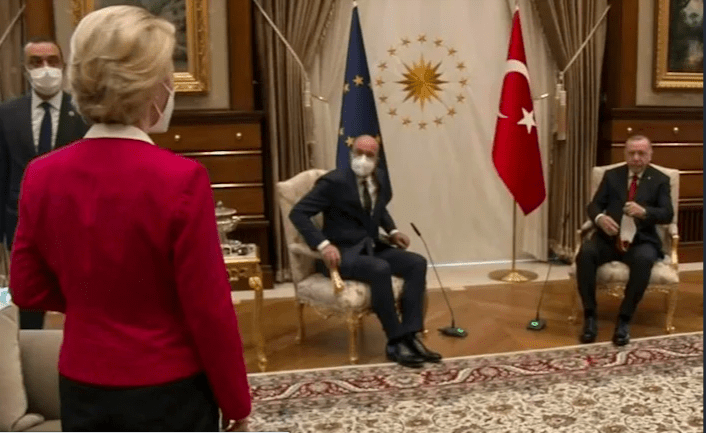 Italian Prime Minister Mario Draghi has triggered Ankara's anger for using the word "dictator" while speaking of Turkish President Recep Tayyip Erdoğan
Commenting on the "sofa crisis", which emerged when the European Commission President Ursula Von der Leyen was left without a chair, during her visit to Ankara with fellow European Council President Charles Michel, the Italian PM said "I absolutely do not agree with Erdoğan's behavior towards president Von der Leyen … I think it was not appropriate behavior and I was very sorry for the humiliation Von der Leyen had to suffer."
"With these, let's call them what they are – dictators – with whom one nonetheless has to coordinate, one has to be frank when expressing different visions and opinions," Draghi told reporters on April 8.
Turkey summons ambassador
Upon his remarks, Turkey summoned Massimo Gaiani, the Italian Ambassador to Ankara, to the Foreign Ministry.
The Turkish Foreign Ministry released a statement on April 8, condemning the Italian prime minister.
"Deputy Minister and Director of EU Affairs Ambassador Faruk Kaymakcı emphasized to the Italian Ambassador that we strongly condemn the statements of the appointed Italian Prime Minister, targeting our President, a leader who has been elected by the highest popular vote support in Europe, and that we expect these impertinent and improper statements, which we cannot link in any way to the Turkish-Italian friendship and alliance, to be withdrawn immediately. It was also notified to the Ambassador that the statements, which were made without being informed about the protocol arrangements regarding the EU Council and the EU Commission Presidents' visits to our country, are unacceptable, that no one should question Turkey's hospitality, that Turkey would not be a part of meaningless and ill-intentioned discussions within the EU, and that we find futile the efforts to undermine the Turkey-EU positive agenda," read the statement.
"We strongly condemn Draghi's ugly and limitless statements about our President and return him to him," said Turkish Foreign Minister Çavuşoğlu.
The blame on how the diplomatic mistake happened and ended up with Erdoğan and Michel sitting at chairs as von der Leyen found a place on a sofa near them.