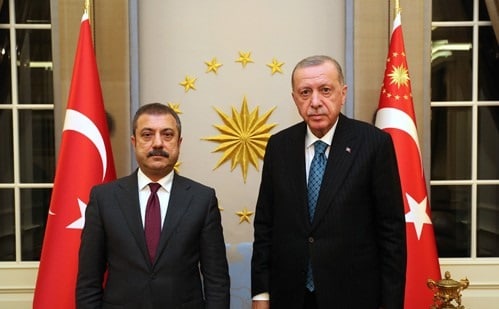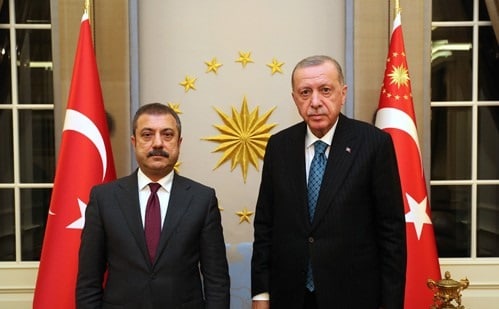 The postures and looks in the photograph taken during President Tayyip Erdoğan's meeting with the Turkish Central Bank (CBRT) Governor Şahap Kavcıoğlu on the evening of October 13, actually sum up the situation. Following that meeting Erdoğan dismissed three policymakers of the CBRT which was followed by a further depreciation of the Turkish lira; 1 USD has skyrocketed to 9.2 liras. The photo seems like proof of the saying "eyes don't lie". The photograph also tells about a period when information leaks and small escapes from the ruling circles began.
Let's not forget that on the same day, insider allegations against the Turkish Youth Foundation (TÜGVA), which is under the de facto control of Erdoğan's son Bilal Erdoğan, came to light. On the same day, Foreign Minister Mevlüt Çavuşoğlu accused both the USA and Russia of PKK activity in Syria, implying that they were collaborating. Also, the same day Minister of Health Fahrettin Koca said that Covid deaths could increase. The attempt to dump the price hikes of consumer goods on market chains did not work. The opposition parties keep urging early elections, and the burden of all this has fallen on Erdoğan's shoulders alone.
The political and economic environment allows those who have a place in the administration circles but think that the end might be near, to show around that they don't want to be a part of it anymore. This is not something unique to the AK Party, it has happened every period, it happens again. This is what we mean when we say that leaks and escapes from the power circle have started.
Let's get to the background of the photo
In fact, when it was heard that the President would meet with Kavcıoğlu, some bet on the possibility that he might be dismissed. It would be in line with the flow of life if it would be the incompetence of the CBRT would be held responsible for the record-breaking depreciation of the Turkish lira on October 11, not Erdoğan's words implying another military operation into Syria.
On the other hand, it had taken 16 months for Erdoğan to replace Murat Uysal as the CBRT Governor with Naci Ağbal, and only 4 months to replace Ağbal with Kavcıoğlu; reminding of the joke of "Changing the lamb from time to time to prove that it cohabits with the wolf". Kavcıoğlu is completing his 6th month at the job. Maybe even Erdogan thought it would attract too much attention to dismissing him now. As a result, there is a perception that Kavcıoğlu threw three of his policymakers, two of them being his deputies, who did not stand by him at the meeting with the investors on October 7, in front of Erdoğan and saved his seat for now. It was reported before that deputy governors Uğur Namık Küçük and Semih Tümen's absence in that meeting had drawn the attention of investors. Semih Tümen had been appointed to this post by Erdoğan about four months ago, in May. The Turkish lira, on the other hand, continues to depreciate with the wrong strategy.
Well, do you think Küçük and Tümen are so inexperienced that they could not consider that their actions, that is, being absent in Kavcıoğlu's meeting with investors will not have consequences?
That's a subtle and low-profile example for escapes; let him send you away.
Leaks and escapes
Do you think Küçük and Tümen were upset or relieved that Erdoğan dismissed them in the first hours of October 14, shortly after this photo was taken? That applies to Abdullah Yavaş, a member of the Monetary Policy Committee, who was dismissed with the same decree.
Durmuş Yılmaz also served as the governor of the CBRT in the earlier years of Erdoğan's AKP rule, and now with the opposition Good Party (İYİ). He said amid the row that the 128 billion dollars reportedly spent to keep the dollar artificially low would be the subject of a lawsuit after a change of power. It can happen or not; it's a separate issue. But in such a political atmosphere, who would feel more comfortable? The one who leaves or the one who stays?
Only a short while ago, Ziya Selçuk had "asked for Erdoğan's permission to leave" (instead of simply resigning) the National Education Ministry, complaining that certain Islamic sects and groupings from within the Ministry were obstructing him. I don't necessarily use the word escape in a bad way; It could also be read as an inability to share responsibility for what you think is wrong any longer. Or as a calculation not to be held accountable before the courts in the future.
We have seen another case in the example of the Turkish Youth Foundation (TÜGVA). A leak from TÜGVA is likely to be a headache for Erdoğan and the AKP.
Leaks and escapes from TÜGVA
Turkey Youth Foundation was established in 2014, the year Erdogan was elected as President. The President's son, Bilal Erdogan, is one of the initiators of its establishment.
Thanks to a leak from inside, TÜGVA's plan to place its members in government agencies has come to light. A former TÜGVA employee reportedly revealed the staffing lists to journalist Metin Cihan who broadcasted this via his Twitter account. The TÜGVA Chairman Enes Eminoğlu immediately denied the claims as slander. However, one day later, on October 13, Eminoğlu admitted that "Some of the information could be correct" and continued as follows:
• "Once he (the unnamed former member) got these insider documents, this guy backed up and disclosed them. The mentality that revealed [the papers] years later, shows their tactics and implementation."
First of all, someone needs to tell Eminoğlu that this is how things work anyway. In the West, they call them "Whistleblowers".
Bilal Erdoğan: they are jealous of us
In any case, disclosures and leaks about irregularities do not usually come at the time they occur, but sometimes "years later". But the thing is, TÜGVA was founded 7 years ago, and it doesn't have a long history to try to trivialize the claims as "years ago". Even though public facilities, generous donations from the business world were mobilized for them.
The current claim is that the TÜGVA used methods very similar to the Fethullah Gülen organization at the time. Their goals appear to be similar: primarily the police, the judiciary, and the military.
Tamer Özsoy, who used to be a provincial representative for TÜGVA also started to speak, saying that the allegations were true. The opposition CHP brought the allegations to Parliament.
According to Bilal Erdoğan, all of these are slander, saying, "They are jealous because they can't do it themselves." Of course, when Bilal Erdoğan said this, TÜGVA President Eminoğlu tried to translate what he said to Özdemir: "FETÖ members [Gülenists] have infiltrated us and fabricated documents."
In my opinion, both that former TÜGVA employee, whose name is now kept secret, and Özsoy, who was a TÜGVA representative and now a member of the Future Party, is among those trying to escape and save themselves.