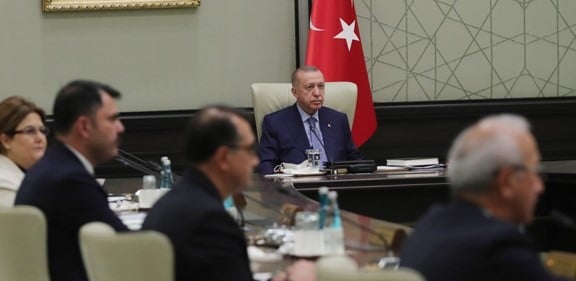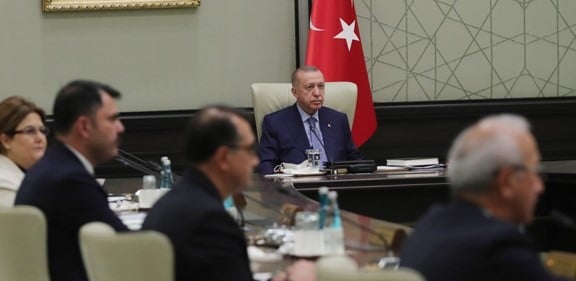 The crisis, which started when ten western ambassadors in Ankara collectively demanded the release of the rights activist Osman Kavala and escalated when President Tayyip Erdoğan denounced them as persona non grata, ended with the back steps taken.
First, on the afternoon of October 25, the US Embassy declared on its Twitter account that it would continue to comply with the laws and rules in Turkey regarding the Vienna Convention. Other embassies began to retweet this statement. These developments occurred in the period between Erdoğan's one-hour meeting with his election ally Nationalist Movement Party (MHP) leader Devlet Bahçeli and the cabinet meeting. At the end of the meeting, the tension dropped with his following words:
• "Our intention is not to cause a crisis, but to protect our country's rights, law, honor, and sovereign rights. Today, with a new statement made by the same ambassadors, the slander against our judiciary and our country has been taken back. We believe that these ambassadors, who emphasize Article 41 of the Vienna Convention, will be more careful in their statements."
Although the crisis seemed to be over, it left damage behind. Some losers lost more and the most. And of course, there will be someone to pay the bill.
Whose idea was that?
From which country, and from whom did the idea of making a joint public statement for the release of Osman Kavala come?
The joint statement was signed by the Ankara Ambassadors of the USA, Germany, France, Netherlands, Denmark, Finland, Sweden, Norway, Canada, and New Zealand.
In my previous article, I shared information that the USA might not have started the initiative based on diplomatic backstage info. The accuracy of this information is now debatable. The New York Times wrote that the "driving force" behind the initiative was the Biden administration. The first rectification step came from the US Embassy in Ankara. Later on, the spokesman for the US Secretary of State Ned Price argued that the joint statement of the ten ambassadors on October 18 was in compliance with the Vienna Convention on 18. In other words, the statement could be interpreted as, "We did nothing wrong". But it could also be interpretted as an "Oops". Erdoğan's "Okay, don't do it again" expression was searching for a way out, but ultimately the first step towards de-escalation came from the signatories, not Erdoğan. Drankfurter Allgemeine Zaitung for example wrote that after Erdoğan's "persona" threat, Berlin decided not to push the matter any further.
There is another detail.
It was noteworthy that the ambassadors of some Western countries, who had relevant relations with Turkey, did not sign on the day the declaration was released. For example, countries like the UK, Italy, Spain, Switzerland, Australia, Japan did not have signatures. According to NY Times the UK did not sign it because before the Climate Summit where Turkey was excpected to join. If that is true, one can think of the G20 Summit in Italy on October 30-31. According to diplomatic sources, some western ambassadors did not sign the call because such an attempt would "not bear no result" and could "aggravate Kavala's position".
They were right. Moreover, it was something frequent for so many western countries to make such a joint statement to a country with which they have alliance and partnership relations, at least on paper, albeit with a legitimate demand for the implementation of the European Court of Human Rights (ECHR) rulings.
Failing to calculate Erdoğan's moves
Were the initiators of this diplomatic move, which is slammed by Erdoğan as a "diplomatic assault" and eventually turned into a diplomatic fiasco, so confident of themselves that they failed to take the comments of their colleagues into consideration? Or were they trying to prove that Turkey has no place in the western world after Erdoğan's strong reaction? What good would that do? That's a separate issue. But in any case, it seems that those who thought and implemented this initiative could not imagine that Erdoğan would react so harshly.
They did not think that Erdoğan would declare ten western ambassadors as persona non grata and ask all of them to leave the country amid a financial crisis. They may have thought that Erdoğan would worry that Turkish ambassadors in those countries would also be declared persona non grata and sent back. However, Erdoğan already prefers to conduct his foreign policy by talking directly to the leaders, without being bothered by ambassadors or foreign ministers.
Although Erdoğan insists on a face-to-face meeting with US President Joe Biden face to face, the initiators probably failed to calculate that he could even risk the possibility of meeting Biden in Rome on the premises of the G20 Summit. The State Department statement of "Our Kavala sensitivity continues" has lost its validity after what has happened. At most, Biden cancels the Rome meeting, but Erdoğan seems to have taken the risk to turn this to his advantage later on.
Kavala is the biggest loser
Erdoğan has indeed gone back on his word. As a result, Turkey's trust issues with the west have increased and it may have economic consequences in terms of new investments and the lira has already depreciated further. But it was the signatory ambassadors who took the first step back—sorry to repeat it.
Western countries such as the USA, Germany, and France have their images scratched. But western countries that did not sign the joint declaration are probably snickering now. Politics is like that.
But unfortunately, Osman Kavala lost the most in all that had happened out of this "persona" crisis. His wife Ayşe Buğra's call on the Turkish Foreign Ministry to work harder to soften Erdogan's decision was sad and equally justified.
It is unfair that Kavala is still in prison on fabricated grounds. His release with a proper trial will be a win both for him and for the democracy struggle in Turkey. Both politics and the judiciary will be relieved of a heavy burden, and injustice will come to an end.
Even this latest incident is enough to show that those who see the struggle for democracy and justice in Turkey in connection with the support from the western countries, naturally in line with their own political targets are a mistake.