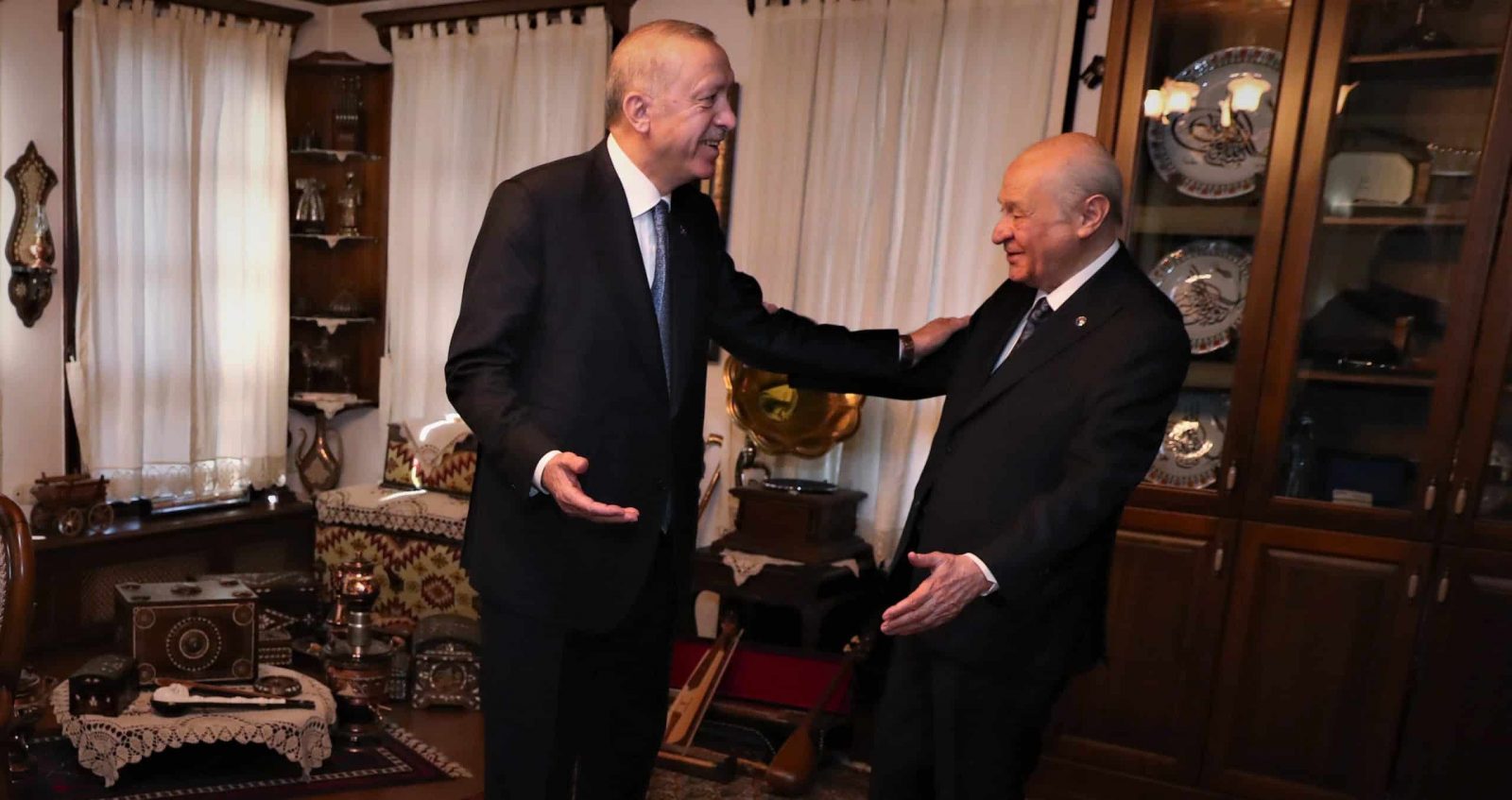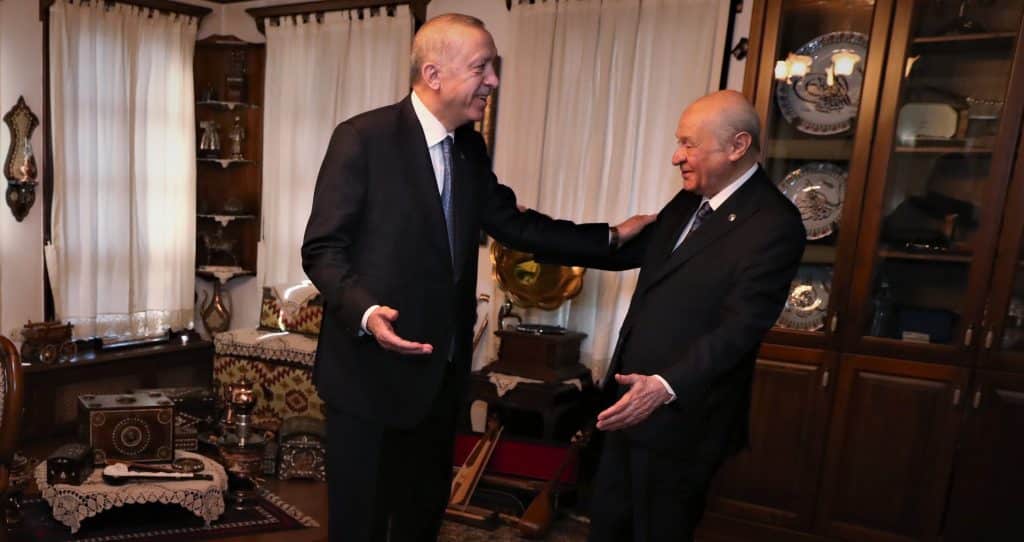 Whenever President Recep Tayyip Erdoğan and his People Alliance partner Nationalist Movement Party (MHP) leader Devlet Bahçeli meet, something changes in Turkey. This time President Erdoğan visited Bahçeli at his apartment in Ankara on Jan. 5, just like last year. President's Communication office announced that the visit was to celebrate the nationalist leader's birthday, which is Jan. 1, 1948, the same as millions born that year, when it was hard to register a birth and parents declare the birthday of a newborn as Jan. 1. Erdoğan came with an ornate present, and the two seemed content in the pictures.
It is good to find at least two people who are content with themselves in such times in Turkey. Because other segments of society that are waiting for the price update for the bread after the prices of fuels and flour increased are not quite content. Another segment that is not content are the ones who received the "good news" that there will be only a 50 percent raise for the electricity for those who consume less than 150 kWh per month; for more consumption, the hike is 130 percent. To remind, journalist Çiğdem Toker wrote yesterday in her column that the average monthly electricity consumption of a family of four is around 230 kWh. The middle class is also not content. One of my friends who drove from İstanbul from Ankara with his car complained about the amount he paid for this journey.
Turkey's biggest organization of capital owners, Industry and Business Association (TÜSİAD), asked yesterday, "if the program is successful, why inflation, interests and US dollars keep getting higher?" referring government's newly declared fiscal plan to curb currency fluctuations.
"Happy Birthday Bahçeli"
The ruling alliance is getting harsher on the opposition every day in the political arena. For example, just a day before, Erdoğan threatened politicians who would like to organize public gatherings or mass meetings, stating that he would treat them as if they were July 15 coup attempt putschists. Devlet Bahçeli, on the other hand, kept calling out for the closure of the Kurdish-issue focused People's Democratic Party (HDP). He even got his argument further by suggesting to close the Constitutional Court if it does not pursue the closure of the third biggest party in the parliament. Now he added İstanbul Metropolitan Mayor Ekrem İmamoğlu to his list, asking for his dismissal.
But when it comes to each other, they are very kind and gracious. The president at his alliance partner's humble apartment is celebrating his birthday. Was that all that they talked about? Did they also discuss the closure of HDP? Dismissal of elected mayor İmamoğlu? The ongoing unrest in Kazakhstan erupted because of energy price hikes? Bülent Arınç and Numan Kurtulmuş that Bahçeli consider not enough of a Erdoğan-supporter any more? Or did they talk about the new presidential decree that changed the naturalization process for Turkish citizenship where the US Dollars become the most significant criterion?
According to the political backstages, their main topic has been on their table for a year and hasn't been resolved yet: a new election law and new constitution if they could do.
Bahçeli content but strategic
In my opinion, Bahçeli is one of the best political strategists in Turkey. His party's votes are below 10 percent, but the MHP under his helmet has a saying in the country's management. He does not hold any accountability for this responsibility because his party is not officially a coalition partner. The judiciary, police, bureaucracy is full of MHP members. He does not make concessions to the visits of the Presidents; he asks for it.
For example, Erdoğan agreed to lower the election threshold from 10 percent to 7 percent just because Bahçeli asked for it. But Bahçeli doesn't accept Erdoğan's "narrowed zone" proposal for election, which will further turn the vote-representation balance in his favour. Because this proposal is designed to eliminate political parties with low vote percentage in overall votes, but high in some regions and MHP might have been affected by this regulation negatively. But there is one thing that they both agree on: changes in ballot box safety measures which will make it harder for the opposition to protect their votes. We will get hold of it when it is introduced to the parliament.
Conflict of interest
The constitution is a more complex issue. First of all, Bahçeli wants to bring "checks and balances" to Presidential Government System, which he calls "Turkish Type Presidency." For example, he proposes the president have two vice presidents who will also be elected. In the current system, the president has the authority to appoint as many vice presidents as he/she wants and dismiss them. Bahçeli also wants more parliament influence on the judiciary and to bring back the vote of confidence system to ministers, which is also abolished by the constitutional amendment of 2017, which brought the Presidential system. These suggestions mean decentralizing the authorities that Erdoğan wished to hold in his hands.
Even if two leaders agree on a constitution, another issue is waiting for them. To change the constitution by referendum, 360 of 660 lawmakers have to vote yes in the parliament. 400 parliamentarians have to say yes to change it with the parliamentary decision. Today, AKP has 286, MHP has 48, their total seats in the parliament add 334. They need 26 more lawmakers' consent for any change.
Some scenarios are circulating. One of the scenarios is that if HDP is closed and its lawmakers in the parliament will be stripped of their status by terror accusations, AKP would like to get the HDP votes and seats from their constituency in southeast Turkey. But, it has no tangible ground, and it is not very realistic. Another scenario is a lawmaker transfer in the parliament. This method brought no benefit for any parties that tried it in the past. But, what can I say, "desperate times call for desperate measures."
Another backstage note
After his visit to Bahçeli, Erdoğan decided to meet AKP lawmakers in groups. Last night, a veteran politician I spoke to told me a story from the late 1980s and 1990s when Turgut Özal was the president. He said to me that whenever Özal wanted to implement something fait accompli, he gathered lawmakers in groups. Özal even invited lawmakers with their families for dinner. In the meetings, he sells whatever is in his mind to the lawmakers, makes them adopt it as if it is their ideas. It was how he shared it with the public and brought it to the parliament. It is important to note that the president's influence on lawmaking was constitutionally limited to its veto power in those times. And it was known that Özal was not very happy with that limitation after he was the head of the execution as Prime Minister in the 1980s.
Is that a coincidence?
Let's keep following the subjects that will be brought to the parliament in the following days. Then we will understand if it is a coincidence or not. Then we will understand why Erdoğan and Bahçeli is that content, unlike the rest of the country.