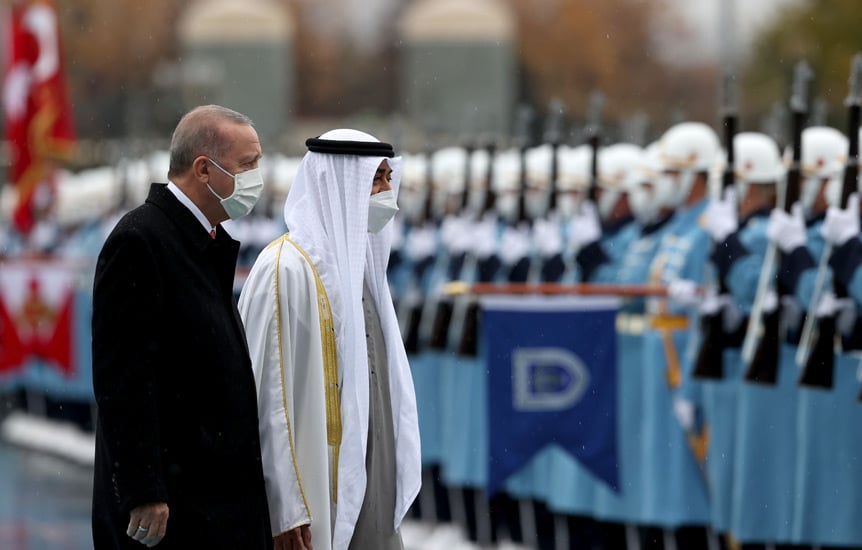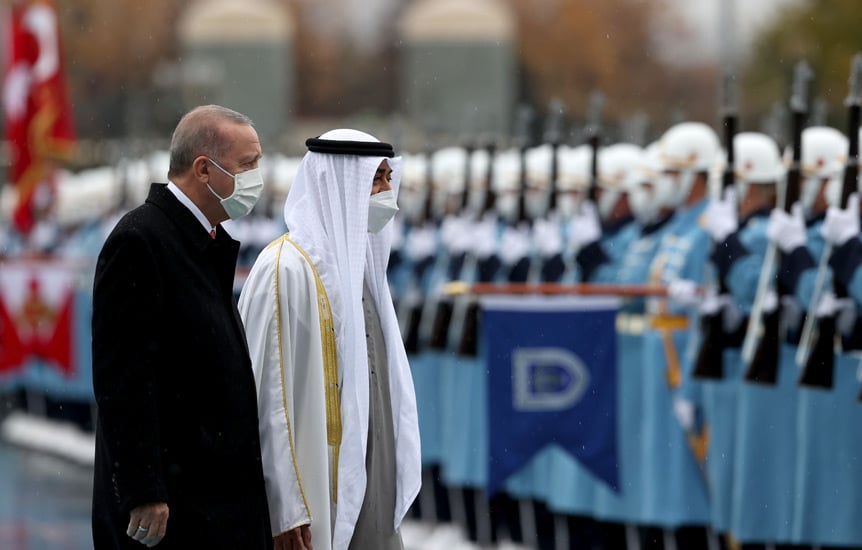 Mohammed Hassan al-Suwaidi, chief executive of ADQ, an Abu Dhabi state investment vehicle, told the Financial Times that the lira's weakness could provide opportunities, saying it was a "great time" to buy if you take "a long-term view". The fund is on hunt for investments, from financial institutions to logistics and food, Financial Times wrote. We learn from them that they have already started negotiations with the Turkey's Sovereign fund Turkish Wealth Fund, (TWF) " on couple of opportunities," including some of the companies in its portfolio.
"They have some stranded assets that they can either bring you into, or you could develop a platform from, so we are looking at a few things with them," Suwaidi said as FT reported.
I will list the members of the TWF below, but before, I would like to remind you Qatari Foreign Minister Abdulrahman al Sani's latest visit to Turkey in December. In joint press conference with Turkey's Foreign Minister, Qatari Minister answered a question of a journalist who asked if Turkey reached the Gulf country for financial support. He said that they "are looking forward to the opportunities that would merge out of (economic) challenges," in Turkey.
Oil and gas-rich Arab countries eagerly await further weakening of the Turkish economy.
Arab investors' interest in TWF
The intention of investors from Qatar and the Arab Emirates to buy private companies in Turkey, mainly in finance, logistics and food, that could not prepare a budget and price because of the crisis is another matter.
TWF is a serious concern for Turkey.
Take a look at what's among the TWF companies that Mohammed al-Suaidi announced to have started negotiations with
Finance sector: Ziraat Bank, Halk Bank, Vakiflar Bank, Borsa Istanbul, Turkey Insurance, Turkey Life Retirement.
Logistics-transportation: Turkish Airlines, Turkish Maritime Operations, PTT, İzmir Alsancak Port.
Energy: BOTAŞ, Turkish Petroleum
Technology-telecom: TürkCell, TürkSat, Türk Telekom
Food and agriculture: Çaykur, Türk Şeker (and 15 sugar factories, 2 alcohol factories under its control), Kayseri Şeker.
Horse racing bets, scratch, lottery, ball of chance, and the like.
I wonder if the manager of ADQ is talking about these assets in Turkey's hands when he says "some stranded assets"? Do they regard Ziraat Bank, TürkSat, THY, BOTAŞ or Çaykur as flotsam and jetsam? On which assets are the negotiations going on?
Incredible depreciation of TWF companies
After the establishment of TWF, the market value of its companies was 31 billion Turkish Liras, as announced in February 2017. At that time, on US Dollar was 3.7 TRL. 31 billion TRL was worth about 8.4 billion dollars. Today the dollar is 13.5TRL. If we make a straight calculation over 31 billion, the total value of TWF companies seems to have dropped to 2.3 billion dollars with the incredible depreciation of the Turkish lira. This is what attracts the Arab investors.
Well, you might ask if Western investors are not trying to buy Turkey's national assets cheaply, with the logic of the flotsam and jetsam. Firstly, they do not do it in such a condescending manner. Secondly, they see the opportunity of cheapness and geographical advantage, but they are worried about not being able to account for the money they will invest in today's Turkey, due to political and economic uncertainties and the perception of a politicized judiciary, to their own institutions and jurisdictions. It's not that they think about us.
Meanwhile, Suwaidi said that the negotiations are ongoing, but there are also negotiations and sales that have concluded. For example, a memorandum of understanding has been signed between ADQ and Abu Dhabi Port Authority and TWF. During Erdoğan's visit to the UAE, which is expected in February, Turkey Maritime Operations and/or Izmir Alsancak Port share sale transactions may be completed.
Who is in the management of TWF?
Now let's get to know the Board Members of TWF, who manage these assets and conduct sales negotiations.
President of TWF, President Erdogan.
TWF Deputy Chairman Erişah Arıcan: also Chairman of Borsa İstanbul.
Alparslan Çakar: General Manager of Ziraat Bank and President of the Banks Association.
Burak Dağlıoğlu: also the Head of the Presidential Investment Office. Erdogan's son, Bilal Erdogan's friend from Kartal Imam Hatip High School.
Fuat Tosyalı: Industrialist, Chairman of the Board of Directors of Tosyalı Holding. President of Turkish Steel Producers Association, member of Board of Foreign Economic Relations Board.
Rifat Hisarcıklıoğlu: President of the Union of Chambers and Commodity Exchanges of Turkey (TOBB). Chairman of Eskihisar Holding and Vice Chairman of Eurochambers.
Arda Ermut: He is also the General Manager of TWF. He was previously in THY Management. Bilal Erdogan's friend from Kartal Imam Hatip High School.
All decisions, including share sales, are under the authority and responsibility of this TWF management.
The point Turkey came by "precious loneliness"
Turkey and Qatar have been in close friendship for a while. However, the United Arab Emirates and its de facto ruler, Crown Prince Muhammen bin Zayed (MBZ) were considered the enemies of Turkey by President Erdogan and the AKP government until a few months ago. They were the ones who covertly supported the July 15 coup attempt, those who stood against Greece in the Eastern Mediterranean, Egypt and Russia in Libya, and Turkey, and those who sided with Israel against the Palestinian cause.
Then, at the beginning of 2021, the financial crisis started to show itself. Meanwhile, the Arab Emirates began to retreat at the suggestion of the USA, and the paths crossed. First, the intelligence services began to negotiate. Fugitive Mob Leader Sedat Peker's videos from the UAE including allegations on the Erdogan government and especially to the Minister of Interior Süleyman Soylu were instrumental. On November 24, MBZ was greeted by Erdogan with a red carpet in Beştepe. Now, as MBZ prepares to welcome Erdogan, this vulture approach has emerged.
While Arab investors are waiting for the Turkish economy to worsen, we are also experiencing the consequences of the "precious loneliness" thesis in foreign policy.