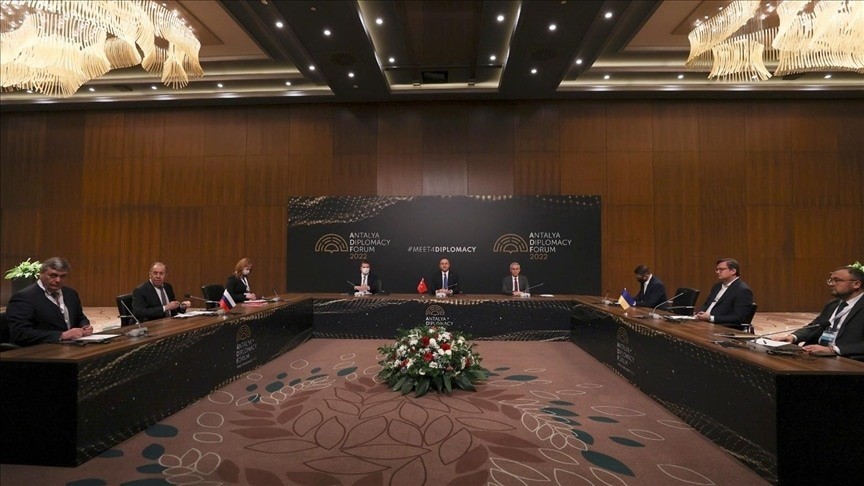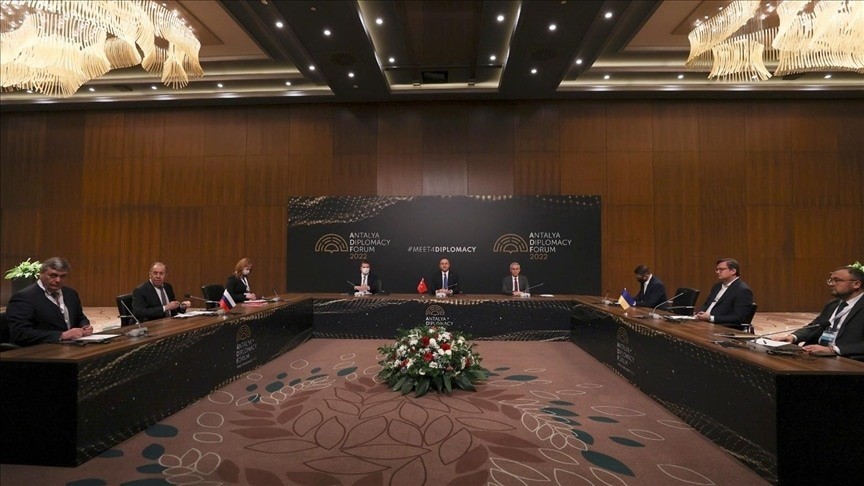 As Russia's offensive to Ukraine enters its second week, two countries' Foreign Ministers met in a first high-level meeting under Turkey's mediation in Antalya on March 10. Parties emphasized their willingness to continue diplomatic talks while results about Ukraine's demand on humanitarian corridors and ceasefire will wait for a higher-level approval.
Russian Foreign Minister Sergei Lavrov, Ukrainian Foreign Minister Dmitro Kuleba and Turkey's Foreign Minister Mevlüt Çavuşoğlu met for the first high-level talks in Antalya on March 10 under Turkey's mediation.
"In high-level meetings with politicians and technical negotiations, there have to be some developments, and the negotiations have to be conveyed to higher authorities. In the following period, we agreed to make a decision after the next negotiation talks to happen in Belarus. And we closed the meeting with this agreement," Çavuşoğlu stated after 1 hour 30 minutes meeting held within the framework of the Antalya Diplomacy Forum.
Çavuşoğlu underlined that the meeting was marked as the first meeting on a Foreign Minister level, and it was unlikely to yield a tangible result in the first meeting.
"Nobody expected a result from such a meeting. However, it is an important beginning," he added, stating that the parties expressed their willingness for a continuation of diplomatic talks on a presidential level.
"Ukraine stated that [Ukranian President Vlodomir] Zelensky is ready for such a meeting, and Lavrov said that [Russian President Vladimir] Putin does not categorically against it," the Turkish Foreign Minister said. He added that Turkey is hopeful for that meeting to occur, and two countries demand Turkey's mediator role to be continued for such a dialogue.
Ceasefire and humanitarian corridor
"Between Russia and Ukraine, several articles are on the table for negotiation, including adopting a neutral policy on the Ukrainian part. In addition, a detailed peace agreement is on the table. In such a case, Ukraine demanded some countries to be a guarantor, and one of these countries is Turkey. Kuleba confirmed that in our meeting," Çavuşoğlu added.
Çavuşoğlu said that Turkey's priority is the humanitarian side of the issue, and "to ensure this there have to be a sustainable ceasefire."
"Especially humanitarian corridors should be stayed open without any obstacles. We have first-hand experience how difficult the situation is when we tried to evacuate our citizens from the region. We emphasized today that there should be a corridor especially in Mariupol. Parties stated that they will convey this demand to related authorities especially to military authorities," he said adding that a "coordination for both parts" is very important as the clashes between two countries continue in the region and if there wont be a coordination "the civilians that will be evacuated may face life-threathening situations."
The two countries held three negotiation meetings in Belarus and agreed to continue talks. Russia announced early March 7 that it would declare a "temporary" ceasefire in the Ukrainian capital Kyiv and the cities of Mariupol, Kharkiv, and Sumy to ensure the evacuation of civilians.
Kuleba: Russia to continue offensive unless all demands met
Arguing that Russia is under threat from the armament of Ukraine from Western countries and NATO expansion, Moscow demands Ukrainian President Zelensky to step down from his position, Ukraine to be unarmed and acknowledge Crimea as Russian soil.
Ukraine says Russia's demands amount to surrendering its sovereign power and it demands Russia to withdraw from Ukrainian territories including Crimea, which Russia annexed in 2014 and Donetsk and Luhansk, which Russian President Vladimir Putin has recently acknowledged as independent countries.
Ukrainian Foreign Minister Kuleba stated that Ukrainian representatives expressed their demands for a 24-hour ceasefire and a humanitarian corridor to and from Ukrainian city Mediopol, which is under Russian shelling, but "Lavrov did not commit."
"Lavrov stated that he would still talk to the relevant authorities about corridor. We also talked about the ceasefire here. The 24-hour ceasefire is one of the most important humanitarian issues. However, we have not made any progress on this issue. Because we know that there are some other decision-makers in Russia on the subject. We will continue our efforts to seek solutions for humanitarian issues." he said in the press conference held after the meeting.
Stating that Russia seems determined not to end the attack unless all of its demands are met, Kuleba said, "We cannot stop the war; we will not be able to stop the war if the attacking state does not want it. We are open to diplomacy, but if this does not happen, Ukraine will not give up."
Lavrov: We want the talks to yield results
Russian Foreign Minister Sergei Lavrov reiterated Russia's position that the country is under threat and repeated their demands for Ukraine to be "unarmed and be neutral," saying "Putin has also declared many times, in fact, we do not oppose the security of Ukraine in any way by opposing the enlargement of NATO. We want the security of both European countries and Ukraine, but we also care about ensuring the security of Russia."
"We don't want the arming of Ukraine, we don't want a Neo-Nazi government in Ukraine. We are ready to negotiate security guarantees for Ukraine," he said.
Russian Foreign Minister added that they agreed to continue diplomatic relations after the trilateral meeting. Stating that they repeated their proposal of "opening a daily humanitarian corridor", he added "The routes are actually determined by those who control the situation. The aim is for civilians to get out".
Lavrov emphasized that they attach importance to continuing the talks that started in Belarus and that they agree on the continuation of diplomatic relations.
"We wanted to remind our colleagues that in the last negotiations in Belarus, the Russian side presented its own deliberations in detail. The Ukrainian side also stated that it would respond as soon as possible due to the contacts held in Kyiv. We want the negotiations in Belarus to yield results. We want a collective solution to the Ukraine crisis. We want a solution to be resolved by considering the interests of all parties and taking into account the views of European countries. We do not want the talk to remain on paper; we want a solution," he said.