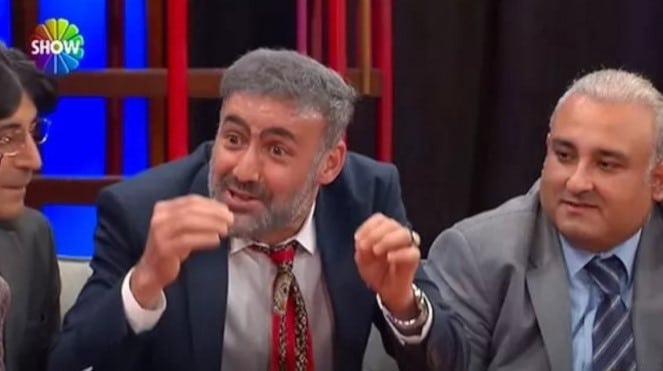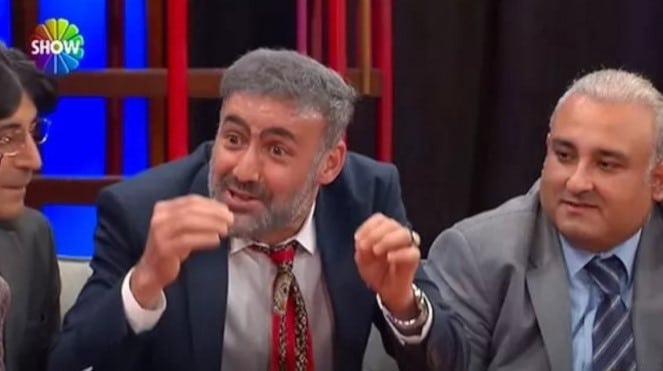 I was once a screen regular of Turkey's one of the leading comedy writer Gülse Birsel's TV Show European Side/Avrupa Yakası. Recently, I am hooked on Ali Sunal and his team's Güldür Güldür comedy sketch show on Show TV. Last Saturday night, the show advertised that among the sketches to be aired after the commercial break, there was also the satire of Nureddin Nebati, the Minister of Treasury and Finance. What would it be about? It was all of Nebati's statements that are no different than a series of jokes as if he was making fun of the citizens' financial difficulties.
However, Show TV management, owned by Turgay Ciner, did not broadcast that particular sketch: A new example of prohibitionism and intolerance of criticism.
Was it a new "Hello Fatih" case? Let me remind you of that incident. In February 2014, while the 17-25 December 2013 corruption allegations were still a hot topic, Habertürk TV cut the live broadcast of Nationalist Movement Party (MHP) leader Devlet Bahçeli's parliamentary group speech. That sudden interruption was interpreted as the result of then Prime Minister President Tayyip Erdogan's call to channel's owner Fatih Sarac.
This time, we do not know whether a phone call was made or by whom, but we do know that Nabati had an army of financial inspectors at his disposal.
Minister Nabati's main concern
There seems to be an issue of maturity here as well. Güldür Güldür team also satirized Health Minister Fahrettin Koca more than once. We neither heard a reaction from Koca nor was it removed from the broadcast.
Until Erdoğan's AKP period, Turkey was a country where politicians could be satirized even during the single-party period. As Erdoğan strengthened his power, we lost our satirical spirit and our richness of humor. Some, like Koca, have the understanding to consider satire a part of political culture. Others are the predecessor of Nebati's outlook.
Has Nabati's pride been saved when he censored Güldür Güldür? Would the state of the Nabati-ruled economy have gotten worse had that sketch been broadcasted? Now that that video has not been published, will the economy recover? Today, on May 9, at the Erdogan's Cabinet meeting, will other cabinet members, maybe even Erdogan, congratulate Nabati, for showing Güldür Güldür comedians their place?
Nabati's problem should not be to try to be taken seriously with prohibition. It should be dealing with the living problems of the people, the increasing cost of living and the inequality of income distribution, which has even caused Turkey's Industry and Business Association TÜSİAD to worry.
Matter of being taken seriously
Our Minister of Treasury and Finance obviously has an issue of being taken seriously. But what he really needs to do to be taken seriously, for example, is not to take a photo with World Bank President David Malpass and publish on Twitter stating that he has "extensive" talks. Every actor in the world who take themselves seriously knows who to talk to about the Turkish economy if necessary: it is President Erdogan.
If Nabati wants to be taken seriously, he can at least look back on what he's said so far turned out to be true. Last February, when the inflation rate was 48 percent, which was the record of that time, the Minister of Nabati said that inflation would approach 50 percent in April, but it would not pass that. It was 61 percent in March, which, according to the official figures of TÜİK, was 70 percent in April – sorry 69.97 percent. Actually, the real comedy is these numbers.
Will Erdogan be able to make the difficult decision?
Nebati cannot see that he is one of the first to be thrown away in the hope of preventing the fall of the balloon by being shown as the culprit of the bad course. Maybe he sees it and enjoys being a minister with the understanding that one day's power is power, takes advantage of its blessings, and makes such displays of power.
Let's leave Nabati with his sparkling eyes and cheerful face aside, but let's look at what Erdogan will do then.
It is clear what he should do: Free the hand of the Central Bank a little bit, take the fight against inflation as a primary concern, and determine the appropriate monetary policy, thus at least slowing down the evaporation of the money in the hands of low-income people.
In fact, Erdogan can also make one of his legendary u-turns by abandoning the "interest cause – inflation effect" thesis, which has been proven to the contrary until now. For example, he might say something like this: "My thesis is correct, but you see, there is a Russia-Ukraine war. That's why we're suspending the program for now. Hard times require tough measures," etc. After all, the path of election is full of stones.
He can do it but will he?
Do those who think that they have saved their pride by banning satire, show the same sensitivity about the country's economy? What do you think?