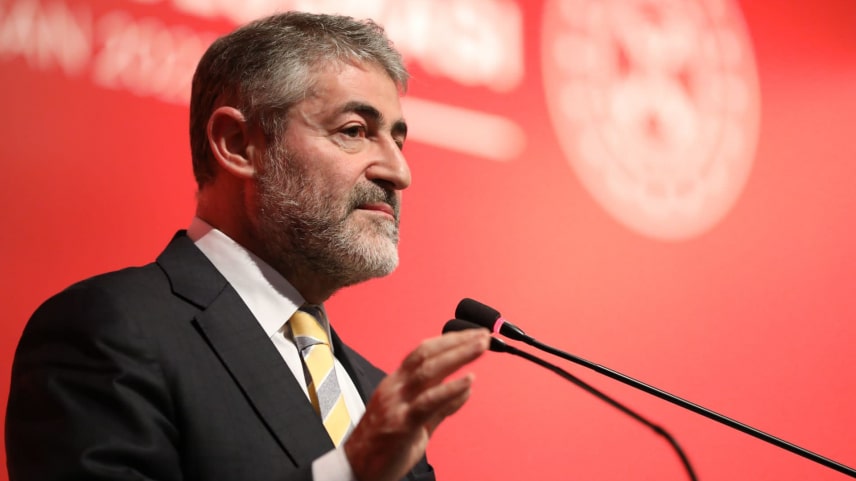 President Recep Tayyip Erdoğan summoned his top economy policy officials in a closed-door meeting at the presidency on May 31 amid announcements of new price hikes while high inflation keeps straining households.
Erdoğan held an emergency meeting at the Presidency attended by Treasury and Finance Minister Nureddin Nebati, Central Bank of the Republic of Turkey (CBRT) Governor Şahap Kavcıoğlu and Monetary Policy Board members on Wednesday. No official statement was made about the meeting.
The meeting is held during the same hours Turkey's Petroleum Pipeline Corporation BOTAŞ announced new natural gas price hikes.
According to the updated tariffs, natural gas prices for household consumption increased by 30 percent, industrial consumption by 40 percent, and electricity production by 17 percent. The price hike on natural gas is subsequently factored in electricity prices due to a new tariff published by the Energy Market Regulation Agency indicated a 15 percent increase for residential subscribers and 25 percent for industrial and commercial subscribers.
Turkey's annual inflation surged to a two-decade high of 69 percent in April, fueled by rising energy and commodity prices following last year's Lira crash.
High Growth vs High Inflation
Turkey recorded 7.3 percent annual economic growth in the first quarter. Data released on May 31 showed a better-than-expected rate amid the currency crisis and high inflation.
Manufacturing and exports were the main pillars of the growth, as Erdoğan strongly defends the current economic policy which prioritizes export-led economic growth with low policy interest rates.
Erdoğan has long been articulating his standing as "interest is the cause, inflation is the result," while labelling his position as "unorthodox" since CBRT keep rates stable for the last two months despite 69 percent annual growth.
The bank has cut 500 basis points in policy interest rate since last September, which prompted a sustained surge in consumer prices, stoked by Russia-Ukraine War. With CBRT's independence under question, the Turkish Lira lost around 40 percent in value in a year, followed by the Erdoğan government's introduction of a new fiscal scheme to keep currency fluctuation under control.
A new program under question?
The "Currency-Protected Deposit" scheme promised Turkish Lira deposit holders treasury-guaranteed compensation from depreciation of Lira against US Dollars.
According to Banking Regulation and Supervision Agency (BDDK), Currency-Protected Turkish Lira Deposit accounts reached 848 billion 870 million Liras in the second week of May. 16 billion 255 million 736 thousand Liras was paid in compensation to these account holders in two months.
After Erdoğan hinted at a possible military operation within Syrian borders in a parliamentary group meeting on May 23, Turkish Lira has once again depreciated against the US Dollar.
A week before, he said Turkey is to block Finland and Sweden's NATO membership if these two countries "continue their support to terrorists," referring to the outlawed Kurdistan Worker's Party (PKK) which is deemed a terrorist organization by Turkey, USA and EU countries. His announcement stirred a diplomatic shuffle in negotations between NATO countries.
"Inflation variables are still present"
The President of the Turkish Industrialists' and Businessmen's Association (TUSIAD), Orhan Turan, said on May 31 that all the variables that play a role in inflatory dynamics are still present and the top-industrialists association anticipate a further surge in inflation.
"The errosion of our institutions and the decrease in the capacity to build the right policies are issues that we all need to pay attention to," Turan said to Şehriban Kıraç from Cumhuriyet Newspaper on June 1.
"About a third of our inflation originates from global pressures. The main part is the inflation we produce domestically," he added.
Minister: Anti-inflation teams doing their job
Before Erdoğan's "emergency" meeting, Finance Minister Nebati spoke at an event stating that the price hikes are a result of the "irrational expectations."
"Unfortunately the hyperinflation in the 1980s and 1990s had a huge impact on people's memory. That's why some recent hikes disturb expectations and pricing activities in an unbalanced manner," he said.
"We will not allow unreasonable increases in prices, stockpiling and opportunism," he said adding, "Our anti-inflation teams are doing their job in the field. We will not tolerate those who artificially inflate prices."