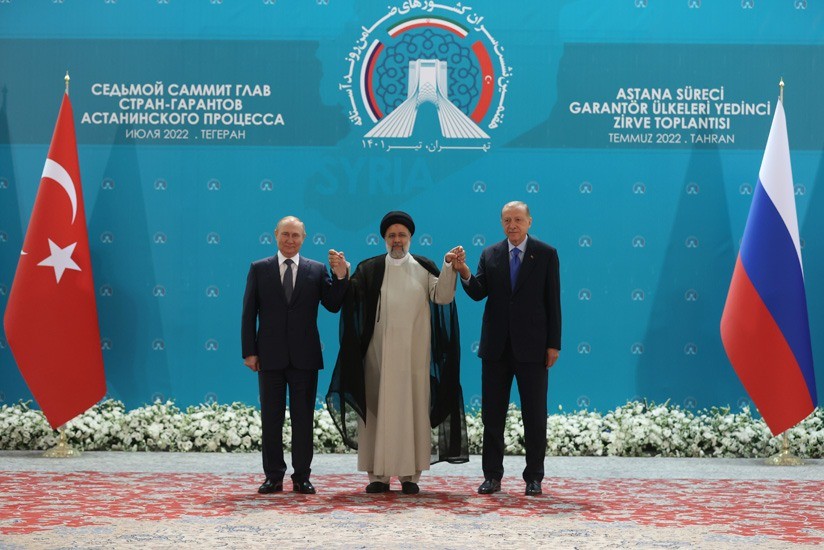 Turkey's populist-driven foreign policies are coming back to bite us and Erdoğan's government is unable to formulate solutions for the impasse they themselves created. This reality is especially urgent in Syria. Elections are coming up and one of the bigger determinants for voters is the economic and sociological costs of hosting 3.5 million Syrian refugees. While the Government struggles to formulate a strategy or even a few tactical goals to unravel the enormous domestic and international repercussions of its own mistakes, the economy is spiralling from bad to worse leaving them even fewer options.
In the wake of elections coming up sometime late spring in 2023, the majority of the electorate is asking themselves what went wrong. Merely 10 years ago Turkey's economy was thriving and friend and foe still admired our young democracy. On the eve of the centennial of the Turkish Republic, citizens more than ever feel the need for an accounting. While Turks have always been politically divided, they all agree that 100 years after the founding of the Republic, this is not where our leaders promised we would be.
Erdoğan era
Keep in mind that while Erdoğan cannot be blamed for every challenge we are now facing, he is the longest serving politician in the republican history of Turkey, after its founder, Mustafa Kemal Atatürk. He came into office as Prime Minister in 2002 and every person younger than 40 doesn't remember a political environment that wasn't dominated by Erdoğan. Even from a more rational constitutional point of view political responsibility for the state of Turkey clearly lies with him. In fact, he based his referendum campaign on changing the Constitution to transform Turkey from a parliamentary democracy into a Presidential system on the fact that he wanted more powers so he would be solely responsible for the country's fate. The argument that he was legally responsible without matching authorities to carry out his constitutional responsibilities carried a lot of weight.
As a shrewd and experienced politician, President Erdoğan knows very well that foreign policy should be formulated with the aim to protect the Nation's high-level national (security) interests and not short-term political gain. Nonetheless, he opted to politically leverage international developments and dynamics. Focused on surviving election after election, rallying his base with simple ideological one-liners took priority over the long-term national interest. He is now stuck between reality and the expectations on the street that he himself helped create. And it is proving very difficult to come up with an exit-strategy that will save him as well as the country out of this impossible corner.
Tactical victories
There are occasional tactical victories that allows the Government to hide its bigger structural failures such as the Syrian refugee tragedy. Recently, the most prominent success that Erdoğan is trying to leverage is Turkey's role as a broker and facilitator of the agreement that allows Ukrainian wheat to be exported again averting an even bigger global food crisis. The importance of this agreement should not be understated as it will literally help feed hungry people and it should be a solid reminder to our friends in U.S. Congress that Turkey's geostrategic and geographic location – regardless of who is in power – renders it a critical country for global peace and stability. However, the Government's push to market this as a result of Erdoğan's personal genius is a major stretch especially since Russia is likely try to sabotage the agreement first chance it gets. Even more importantly, these smaller "victories" will not solve the larger structural and existential challenges that Turkey or the region is facing such as the Syrian impasse.
The Syrian impasse
Notwithstanding minor achievements such as the neutralization of well-known PKK terrorist leaders in Syria, it is clear that Assad – backed by Iran and Russia – is there to stay despite Erdoğan's ill-thought promises 11 years ago to "rescue Damascus". While we are witnessing a certain level of rapprochement with Israel, Saudi Arabia, the UAE, and potentially even with Egypt, Syria remains hostile to Turkey. While there is no doubt that Turkey was morally right to align with the opposition against Syria's dictator Assad and our humanitarian efforts deserve praise, we never formulated a longer-term viable strategy and we are now paying the price.
It is now clear that the Government is looking for a face-saving option to engage in formal discussions with the Syrian regime but is struggling to explain this to domestic audiences; a position they backed themselves into through years of ad hoc populist-driven foreign policy adventures.
Recent statements made by President Erdoğan and his Foreign Minister Mevlüt Çavuşoğlu will not prevent the international community from questioning where Turkey stands on Syria. For that we need a foreign policy that is consistent, credible and based on Turkey's long-term international interests and commitments. Similarly, international praise alone will not be enough to domestically absolve the AK Party government for today's economic failure or for the many problems we are facing internally and abroad. For that a much more genuine mea culpa is required.