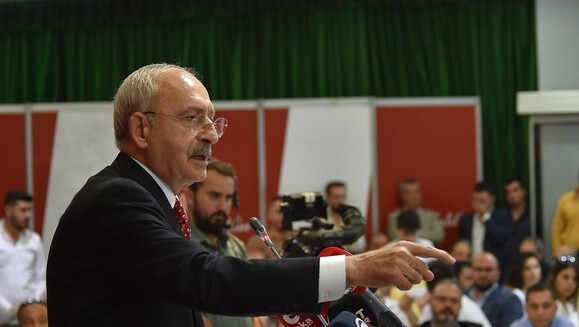 Statements from opposition İYİ (Good) Party leader Meral Akşener and Kurdish issue-focused Democratic People's Party's (HDP) imprisoned former co-chair Selahattin Demirtaş on September 13 strengthened the possibility that President Recep Tayyip Erdoğan's competitor in the critical 2023 presidential elections will be main opposition Republican People's Party (CHP) leader Kemal Kılıçdaroğlu.
"The decision will be made at the table," Akşener said upon a question of the FoxTV presenter İlker Karagöz, who asked, "will the candidate be determined at the table?"
What they refer to as "the table" is the coalition of six opposition parties, İYİ Party, CHP, Future Party (Gelecek Partisi), Democrat Party (DP), DEVA Party and Felicity Party (SP), which was built upon "the Nation Alliance" of İYİ Party and CHP that was established at previous elections. The "table of six" has been holding meetings since February when they first declared their pledge to change the 5-year-old Presidential Governmental System, brought by President Tayyip Erdoğan's ruling Justice and Development Party (AKP) and its ally Nationalist Movement Party (MHP) leader Devlet Bahçeli.
"I still think that there should be only one candidate," Akşener added, stating that the coalition of these six parties should nominate one candidate against Erdoğan.
"A candidate who has a chance to win, who has the bureaucratic experience, has knowledge about the state and will emphasize the need for a transition to the parliamentary system will be our candidate. That candidate will be the candidate of the Nation Alliance," she said adding,
"We do not have any prejudices about any candidate, especially Mr. Kılıçdaroğlu."
Akşener has been repeating that she is "not a candidate" as she runs for the "prime ministry" post that will be reinstated after the transition of the parliamentary regime. Two names remain: Istanbul Metropolitan Mayor Ekrem İmamoğlu and Ankara Metropolitan Mayor Mansur Yavaş.
A candidate to win, a candidate not to win
Akşener's emphasis on the "candidate that has a chance to win" had been interpreted as her disapproval of Kılıçdaroğlu's candidacy after İYİ Party member Koray Aydın said in December that "İYİ Party refutes a candidate, a name of which carries a risk of not winning in the polls" stirring a debate. On top of this İYİ Party's lawmaker, Halil Oral voiced his concern about Kılıçdaroğlu's being "Alevi" to constitute another risk, saying "among more Muslim segments that we may call Sunni," words that he had to appologize for later. According to this point of view, the dissident voters against Erdoğan's government would vote for Erdoğan just because Kılıçdaroğlu was an Alevite.
The nationalist-idealist past, his moderate political outlook and bearing potential to gain votes from almost all segments of society have a role in İYİ Party politicians' inclination to Mansur Yavaş whose name appears at the election polls at the higher ranks. But can he really gain the votes from all segments of society? For example, from the Kurdish voters who will play a key role in the 2023 elections?
It was a critical point when he denied that he said "I hope so" in response to the comment of a citizen in Eastern province of Van who said, "We want Demirtaş to get out of prison".
We can find the answer in Demirtaş's response to Ruşen Çakır's questions on Medyascope:
"Do not be misled by the fact that the silence of people who have not yet spoken a word about the problems of the country gained some points in some surveys," Demirtaş said, the addressee of these words was directly Yavaş.
"When they start talking about the country's very important issues, which they will have to talk about if they become candidates, I am not sure if the support shown in some of the polls will last," he added.
Demirtaş's support for Kılıçdaroğlu
What Demirtaş means is that if Yavaş becomes a candidate and speaks about "important issues", he will either get the support of the Kurdish voters or the nationalist circles.
Özer Sencar, director of MetroPoll research company, told Ruşen Çakır on Medyascope that if the opposition's joint candidate would be Yavaş, Erdoğan would "crush" him. It is noteworthy that Sencar said this when Yavaş still appears at higher ranks than Erdoğan in MetroPoll polls.
"It is not our place to name the joint candidate," Demirtaş said adding "I consider the divisive arguments made over his [Kılıçdaroğlu's] belief both quite wrong and also unfair to him."
"Furthermore, I think Mr. Kılıçdaroğlu has expressed his views on almost all the main and controversial issues of the country and seems to have significant support in different social segments. In such polarized societies, it is not an easy task to offer solutions for every issue and to unite the society around them," Demirtaş said.
What other words of endorsement would be more open and clear, I don't know.
Will Kılıçdaroğlu announce his candidacy?
İmamoğlu's name has been mentioned less and less after two incidents. One was his trip to the Black Sea which was overshadowed by the contractor Mehmet Cengiz, who is known to build his fortune over his proximity to President Erdoğan, with Ertuğrul Özkök and Nagehan Alçı on his private plane. Before that, his dinner with the British Ambassador on a day when the snowstorm hit Istanbul prompted criticisms.
This does not mean that the possibility of the nomination of İmamoğlu, whom Akşener visited in his office last week, has disappeared. This does indicate a problem in public image.
The full support of the CHP organization seems to be in favor of Kılıçdaroğlu.
Akşener and Kılıçdaroğlu will come together on September 14 at the meeting of the "Capital-City Model in Rural Development" of Mansur Yavaş who announced that has earned approximately 5 billion TL in 3 years with the model. If they have a meeting within the framework of this meeting, will this issue be brought up? Or, will they wait even longer in the winter months to discuss that? It seems that the issue will grow whiskers as it waits but unless Kılıçdaroğlu brings the subject up, this does not seem to be discussed either.
There is another important problem
According to Akşener's statement on Fox, Kılıçdaroğlu will meet with the other five leaders once again before the scheduled "Table of Six" meeting on October 2.
If the opposition's common candidate will be Kılıçdaroğlu, it seems that there will be not much trouble in getting votes from the Kurdish voters, without even meeting with HDP or a need for a joint candidate statement. Also, if the ruling AKP wants to see Kılıçdaroğlu as a rival to Erdoğan, as Abdülkadir Selvi often writes in Hürriyet, that much, so Kılıçdaroğlu be. It can also leave the AKP alone with their strategy for a smear campaign of targeting Kılıçdaroğlu's Alevite faith by using all state's facilities, especially of the Directorate of Religious Affairs, Diyanet.
In Akşener's words, there is another expression that seems to have been said naturally in the conversation: "The candidate will be of the Nation Alliance". Yet it is strategically important. We will have to decipher this expression at length; at another post.