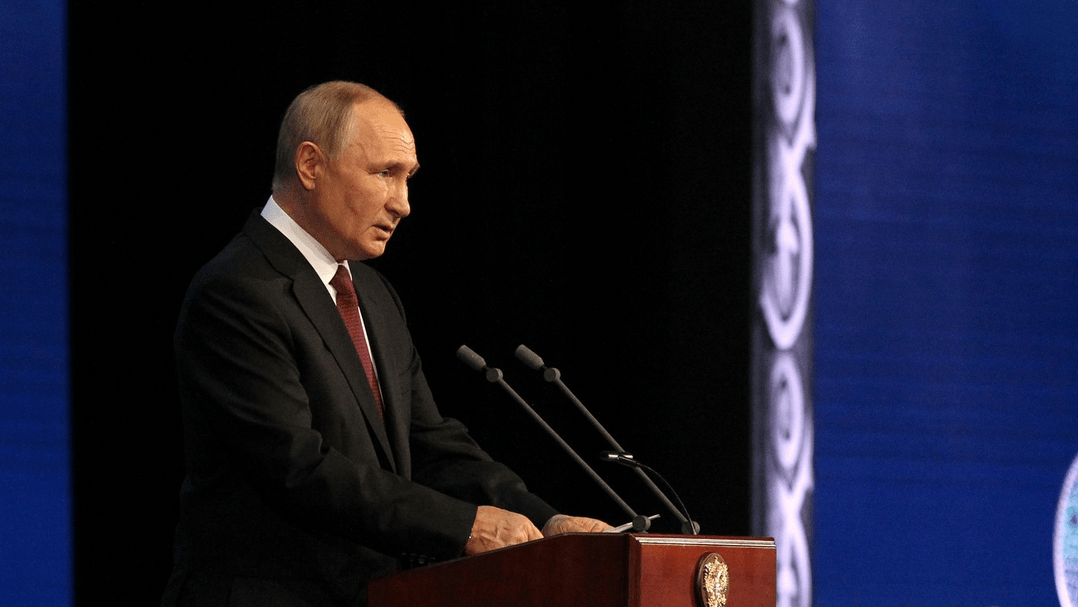 Russian President Vladimir Putin declared a "partial mobilization" on September 21. Putin's declaration of Russia's first mobilization declaration since the Second World War, including the Soviet Union era, included a threat. His telling that he would respond to the attacks on Russian soil with "all his means" meant that he could also resort to nuclear weapons at his disposal.
He considers the Crimean peninsula of Ukraine, which Russia annexed in 2014, as Russian territory, he also considers the whole Ukraine a fabricated "Neo-Nazi state".
His current game plan is to annex the territories occupied by Russia. He will then declare  those territories as Russian territory and will regard any Ukrainian retaliation with western support as an attack on their territory.
The declaration of mobilization came a day after they announced a referendum in the Ukrainian provinces of Luhansk, Donets, Kherson and Zaprorigia, which are still under Russian occupation.
Russia's president  makes moves to make Ukraine and the world accept the lesser of two evils. He wants to say that if the territories that he occupied will be annexed without resistance over threat of nuclear attack, the war will be over.
What will Turkey do?
The official statement from Ankara read "We are concerned about attempts to hold fait accompli referenda in some parts of Ukraine under Russian control," calling Russia to avoid this.
It's not just Ankara that's concerned about this.
In a statement right after Putin's mobilization announcement, China opposed the call for  war and called for a ceasefire and dialogue. Putin had not been able to get the full support he wanted about the Ukraine issue  from Chinese President Xi Jinping, whom he met during the Shanghai Summit in Samarkand.
U.S. President Joe Biden made a speech at the UN that figuratively  meant "You didn't believe it when we said it was going to attack Ukraine, this time take it seriously".
NATO Secretary General Jens Stoltenberg responded to Putin's remarks, especially about nuclear weapons production, as a "dangerous and reckless" escalation.
Will NATO remain a spectator to developments?
Decisions in NATO are taken unanimously.
If this proposal is brought to the table, for example, by the USA or the UK, how will Germany, for example, dependent on Russian natural gas or Poland in the line of fire, vote?
And what will Turkey do?
Erdogan's dillema
Since the beginning of the Ukraine crisis, Turkey has adopted a moderate and balanced stance. Ankara maintained its contact with both Ukraine and Russia. At first, Turkey took an important step to reduce military tension by closing the Straits to warships in accordance with the 1936 Montreux Convention. The two political meetings held between the Russian and Ukrainian delegations were also held in Turkey. Ankara also did not comply with the US and EU sanctions and became Russia's window to the West. She also concluded the agreement with Russia so that Ukraine could ship grain. Finally (along with Saudi Arabia) the hostage exchange took place.
President Tayyip Erdoğan, in his most recent speech at the UN General Assembly, said that efforts to facilitate the end of the war continue.
It is difficult for Turkey to vote in favor of a resolution to use military force against Russia unless Russia directly threatens a NATO member and all other negotiation opportunities are exhausted. Turkey is dependent on Russia for natural gas and tourism revenues, Russia has an important place in Erdogan's search for foreign resources against the economic crisis, and the Turkish military presence in Syria can also remain relatively unproblematic if Russia turns a blind eye to Syria.
Would the US force a decision that is difficult to be voted by NATO members unanimously, at the risk of being rejected?
Putin's dangerous game
The risk of the war expanding keeps the whole world, including Turkey, on its toes.
Xi did not leave Putin alone in the Ukraine crisis, but so far he has not given the full support he wanted. China is against a war with the West as the post-Covid trade balances are just re-established. Putin could not get the support he wanted from India, another Asian power. On the other hand, if he takes a step back, how the balances in Moscow will change is another question.
In an environment where the opposition and dissident press are silenced, Putin seems to have popular vote support with the ideology of Great Russia Again, but this image can be misleading. The Kremlin has been the scene of Palace Coups for a long time.
I don't think anyone will be able to destroy Russia as Putin claims. It is obvious that both Napoleon and Hitler, who had attempted this before, had their own demise. But leaders can change.
One of the characteristics of one-man regimes is that the country quickly finds a new balance after a short period of chaos following the one man get out of the picture. Putin may no longer see this, with his desire to preserve and expand his power.