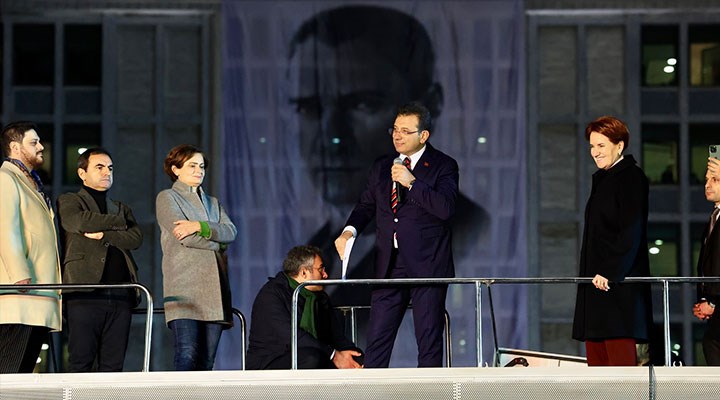 The İstanbul Metropolitan Mayor Ekrem İmamoğlu was sentenced to 2 years 7 months in prison over false insult charges, and he was barred from engaging political activities in a clearly political case on December 14.
As I say it was political, the aim was not only to remove İmamoğlu from politics or eliminate a strong candidate who would challenge President Recep Tayyip Erdoğan in the upcoming election. Its main purpose was also to use the judicial force to regain the İstanbul Municipality, which was handed over to the main opposition Republican People's Party (CHP) with the 2019 local election defeat.
By this way, the ruling party would be able to continue to allocate resources from İstanbul to associations and foundations under the control of certain religious groups ahead of the 2023 elections.
However, nature took its course, too much force spoiled the game. Following the court ruling, İmamoğlu called all the opposition parties to gather in İstanbul on December 15 and received a positive response. The opposition united against the injustice done to İmamoğlu.
If Erdogan wants to push his luck further, he can do two things. Minister of Justice Bekir Bozdag can influence Erdoğan's judiciary, speed up the appeal processes, and get Imamoglu's decision upheld before the elections. Or, the Interior Affairs Minister Süleyman Soylu can dismiss İmamoğlu without waiting for the appeal to upheld the ruling.
It would not be surprising if Erdogan to try every force he has to win the 2023 election.
İmamoğlu to be popular again
In İmamoğlu's speech in İstanbul Saraçhane, where he addressed thousands after the court order, he quoted Erdoğan's previous words: "It has been understood that the judiciary is not independent."
Erdoğan was also removed from his seat in the Istanbul Metropolitan Municipality in 1999 after being falsely accused of reciting poetry. Standing right next to him, İYİ Party leader Meral Akşener repeated the words "This song does not end here", which Erdogan sang during his dismissal.
CHP leader Kemal Kılıçdaroğlu was on his way back from Germany at that time.
When the Istanbul Anatolian 7th Criminal Court of First Instance suspended the hearing for three hours to announce the verdict, Akşener was the first leader to respond to İmamoğlu's call to Istanbul Saraçhane, where the Municipality headquarters are located. She jumped in the car and went to Istanbul, announcing it through her social media accounts. It was Akşener's move that propelled her to the forefront of politics.
Kılıçdaroğlu was in Berlin at the time, listening to Şahin Albayrak's presentation on artificial intelligence, which, if invited, could very well take place in Ankara. When things got mixed up in Turkey, the CHP leader cancelled his programme and returned to Istanbul.
To be honest, it was a mistake not to adjust the dates of university visits in Germany; those political reasons are debatable, given that the İmamoğlu trial was already set for December 14th on November 11th.
So, in light of these developments, did the Six Table presidential candidate turn to İmamoğlu?
It's a bit confusing there.
Deep politics scenarios
Since last night, many scenarios have been talked about behind the backstage in politics.
Following the sentence, the opposition appears to have tightened its grip on İmamoğlu, and the political focus appears to have shifted to İmamoğlu, but the legal situation forces these scenarios to be discussed.
One of these scenarios is, as previously stated, Interior Minister Soylu dismissing İmamoğlu without waiting for the judicial process or Justice Minister Bozdağ hastening the judicial process. Another scenario is that Erdogan's bid to move forward the election date, and thus the opposition's announcement of candidacy, will be carried out in coordination with such an accelerated judicial process.
This court decision, which barred İmamoğlu from politics, serves as a move to force the opposition's Table of Six to announce its candidate as soon as possible.
One scenario discussed in Ankara backstage is that if İmamoğlu is nominated as the opposition candidate and is not elected president in the first round, the appeal court may decide to uphold İmamoğlu's conviction just after the election, preventing him from running in the second round. In this case, Erdoğan might be deemed to have won the election without the second round and without having the 50 percent of the votes.
Again, since last night, there is a possibility that a similar lawsuit will be filed against Ankara Metropolitan Mayor Mansur Yavaş on a fabricated accusation, as he was one of the other strong candidates against Erdoğan.
Get ready for surprises
From this vantage point, the claims that Erdoğan has blocked İmamoğlu's candidacy with judicial decisions and that Erdoğan wants to see Kılıçdaroğlu as his presidential rival are gaining traction.
Therefore, the court's decision against İmamoğlu strengthens Kılıçdaroğlu's candidacy, legally if not politically.
On the other hand, criticism is increasing against Kılıçdaroğlu within the Six Tables. Prominent among these is that he paved the way for Erdogan to propose a constitutional amendment for the "headscarf law."
But as Süleyman Demirel once said, "The remedies are inexhaustible on legitimate grounds." You may see that the doors that seem closed today will be opened. Politics doesn't like loopholes; it sometimes highlights someone who doesn't come to mind or who says they're not enthusiastic out of the blue. Just like it highlighted Erdogan before.
After the expected meeting of the Table of the Six on December 26, one has to be ready for surprises.