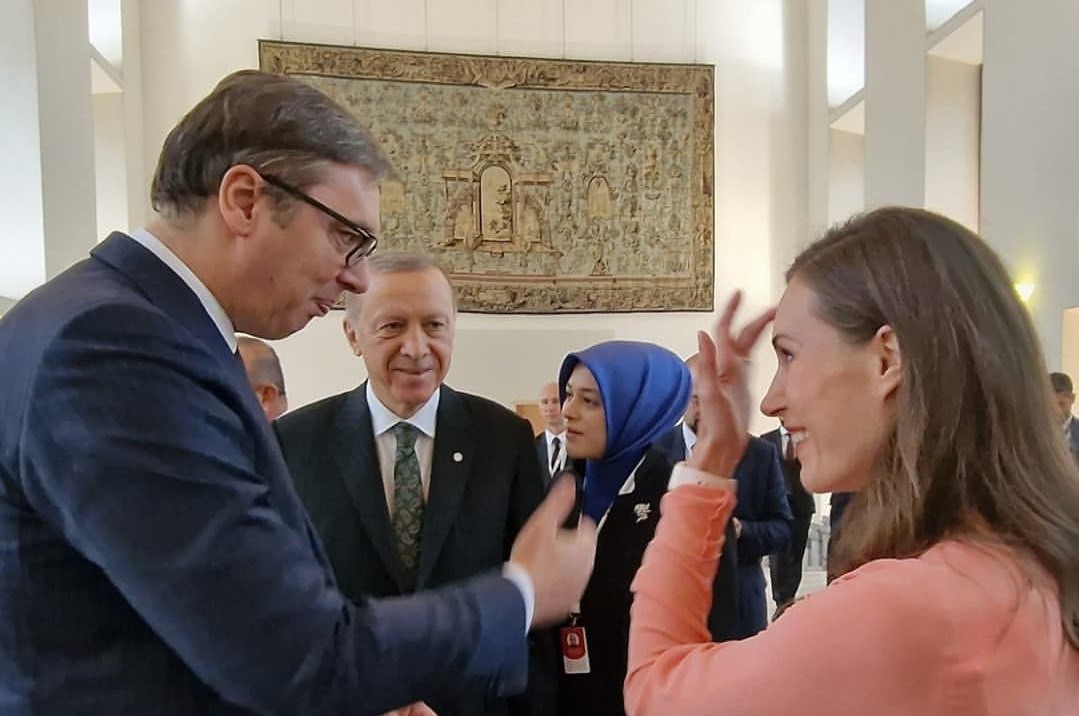 I asked Portuguese Foreign Minister João Gomez Cravinho, whom I met with a small group of journalists after his visit to Turkish Foreign Minister Mevlüt Cavuşoğlu in Ankara, how would Portugal react if Türkiye approved only Finland's NATO application and not Sweden's, even though they applied together? The question is meaningful because decisions in NATO are taken unanimously and Portugal is an older NATO member than Türkiye. On the other hand, there is pressure, especially from the US and the UK: "They applied together, they should be taken together".
Cravinho's response was clear: "From a geostrategic point of view, it is preferable for them to join together because Sweden and Finland should be protected against Russia together. The Portuguese parliament has already approved both. So, we wouldn't reject any of them."
There are two countries out of NATO's 30 that have not ratified the accession of Sweden and Finland: Türkiye and Hungary. On the one hand, Hungary is bitter that the two Nordic countries are pressuring it for human rights and democratization in the European Union, but behind the scenes, it is also holding its approval in support of Türkiye. Prime Minister Viktor Orban's close relationship with Turkish President Tayyip Erdoğan also plays a role in this.
Portugal: Türkiye should be comfortable
"Sweden has taken important steps," says Cravinho, "for example, it changed its constitution and laws. But the Turkish side says these are just on paper. In addition, you have spoilers. Burning a Koran is unacceptable. Made by an idiot. But we should not abandon our geostrategic interests because an idiot is burning a Koran. There are elections in Türkiye and Finland. It is normal for this issue to have an impact on the election process. Türkiye should be made comfortable."
The Portuguese minister's words made sense and were echoed by the Hungarian minister a day later.
Following his meeting with Cravinho, Çavuşoğlu met with Hungarian Prime Minister Viktor Orban and Foreign Minister Péter Szijjártó in Budapest on January 31. The Hungarian Foreign Minister said both that as a Christian he was against the burning of "another religion's holy book" and that Sweden should act differently if it wants to gain Türkiye's approval.
In the same meeting, Çavuşoğlu said that Türkiye cannot approve Sweden's accession under the current circumstances. But the situation of Finland is different as Ankara considers it. On the same day, news came from Helsinki that the Finnish government would now criminalize the burning of holy books.
Ankara-Helsinki body language
Finnish Prime Minister Sanna Marin is saying what Washington and Stockholm want to hear when she says Finland wants to join NATO with Sweden. On the other hand, she is showing with her body language that Erdoğan's Finland signals are reciprocal.
"Sweden will be shocked when we give a different message about Finland, but Finland should not make the same mistake," Erdoğan said on January 29, prompting Finnish Foreign Minister Pekka Haavisto to say, "We have patience, we will wait." But does the Social Democratic Finnish prime minister want to go into the April 2 parliamentary elections as a leader who took his country into NATO against the "Russian threat" or as a leader who followed Sweden and failed to do so?
If Türkiye only approves Finland's candidacy, will the Finnish prime minister be able to answer "never without Sweden" during the elections?
There is also the Trilateral Accord signed at the Madrid Summit on June 28, 2022 under NATO auspices and at the urging of the United States, which has stalled after recent developments.
Finland's separate approval
But could Türkiye approve Sweden and Finland's membership separately, despite the Accord and the joint application?
According to senior sources in Ankara who asked not to be named, yes, this is possible. The only reason for their anonymity is that President Erdoğan will make the decision on this issue; they do not want to speak before him.
In this context, a high-ranking official said the following when asked by YetkinReport:
– "It is possible that they will be voted separately in parliament. There are two separate protocols. One additional protocol was signed for Sweden and another for Finland.
– "The Presidency will send the letter of ratification to the Parliament. The timing depends on Finland. It seems to have taken a few steps. If it can decide to act separately, the rest will follow."
Türkiye's approval of Finland's NATO membership separately from Sweden's could also provide a basis for the "Our problem is our own national security, terrorism, PKK and FETO" rhetoric, especially against the propaganda in the US Congress as "Türkiye stalls NATO expansion due to Russian pressure".
Recently, US Ambassador to Ankara Jeff Flake said that Türkiye's request to buy F-16s is not linked to Sweden and Finland's NATO membership, but this is a statement from the administration's point of view; the real problem is in Congress.