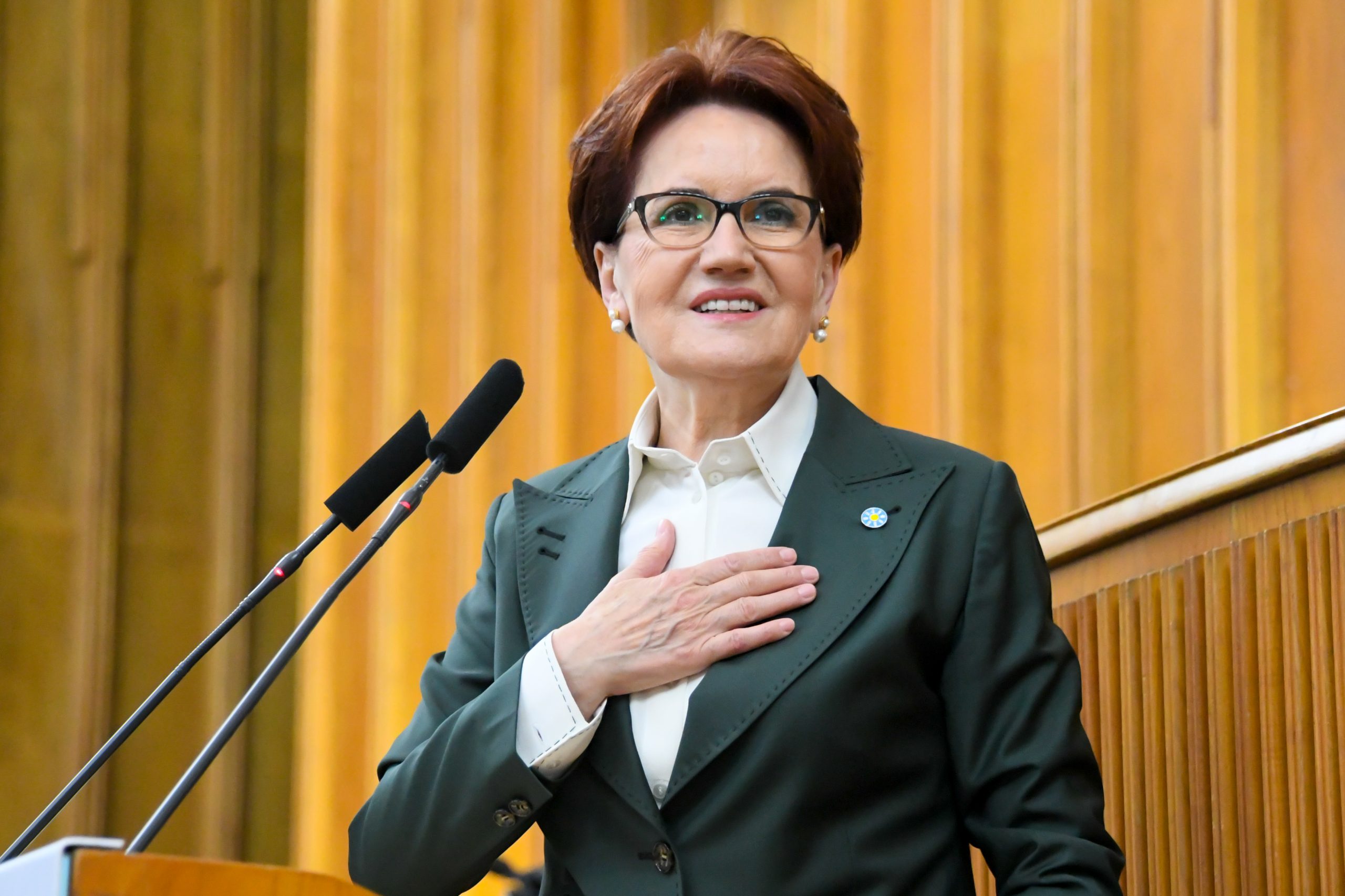 Türkiye's right-wing opposition İYİ Party leader Meral Akşener announced on March 3 that she defies the six-party opposition alliance over a presidential candidate, stirring debate that she left the alliance with her harsh tone.
"I regret to say that at the point we have reached, the table of six has lost its ability to reflect the will of the nation in its decisions. It has turned into a notary table working for the approval of a single candidate by blacklisting all alternatives," Akşener said at her party's headquarters on March 3.
"We realised that personal ambitions were preferred over Türkiye. We have come to understand that the lies that are considered acceptable for the sake of personal ambitions have been preferred to the great truth that the nation won. We have come to realise that small calculations have been preferred to a blessed victory," she added.
Her announcement came a day after the opposition alliance's "table of six" held a meeting to discuss their presidential candidate on March 2.
Six opposition party leaders' alliance, often called the "Table of Six," was built last year to compete in the upcoming elections against President Recep Tayyip Erdoğan and his Justice and Development Party's (AKP) "People Alliance."
Türkiye is scheduled to hold critical elections in a few months, as President Recep Tayyip Erdoğan reiterated this week that the scheduled June elections might be brought forward to May 14 amid the devastation of the two major earthquakes that destroyed more than 10 cities in the south-east.
Turkish citizens will vote for a new president and parliament, which is interpreted as being a cornerstone for the country's politics.
The Table of Six alliance
The Table of Six was built on the main opposition Republican People's Party (CHP) and İYİ Party's collaboration in the 2018 elections.
When the newly formed İYİ Party was not able to enter elections because they lacked certain requirements, the CHP offered the party 15 of its elected lawmakers to allow them to form a parliamentary group, which paved the way for the party to enter elections legally.
Later, the alliance grew into an election alliance with the Felicity Party and the Democrat Party and brought the opposition a victory in critical cities in the 2019 local elections, such as Istanbul and the capital, Ankara.
As the critical 2023 elections approached, Future Party and DEVA Party also joined the alliance, and in February 2022, leaders announced the formation of the "Table of Six" against the ruling "People Alliance."
Over the course of a year, the "Six Party Table" has been regularly meeting, forming committees, and finally announcing a "Constitutional Draft" that pledges a transition to a "strengthened parliamentary regime" in the event of their victory, strictly criticising the "Presidential Governmental System," which was enacted with a constitutional change in 2017 with the AKP and MHP alliance's campaign.
Cracks in the alliance
The six-party alliance has often been criticised for spending too much time forming strategies for "after the election," assuming a victory, and delaying agreeing upon a presidential candidate to run against Erdoğan.
It was a "known secret" that CHP leader Kılıçdaroğlu's name was on the table while Akşener was expressing her reservations about him, proposing CHP's popular majors Ekrem İmamoğlu and Mansur Yavaş.
Kılıçdaroğlu was against the two names because he first did not want to lose the important mayor's seats in the big cities. Secondly, because of his nationalist background, the Kurdish-issue focused HDP, which holds a critical voting percentage that would be a key in presidential elections, had stated their objection to Ankara Mayor Yavaş.
Besides, İmamoğlu's candidature was risky with a new investigation filed against him in December, and the court process might lead to a political ban before elections.
"Yesterday, at the March 2 meeting, five political parties (in the alliance) named Kılıçdaroğlu as their joint candidate. We, as the İYİ Party, have expressed our opinion on the candidature of two names that our nation has favored, and that we have seen in all public opinion polls that they have won by far against Mr. Erdoğan for a long time: İmamoğlu and Yavaş," Akşener said in her speech, adding that her proposal was "decisively rejected."
She later called out İmamoğlu and Yavaş, who are currently CHP mayors, to step up for "the future."
Akşener wants more authority
Journalist Murat Yetkin wrote on March 3 on the Yetkin Report that Akşener did not want the other four party leaders, whose votes were very low in the polls, to have equal authority with her if they won the elections.
She proposed that other leaders be included in the cabinet, but she wanted either to be the sole Vice President or to have her position as 'first among equals' in terms of the tasks she would undertake registered and declared from the beginning.
The IYI Party was most disturbed by Future Party leader Ahmet Davutoğlu's promise that all decisions would be taken with a joint signature.
Kılıçdaroğlu's position was that the votes in the parliamentary elections would determine the position of the parties and the leaders anyway.
This was a difficult but understandable and compromiseable demand, Yetkin wrote.
Kılıçdaroğlu: I will continue to connect
Speaking after Akşener's announcement, CHP leader Kemal Kılıçdaroğlu published a social media message, stating that he "will continue to connect."
"Political games, impoliteness, and Erdoğan's language should have no place at this table. Neither I nor my colleagues in my party will allow any tension, we will not be a tool. We will continue to act responsibly. We will not leave anyone behind," he said.
Before his message, he was in a meeting with Turkish Labor Party and Left Party leaders, stirring speculation that he aims to broaden the alliance to the left.
The opposition alliance's leaders pointed to March 6 for a joint announcement.
Constitutional proposal and Turkish opposition's window of opportunity