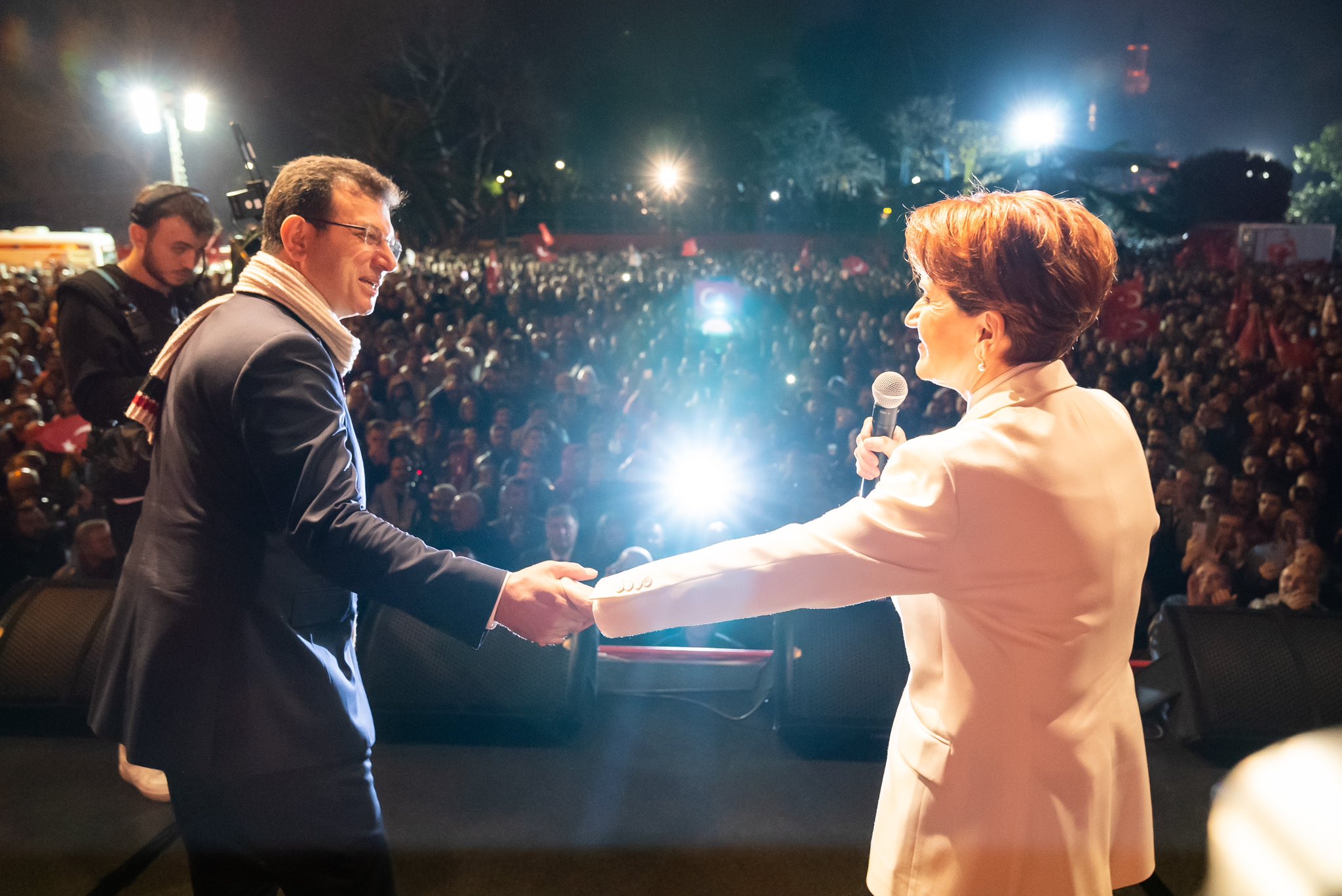 The leaders of the six opposition parties that have formed an alliance against President Tayyip Erdoğan in the upcoming elections marked the start of their election campaign on December 15 with a large rally in Istanbul in support of Istanbul Metropolitan Mayor Ekrem İmamoğlu. After the mega city's mayor was sentenced to prison and faced a political ban on a fabricated insult charge, İmamoğlu called the supporters to İstanbul's Saraçhane, where the headquarters of the mayoralty was located.
Leaders of the "Table of the Six" had nothing to do but attend his call, as more than a hundred thousand people gathered after a long time to protest the injustice done to him.
Imamoglu greeted the leaders one by one at the door of the mayoralty, escorted them to his office, and went downstairs to welcome the other leader. Each leader came with their staff.
Saraçhane notes: First, the CHP
The main opposition Republican People's Party's (CHP) senior executives, who were waiting for their chair Kemal Kılıçdaroğlu in front of the Saraçhane building, said to me while waiting that they had read my post yesterday, giving a critical tone to their voices.
I understand what they mean, in my previous commentary on İmamoğlu's conviction, I criticized Kılıçdaroğlu's being in Germany during such a critical trial.
"Really, none of you warned Mr. Kılıçdaroğlu that İmamoğlu had a critical hearing on December 14th?" I asked "The hearing date was set on November 11."
They did not like my question, visibly. First, they joked with each other.
"Look, he says to you," one executive said sarcastically to the other.
"That's a separate issue; we'll talk later," the other said, as the place was already too crowded for a comfortable conversation.
However, Kılıçdaroğlu, who appeared on Halk TV yesterday morning, when asked why he went to Germany during this critical hearing, said, "We did not expect this result; we expected an acquittal."
Who were the advisers who told Kılıçdaroğlu "Nothing will happen; we'll take care of it,"  even though Imamoglu's lawyers have said that they are worried about conviction after the Ministry of Justice changed the judge?
Just a month before, journalist Barış Terkoğlu wrote that the former judge was suspended from the case because he refused to comply with "instructions from above" that he should "sentence İmamoğlu to prison and implement a political ban." The judge allegedly told this to his close circles, which indicated that the conviction was most likely.
Secret actor Bahceli
Here we come to the conspiracy theory of the day.
According to ruling People Alliance partner Nationalist Movement Party (MHP)  leader Devlet Bahçeli, a conspiracy was set up against his "classmate" Kılıçdaroğlu, whom he said he wanted to see as a presidential candidate last week.
They brought this issue up while Kılıçdaroğlu was in Germany, he claimed, adding that the goal was to liquidate Kılıçdaroğlu.
First of all, it was the court that determined the trial date, on November 11, it was not the groups within the CHP. Second, the main judge of the court had recently been replaced.
It was Bahçeli who spilled the beans later: "The Table of Six should have announced its nominee immediately," he said.
However, the leader of the Future Party, one of the leaders of the Table of the Six, Ahmet Davutoğlu, speaking to YetkinReport last week, declared that they would not comply with the timing imposed by the government regarding the candidacy.
The government wants to know as soon as possible who the candidate is so it can finish planning its election strategy.
Akşener's message
When Bahçeli was playing this soap opera, IYI Party leader Meral Akşener had not yet begun to speak at the rally.
It was remarkable that DEVA leader Ali Babacan commemorated Selahattin Demirtaş, one of the previous co-chairs of the Kurdish-issue focused People's Democracy Party (HDP), and CHP İstanbul Chair Canan Kaftancıoğlu, who have all faced convictions and political bans over their comments.
But Akşener made the move of the day towards the end of the rally.
At that time, Saraçhane was also the scene of the slogan race. Those who defended Imamoglu said, "Everything will be fine," echoing his 2019 local election slogan. Kılıçdaroğlu supporters' slogan was from his 2017 justice march: "Right, Law, Justice."
In addition, Akşener adopted the slogan "down with oppression, long live freedom," which was inspired by the Union and Progress Party's famous quote against Ottoman Sultan Abdülhamid II.
Until Akşener, İmamoğlu announced and accompanied leaders to the podium, and then give the floor to the leader to speak. Akşener did not allow İmamoğlu to get off the stage.
"You stay," she said, "we are here for you."
She took his hand and talked like that for a while.
This move had an impact on other parties.
Was this a message from Akşener to Kılıçdaroğlu? Was she calling the CHP leader "do not declare your presidential candidacy?"
The legal risks that İmamoğlu carried seemed to have weakened his growing political support on a legal basis. Therefore, saying "Our candidate İmamoğlu" was risky at this stage.
Akşener's body language should be watched closely in the following period.