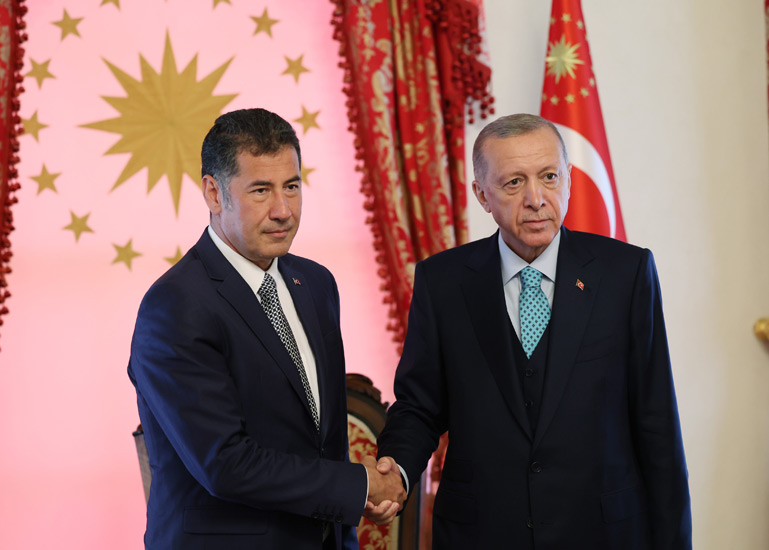 One week to the critical second round of the Turkish presidential elections to be held on May 28, the third runner up Sinan Oğan has become the favorite subject of the commentators with his 5 percent votes. Following a series of meetings and statements, he said he will announce his endorsement for the runoff election between President Recep Tayyip Erdoğan and opposition alliance's candidate Kemal Kılıçdaroğlu on this monday.
Oğan was the candidate of the nationalist ATA Alliance with three parties, Victory Party (Zafer Partisi), Justice Party (Adalet Partisi), My Country Party (Ülkem Partisi) and Turkish Alliance Party (Türkiye İttifakı Partisi) which raise to attention of the nationalist and anti-migrant sentiments of the voters, by presenting themselves to be an alternative to both Erdoğan and Kılıçdaroğlu.
The alliance fell apart after the election when Zafer Party leader Ümit Özdağ and Oğan started to make negotiation meetings with both sides, while Justice Party leader Vecdet Öz openly supported Kılıçdaroğlu saying that "their intention was always to be an opposition to Erdoğan."
But still, his endorsement attracts a lot of attention both from the political parties and voters, making the headlines.
But how much does it really have an effect? How much of the Oğan influence on the May 28 second round presidential elections is real and how much is fiction; let's not call it fiction, how much is conjecture?
For example, if Oğan supports Kılıçdaroğlu, will it be enough for Kılıçdaroğlu to gather anti-Erdoğan nationalist votes and finish ahead on May 28?
Erdoğan-Oğan: Aliyev's touch?
Or does Sinan Oğan expect the same concessions from Erdoğan, such as vice-presidency or ministerial posts, that he and his most important supporter Ümit Özdağ, the leader of the Zafer Party, expected as a result of their meetings with Kılıçdaroğlu?
When asked about Sinan Oğan's demands in an interview broadcast on CNN on May 18, Erdoğan said, "I have never been a person who has entered into such negotiations until today." But on the next day, Oğan was in İstanbul at a meeting with Erdoğan. What made this meeting despite Erdoğan's reportedly poor health and the fact that Oğan was not on the President's daily schedule?
If there is any truth to the reports that have been circulating backstage but have neither been confirmed nor denied, did Azerbaijani President Ilham Aliyev make suggestions to both Oğan and Erdoğan for this meeting to take place?
The personal closeness between Erdoğan and Aliyev is well known. Likewise, Sinan Oğan, who was a member of parliament for the Nationalist Movement Party (MHP) before his expulsion, has been close to Azerbaijan since his school years.
It should not be underestimated that Vice President Fuat Oktay said "God willing, you will see that good things will happen," after Oğan's visit.
The fiction is based on Sinan Oğan
Now, the comments have gone as far as claims that Sinan Oğan and Ümit Özdağ are at odds and that Özdağ will support Kılıçdaroğlu.
A vote from Oğan may not help Kılıçdaroğlu, but it may have an impact on nationalist and young voters, especially in six opposition parties' Nation Alliance circles.
The fact that IYI Party leader Meral Akşener gave Kılıçdaroğlu a carte blanche to negotiate with Oğan, İnce and others shows this. Future leader Ahmet Davutoğlu's statement that he would withdraw his candidacy for the vice presidency if Kılıçdaroğlu asked him to do so is also a sign of this. No one wants to be held responsible for a negative outcome.
What will be the impact of Kılıçdaroğlu's nationalist rhetoric since May 14 on the Kurdish-issue-focused People's Democracy Party (HDP) and its Labor and Freedom Alliance with socialist and left parties?
The hope for an end to the unjust imprisonment of Selahattin Demirtaş (and with him Osman Kavala, Gezi prisoners and all those imprisoned for political reasons) has turned into disappointment with the May 14 result. Erdoğan openly says that this injustice will not end if he wins on May 28. Kılıçdaroğlu is taking this mood into account.
The question of paying the economic bill
During his meeting with Kılıçdaroğlu, Özdağ asked a series of questions ranging from the situation of Syrians to the first four articles of the Constitution and was reportedly satisfied with the answers. However, there is one question that Özdağ asked Kılıçdaroğlu that is almost like a piece of iron.
Özdağ asked Kılıçdaroğlu, "If elected, you will inherit a wreck in the economy, will you be able to cope?"
This question actually contains an answer like "The AKP brought the economy to this state and wants you to pay the bill."
Kılıçdaroğlu replied, "Don't worry, we have a good program and good staff."
Nevertheless, it should be noted that Özdağ's question has a serious resonance in Ankara political circles.
Let's see how Sinan Oğan's choice will affect the political outlook a week before May 28.