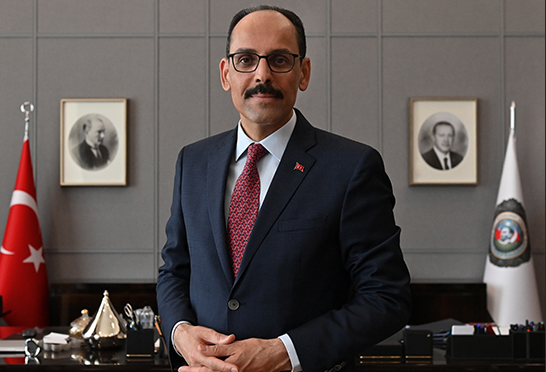 Even before the May 14 elections, there was talk in Ankara that if President Tayyip Erdoğan won the elections, Hakan Fidan, the head of the Turkish National Intelligence Organization (MIT), could be appointed Foreign Minister and İbrahim Kalın, his chief advisor and spokesperson, could be appointed head of MIT.  Indeed, Erdoğan won the election and made these two critical appointments.
It marked the beginning of an era in which the foreign policy design of Fidan's Foreign Ministry would merge with the operational intelligence design, a period of increased operational assertiveness in Turkish foreign policy. This design requires a close look at what Kalın's appointment as head of MIT means.
In this context, an analysis published on June 12 on the French-based "Intelligence Online" website, an international publication followed by those interested in intelligence, is noteworthy. The analysis is titled "Erdoğan tightens grip on MIT with appointment of Kalın". According to this claim, by appointing Kalın, Erdoğan has moved Fidan, "the seemingly unmovable and effective spy chief", away from the intelligence service. From the inside, however, the picture looks different.
Fine-tuning MIT like Foreign Affairs
This claim raises some questions. For example, why would Erdoğan now want to remove Fidan, whom he calls "my black box" and who has been in charge of intelligence for 13 years? The first thing that comes to mind is that he has gained too much power there, but in that case, why would he bring him to the Foreign Ministry, which has a higher profile? If he wanted to remove him from power – as was much talked about before the elections – he could retired him to the Parliament as he did remove Hulusi Akar from the Ministry of National Defense and Süleyman Soylu from the Ministry of Interior.
However, Fidan has been one of the fundamental transformers of Turkish intelligence, except for its founding period, under the "leadership" of Fuat Doğu in the 1960s and Sönmez Köksal in the 1990s. MIT's sphere of influence expanded, with a greater emphasis on preventive intelligence and operations. We witnessed political softening in Libya, Egypt, Israel and Syria thanks to Fidan's secret diplomacy. Now, as Foreign Minister, he is expected to fine-tune foreign policy.
It seems more realistic to expect Kalın to fine-tune MIT where Fidan left off. Some stones will be moved, but a radical change in the line should not be expected.
Kalın's operational side
Just as Fidan has a diplomatic side, Kalın has an operational side. The most important example we know of is the resolution of the deep crisis that followed the downing of a Russian warplane in 2015 after it violated the Syrian border, using the connections of businessman Cavit Çağlar. The importance of ending this crisis just weeks before the July 15, 2016 coup attempt can better be understood first when one looks Turkey's military operations against the PKK and ISIS in Syria, and now with Russia's war in Ukraine.
It should not be overlooked that Kalın has been an active member of Erdoğan's foreign policy team for 18 years, the last 14 of which he has been at his side. As the chief advisor on foreign and security policy, his main function was equivalent to the National Security Advisors of the US and Russian presidents. In other words, Erdoğan actually put his de facto National Security Advisor in charge of intelligence.
On the other hand, it should be noted that Kalın's thesis of "precious loneliness", which he put forward after the ouster of the Muslim Brotherhood government in Egypt under the presidency of Mohamed Morsi by Abdel Fattah al-Sisi's military coup, is no longer valid, even though it served as a stepping stone for subsequent moves.
Kalın era at MIT
Kalın, an Islamist intellectual with a degree in history from Istanbul University, a bachelor's degree in Islamic Studies from the Islamic University Malaysia in Kuala Lumpur, and a doctorate in philosophy from George Washington University in the US, was an executive who liked to appear in public with television programs or his musician side, when he was National Security Advisor.
Now he is the head of intelligence. Being a spy chief also requires staying out of the public eye. As a matter of fact, Kalın's concert with a group of Saz musicians in Istanbul on July 6 was canceled upon his appointment as head of MIT.
Due to his previous position, Kalın has acquaintance with the heads of intelligence of some of the countries Türkiye deals with through secret and open diplomacy. For example, he is acquainted with William Burns, the head of the US CIA, from Burns' time as a diplomat. He has worked with Richard Moore, the head of British foreign intelligence MI6, and Bernard Emié, the head of the French DGSE, from their time as ambassadors in Ankara. We can extend this to Russia and Central Asian countries.
He has no problem in that respect.
So, will there be problems in the internal structure of MIT?
Some stones may be moved
The retirement of those who started working at MIT in 1992 under Sönmez Köksal is approaching. Few people from the previous period remain in an active position. After Köksal, there are names who came to prominence and were recruited into intelligence under Şenkal Atasagun and Emre Taner, as well as names who were recruited into MIT under Hakan Fidan and appointed to influential positions with accelerated training.
The files of these names are now on Kalın's desk.
Of course, it should not be forgotten that MIT also underwent a "FETO shake-up" after July 15 2016 coup attempt. The post-July 15 lawsuits and purges revealed that many FETO operatives were appointed to influential positions in MIT before and after Fidan. Some questions still await answers.
MIT's recent foreign operations, especially in Syria and Iraq, in close cooperation with the Turkish Armed Forces, have been damaging the PKK and its extensions in Syria. It can be expected that Kalın will want to show strongly that these operations are continuing. Erdoğan will also expect continuity in Africa and Caucasus-Central Asia.
Naturally, it will take longer to see the fine-tuning in the secret service than the innovations in the Foreign Ministry. But one should not think that Kalın's MIT Presidency will stand apart from the Foreign Affairs, National Defense and Interior ministries in Erdoğan's design.
Naturally, they will all answer only to President Erdoğan.