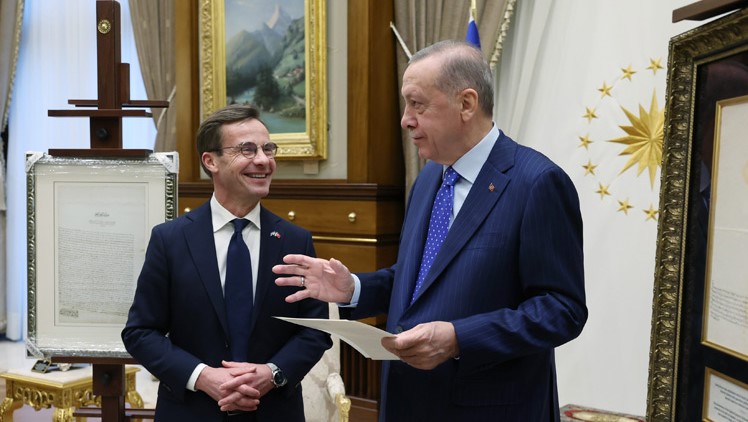 In an unexpected move, Turkish President Tayyip Erdoğan linked Sweden's application to the Western defense alliance NATO on July 10 with practically frozen relations of Türkiye with the European Union (EU).
"First, let's pave the way for Türkiye in the EU, and then we will pave the way for Sweden just as we did for Finland," Erdoğan said in Ankara before leaving for Vilnius for the critical NATO summit.
The move made the weather further heavier in Sweden because of two reasons. First, Erdoğan added a new condition to approve Sweden's membership. So far, Ankara was saying that Stockholm should take solid steps to fulfill Turkish security demands in the fight against terrorism; particularly against the outlawed Kurdistan Workers' Party (PKK) and its affiliates. Secondly, now it involves not only Sweden but all 27 members of the EU.
It is worth noting that Hungary, a member of the EU and NATO both, did not give its approval to Sweden's membership and postponed its parliamentary voting for the autumn months, waiting for the Turkish decision.
Sweden's NATO bid and the F-16 angle
Erdoğan's move came after a July 9 telephone conversation with US President Joe Biden where the main subject was Sweden's NATO membership, following the Russian war on Ukraine. Notably, the Erdoğan-Biden meeting took place after the meeting with Swedish Prime Minister Ulf Kristersson at the White House on July 5. The image is that the US wants to get NATO approval by giving something to Türkiye without Sweden giving Türkiye what it wants.
When Biden called Erdoğan to congratulate him on his re-election on May 28, he made a connection between Sweden's membership and the F-16 fighters that Türkiye wants to buy, which disturbed Ankara. Indeed, according to the statement of the Directorate of Communications, Erdoğan said this in his meeting with Biden yesterday and thanked Biden for his support for the F-16s. Ankara is aware that it could be said, "It's out of our hands, Congress is blocking it," and does not want to get hung up on that.
Erdoğan mentioned the EU to Biden
According to the readout by the Turkish Presidency, Erdoğan told Biden that Türkiye wanted "to rejuvenate the full membership process to the EU",  and asked for support. That was not in the White House readout.
To be realistic, both Ankara and Brussels have lost their appetite in this regard. The detail here that some international news organizations have oversimplified is that Erdoğan is not talking about "Turkish membership first," but "rejuvenating the process" which is practically frozen since 2007; neither Brussels nor Ankara wants to say "No" first.
But Erdoğan's mentioning of Türkiye's relations with the EU to Biden and then making it public before the Summit recalls an example of the past. In February 1999 the PKK leader Abdullah Öcalan was arrested in a joint operation of the Turkish intelligence MİT and the CIA as he left the Greek Embassy in Kenya and was brought to Türkiye where he was prisoned for life.
In December 1999 Greece lifted its veto and Türkiye was granted EU candidacy. Perhaps Erdoğan wants to follow in the footsteps of the Bülent Ecevit's coalition government of the time and secure a Customs Union update and visa liberalization for Türkiye over the approval of Sweden's NATO membership.
NATO, Sweden's move and Ukraine
In the Turkish readout it is stated that Erdoğan and Biden agreed to talk face-to-face during the NATO Summit. However, the White House statement did not mention a bilateral meeting. Why did the White House feel the need to hide this while the course of developments showed that the talk could be held? To give the impression that there is no bargain with Türkiye? However, Erdoğan once again showed that by supporting Ukraine's NATO membership bid when he met with Ukrainian President Volodimir Zelensky on July 7 in İstanbul. Following the Turkish approval for the membership of Finland, that is a new Turkish move to show that its concern was not to prevent NATO's strengthening against Russia but to see its demands fulfilled.
It is true that Sweden changed its anti-terrorism law at the request of Türkiye, including the constitutional amendment, due to foreign policy needs. This change was a move that scratched the charisma of Sweden, which pushed its freedom of expression limits to the extent of burning Muslims' holy book of the Quran -followed by requests to burn copies of the Torah and Bible. But it was not enough for Ankara, it demanded concrete steps.
Intelligence sharing with Türkiye
Ankara was openly saying to Stockholm, "Just put the PKK members on trial, extradite them, and let's agree." However, in this case, Stockholm was worried that the PKK and its affiliated organizations, which had been comfortably organized in Sweden for decades, would cause internal security problems.
If Sweden becomes a member of NATO, it will be a part of NATO's Joint Intelligence and Security Division (JIS) established in 2017. Institutional intelligence sharing was among NATO's most important reforms within the framework of its 2030 targets.
Finland agreed to full intelligence sharing with both Türkiye and NATO as part of the fight against terrorism. This contributed to Türkiye's approval of Finland's membership. Ankara expects a similar commitment from Sweden under the NATO guarantee, in addition to extradition and trials.
And now Ankara says it also needs resumption of the EU membership process to lit the green light for Sweden's NATO membership which makes life more difficult not only for Swedish Prime Minister Kristersson but also for US President Biden and for the NATO Secretary General Jens Stoltenberg.
His EU move made Erdoğan's possible talks with Biden and Kristersson more crucial regarding the European geostrategic playground.