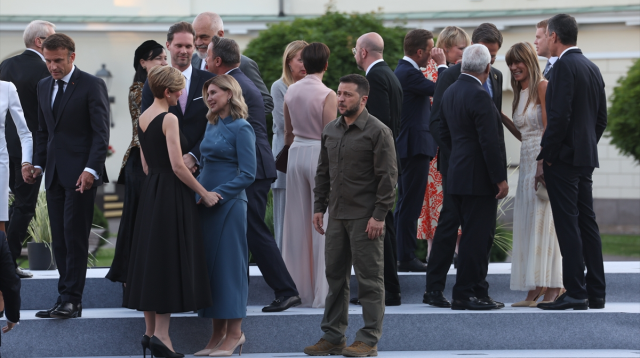 On August 25, US Chairman of the Joint Chiefs of Staff General Mark Milley gave an exclusive interview to the Jordanian TV channel Al-Mamlaka in Amman. This interview was mostly highlighted in the Turkish press on the grounds that the US had no intention of leaving the Middle East due to its energy interests, which was important for Türkiye. However, Milley's comments on Russia's war in Ukraine in the same interview did not receive much attention, although they were also of interest to Türkiye. Milley was adding to signs that the West had begun to side-step in Ukraine in recent weeks.
Milley, who has argued that the US and NATO should contribute as much as possible to the Ukrainian resistance, said that things were moving "slower than the planners had thought" in Ukraine. While it will reportedly be a year before the F-16s promised to Ukraine by the Netherlands and Denmark are operational, Milley said it was too early to say that the "counter-offensive" launched by Ukrainian forces two months ago had failed.
Victory in Ukraine is not easy
One day before the American commander, on August 24, Germany's Die Welt newspaper published an interview with the head of the European Union (EU) Military Committee, Austrian General Robert Brieger. Brieger said he had "doubts" that Ukraine could regain the territories occupied by Russia.
Yes, Russia had suffered militarily from the sanctions, but this was more related to high technology. Russia had built strong defense lines in the territories it occupied in Ukraine and Russia's resources could sustain this war for a long time, the EU Military Committee chairman believed.
Brieger did not say so, but the embargo on Russia seems to put some EU companies in a difficult situation. For example, it was announced that the Volkswagen automotive group, which withdrew from Russia due to sanctions, has returned to serve VW, Audi, Skoda, Lamborghini, Bentley, and Ducati brands using a Russian company called AGR. Brieger's sentence "Russia can continue fighting for a long time" can be complemented with the comment "We can't continue that long".
NATO: testing the waters?
In fact, the fact that Ukrainian President Volodymyr Zelensky did not receive the membership invitation he was expecting at the NATO Summit in Vilnius on July 11-12 signaled that something was changing in the West. NATO obviously did not want to admit a country with unclear borders and go to war with Russia over Ukraine.
Then, in a speech in Norway on August 15th, NATO Secretary General Jens Stoltenberg's Cabinet Director Stain Jenssen said that "Ukraine could get NATO membership in exchange for giving up part of its territory". When Kyiv reacted harshly, saying that trading territory for membership would be playing into Russia's hands, NATO announced that there was no change in its "Ukraine's territorial integrity" policy. The NATO bureaucrat had said that he was not saying that it should be so but the option exists as a possibility, the point had been made and the debate had begun.
As a matter of fact, the remarks of the US Chairman of the Joint Chiefs of Staff and the Chairman of the EU Military Committee, which I quoted at the beginning of this article, show that the West has started to side-step in Ukraine.
If this continues, Russia may get away with its occupation of Donetsk and Luhansk regions after Crimea.
Position of  Türkiye
Türkiye is now trying to resume the agreement on grain sales that Russia suspended on July 17. Foreign Minister Hakan Fidan was in Ukraine on August 25 and will also meet with Russia. At the same time, President Tayyip Erdoğan is in contact with his counterpart Vladimir Putin, whose domestic political problems are deepening due to the Yevgeni Prigojin case. Putin says he will not return to the deal unless UN promises on behalf of the US and EU are kept and Russia is allowed to export grain and fertilizer.
Erdoğan's support for Zelensky's membership, which came to Türkiye before the NATO Summit, showed that he is maintaining a policy of balance between Ukraine and Russia, even if he is saying "Amen to a prayer that will never come true." Moreover, Türkiye was opposed to Russia's invasion and annexation of Crimea in 2014 from the beginning.
The US Chairman of the Joint Chiefs of Staff's remarks that things are not going as he had hoped in Ukraine and his renewed emphasis on the Middle East in the Israel-Jordan policy, including Syria and Iraq, may indicate a foreign policy revision by the US, which is of great concern for Türkiye, which is trying to recover from the economic crisis.