Some may call it hypocrisy, but in Turkey, the politics game is played Machiavellian style: "the end justifies the means".
In fear of losing the June 23 re-run of the Istanbul municipal elections, President Tayyip Erdoğan has let the imprisoned leader of the outlawed Kurdistan Workers' Party (PKK) Abdullah Öcalan call on the Kurdish- problem- focused Peoples' Democratic Party (HDP) not to vote for the opposition candidate Ekrem İmamoğlu. This is because İmamoğlu is seen ahead in the polls.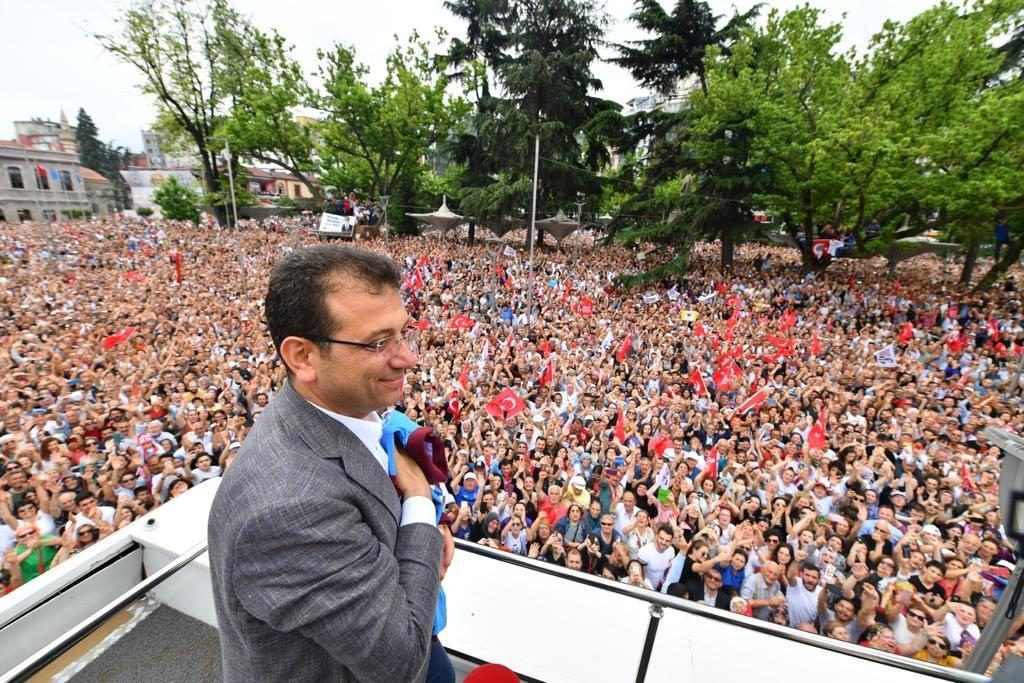 The story started to unfold when on the morning of June 20, the Ankara Bureau Chief Okan Müderrisoğlu of the pro-government Sabah newspaper asked whether the HDP tendency to support the Republican People's Party (CHP) candidate İmamoğlu against Erdoğan's Justice and Development Party (AKP) candidate Binali Yıldırım really matched with the policies of Öcalan. That was strange because mentioning the PKK leader, without adjectives such as "baby killer" or "terrorist in chief" was almost a taboo for the pro-government media. Erdoğan and his election partner Devlet Bahçeli of the Nationalist Movement Party (MHP) had based their March 31 election campaign on the concept of "survival", implying the struggle against the PKK's target of carving a Kurdistan out of Turkey. Erdoğan, Bahçeli and Yıldırım had accused İmamoğlu, the center-left CHP leader Kemal Kılıçdaroğlu and the center-right Good Party (GP) leader Meral Akşener of supporting terrorism solely on the grounds that they did not label the HDP and its supporters as terrorists.
But that tactic did not work; March 31 election,s which was won by İmamoğlu with a margin of more than 13 thousand in a city of more than 10.5 million registered voters (with a turnout of 83.5 per cent), was cancelled by the Surpreme Election Board (YSK) after persistent objections and demands by Erdoğan and Bahçeli. That's why the Istanbulites are going to cast their votes once again on June 23. Analyzing that the alliance with MHP had alienated Kurdish votes on March 31, Erdoğan revised his strategy for June 23. Instead of himself, he chose Yıldırım to be on the campaigns' forefront, to remind his powerbase what they might lose, politically, socially and economically if Turkey's biggest city, producing almost a third of the country's wealth slips out of the AKP hands. Yıldırım went as far to visit the dominantly Kurdish populated Diyarbakır and pronounced the taboo word of "Kurdistan" in an attempt to influence Diyarbakır's Kurdish population to tell their relatives in Istanbul to vote for him.

The turning point where the winds have changed

Actually, Erdoğan has started to set his new game up in April, right after the results of March 31. In the first days of May, Öcalan was granted access to his lawyers after eight years; this was made public on May 6 when the YSK ruled for the re-run of Istanbul election.
The irony is that one of the main reasons why Erdogan's government is at odds with the U.S. is the American military collaboration with the PKK's Syria wing in the fight against ISIS since 2014. Commenting on the S-400 rift, Erdoğan mentioned a number of times that the continuing American collaboration with Turkey's arch enemy, the PKK, was one of the main reasons for the discords. It was actually the American intelligence CIA that helped the Turkish intelligence MIT in Ocalan's arrest back in 1999.
As public opinion polls started to show that İmamoğlu ahead of Yıldırım with a widening gap, Erdoğan had a meeting with Bahçeli (who criticized Yıldırım because of his Diyarbakır speech) in Ankara on June 13. That was right before a cabinet meeting. On the agenda of that meeting were the rift with the U.S. over the purchase of Russian S-400 missiles and the tension in the eastern Mediterranean over the oil and gas exploration rights off of Cyprus coast, as well as the ongoing anti-PKK operation ("Operation Claw") in Iraqi territories. The dynamics of the AKP-MHP election campaign started to change after that Erdoğan- Bahçeli meeting.
On June 15, Bahçeli travelled to Istanbul with a convoy of black Mercedes and Audi limousines and made it public via a video with Ottoman war music "Mehter" playing in the background. After meeting a number of right- wing opinion holders in Istanbul, he returned to Ankara the next day , without showcasing himself up much in Istanbul. This discreet attitude was, presumably adopted so as not to agitate Kurdish voters; an estimated 1.5 million people, some of whom are under the influence of the HDP and some others being linked to religious sects and tribal relations. On June 16, Yıldırım's performance in a live TV debate with İmamoğlu did not make Erdoğan happy. They reportedly had a telephone conversation afterwards. And on June 17, Erdoğan pulled Yıldırım down from the showcase and put himself forward again as though he were the candidate against İmamoğlu. That was the move which turned the Istanbul municipality re-run into a general election. Knowing that his personal clout was more than his party's, Erdoğan was in a way asking voters to keep his own power in place by voting for Yıldırım. On the same day, June 17, he said that theİmamoğlu's rise could well be stopped by a court case against him over an insulting word he allegedly directed to a provincial governor. It was perceived as the first acknowledgement by Erdoğan that İmamoğlu might actually win and therefore had to be stopped by any means justifying the end.
On June 18, lawyers of Öcalan visited him again upon government permission; they were given a letter asking the HDP not to take sides between Yıldırım and İmamoğlu. Given the HDP stance against the Erdoğan-Bahçeli alliance, Öcalan's demand for "impartiality" obviously meant a demand not to vote for İmamoğlu, appealing instead to the HDP voters to give indirect support to the Erdoğan-Bahçeli candidate Yıldırım. But that was only made public two days after on June 20 and not by the lawyers of Öcalan. Right after the Sabah writer's query about Öcalan's opinion against the HDP, a previously unknown professor of sociology from the Eastern town of Tunceli, namely Ali Kemal Özcan was quoted by the government-run Anadolu Agency as saying that he visited Öcalan as suggested by "state authorities" and acquired a copy of Öcalan's letter to his lawyers which was later on protested by Öcalan's lawyers as a breach of immunity.

Kurdish votes might play a decisive role

Erdoğan said on a TV program on the same night that there was a leadership fight within the PKK between Öcalan and HDP's imprisoned former co-chairman Selahattin Demirtaş who openly gave his support for İmamoğlu by also sharing İmamoğlu's popular slogan of "Everything will be all right". Erdoğan was clearly against Demirtaş's stance. Erdoğan also announced that Nechirvan Barzani the newly elected head of the Kurdistan Regional Government in Iraq will come to Turkey in his support.
An HDP statement said on June 21 that they agreed with Öcalan's views in principle which they interpreted as not limited with the election but that they would not change their stance for the June 23 election. To almost everybody's surprise, Bahçeli released a statement saying that Öcalan's call on HDP was against HDP's "abuse" of his political line –implying by unofficially backing the CHP-GP candidate İmamoğlu. It was incredible: Bahçeli, the MHP leader who has been asking Erdoğan for some time to bring back the death penalty to hang up the "Imralı monster", Imralı being the island-prison where Öcalan is held, was defending Öcalan's common sense against the HDP, the third party in the Turkish Parliament, having a larger group than his MHP.
It seems the Kurdish votes, whether they are from HDP grassroots or from AKP, are likely to play a decisive role in the June 23 elections.
If İmamoğlu wins as polls estimated until Erdoğan's Öcalan move that will be a multi-layer defeat. A defeat first and foremost: for Erdoğan who turned a local election into an election of destiny for the country. If İmamoğlu wins, it can easily be said that Erdoğan's steady rise in politics will come to a halt. Tremors should be expected within the party and Erdoğan, seeing himself as being immune to making mistakes of any kind is likely to punish all those he would hold responsible for the defeat, which could accelerate the cracks and groupings within the AKP. Secondly, there could be tremors in Bahçeli's MHP as well when his supporters eventually start questioning the Öcalan statements. Thirdly, Öcalan's influence on the PKK as well as the HDP could be seriously damaged whilst the credibility of Demirtaş could rise as a politician in parliamentary politics.
CHP might have tremors as well if İmamoğlu wins; the old school is likely to lose ground as Kılıçdaroğlu's candidates will be running the municipalities of 5 largest cities of Turkey, representing three- fourths of the country's economy.
The extent of what Erdoğan is capable of doing is still unknown, but it seems he can use all possible methods to stop İmamoğlu. But if he succeeds and gets Istanbul back, he is likely to consider it as an approval for his domestic, foreign and economic policies, and carry on the way he is now.